Turkey: A case for cautious optimism
Turkey has many things going for it as a destination for investors, but first it has to change its image. Ayşe Ferliel Barounos reports 
At a glance 
• Turkey has experienced political turmoil and an economic slowdown over the past year.
• The country is an attractive investment destination for those willing to withstand short-term volatility.
• Turkey offers opportunities to both bond and equity investors.
• Fund managers say Turkey should improve its image to attract investors.
On the face of it, Turkey may not currently seem a good bet for equity and bond investing, considering last year's failed military coup, a spate of terror attacks, conflict in neighbouring Syria, continued political uncertainty and worries of an economic slowdown. 
The country's GDP contracted by 1.8% in the third quarter last year – the first year-on-year decline in real GDP since 2009. The Turkish lira lost about one fifth of its value against the US dollar in 2016; the unemployment rate rose to 11.7% in October 2016 – a 1.3 percentage point increase (on a seasonally adjusted, year-on-year basis); and the current-account deficit remains sizable. Although Turkey's current-account deficit has shrunk since 2013 as a percentage of GDP, it is forecast to grow to 5.6% of GDP from 4.4% of GDP in 2016 "due to higher projected oil prices and a wider fiscal deficit," according to the International Monetary Fund.
Weak tourism revenues, which were hit by security concerns, also had a negative impact on Turkey's current-account balance – tourism income decreased by 29.7% in 2016 year-on-year, according to the Turkish Statistical Institute. 
Furthermore, some analysts argue that Turkey is vulnerable to further attacks by ISIS and the PKK (Kurdistan Workers' Party), and that geopolitical worries are here to stay for a while.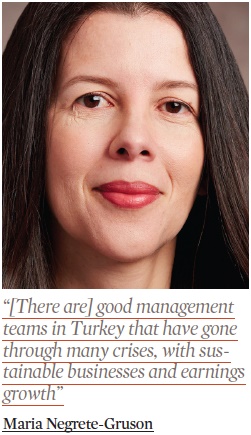 In its outlook for emerging markets, Key Questions for 2017, the Institute of International Finance (IIF), a global association of financial institutions, says security risks have heightened, "as terrorist attacks by ISIS and Kurdish PKK militants have escalated in response to Turkey's increased presence in Syria, unsettling investor confidence and weighing on the already very weak economic activity." The IIF says the situation is unlikely to improve soon, as Turkey "is most likely headed for a referendum in April over the required constitutional amendment toward executive presidency".
Despite such challenges, Turkey is an attractive investment market, particularly for those who can bear short-term volatility and look past the turmoil of geopolitics. Data from IIF shows that although capital flows into Turkey weakened in the second half of 2016 – with net capital outflows in December – overall Turkey ranked second among emerging market countries that had net capital inflows last year. It registered $34bn (€31bn) of inflows, compared with $35.1bn in Mexico, $33bn in India and $32.5bn in Brazil.
Fund managers say Turkey offers opportunities for both equity and bond investors, particularly in the medium to long term. They emphasise that the country's corporations could prove resilient even as the weakness of the lira could cause trouble for private companies that are sitting on a pile of huge debt denominated in foreign currencies. 
The non-financial corporate sector has seen a steep rise in the level of foreign-exchange (FX) debt relative to GDP recently, and there are concerns that further dollar strengthening could add to these companies' debt service burden.
According to Turkey's central bank, nonfinancial companies – those operating in the industry, construction and services sectors – had a net FX deficit of $212.6bn (€ 200bn) at the end of October 2016, compared with $66.7bn in 2009. Yet, open FX positions of corporates in Turkey are driven mostly by large-scale and exporting firms, which reinforces their resilience against possible FX volatility, according to a report by the economic research division of Türkiye İş Bankası A.Ş. 
The consensus among fund managers is that Turkish assets are cheap, but the potential risks are high. Maria Negrete-Gruson, portfolio manager on the emerging market (EM) team at Artisan Partners, says Turkey looks cheaper than some other EMs, but she also highlights the "very difficult" economic environment and the "complicated political situation". She adds that Turkey's foreign dependency puts it in a fragile group. "There are companies with excessive leverage but at the same time the banking system has proved relatively resilient," she says.
She also says there are "good management teams in Turkey that have gone through many crises, with sustainable businesses and earnings growth, which is admirable".
Similarly, Emre Akcakmak, portfolio adviser at East Capital, responsible for frontier markets, Middle East and Turkey, says the Turkish market still looks "appealing given its current risk/reward profile, but there are, of course, several concerns such as the slowing economy and the ongoing lira weakness, which contributed to the de-rating of the market since the 2013 peak".
He adds: "We see value especially in exporters as lira depreciation which took place especially since Moody's downgrade in September 2016 should help them become more competitive. We see opportunities also in the banking sector as highly depressed valuations may offer a chance for a strong rebound even with a slight improvement in the sentiment."
According to StarCapital, an asset manager that analyses stock-market performance, the cheapest market at the end of 2016 was Russia, followed by China, while Turkey ranked 17th.
Research Affiliates, a company specialising in designing investment strategies across various asset classes, says on valuation grounds, Russia has the greatest return potential, followed by Turkey. The firm rates the likelihood of investors achieving an annual return of 12.6% in Russia over the next decade at 50%, while its 10-year expected real return forecast for Turkey is 10.8%.
Turkey is considered a good destination for fixed-income investing over the long term. "There are good investment opportunities in Turkish credit, thanks to the young population, and the big population [and consumer base] of the country," says Sergey Dergachev, lead portfolio manager for EM corporate debt strategies at Union Investment.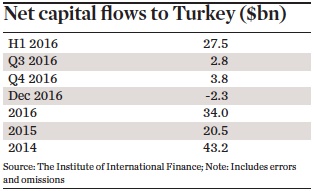 Dergachev highlights "strong corporate governance and prudent risk management of Turkish banks and corporates" as the features that make Turkish corporate debt attractive. However, he warns that "a sudden break-up of the currently successful pragmatic link between President [Recep Tayyip] Erdogan and the business community, and its wider implications on broader global investor sentiment towards Turkey in general" could be a "game changer" for Turkey's credit outlook, adding that "a serious incident, such as a raid or legal claims against a key conglomerate, could be a fat-tail [risk] event" – a low probability, high impact event that could shake the market.
Despite this cautious optimism, fund managers are questioning whether the Turkish stock market will bounce back soon. "Are we close to the inflection point and will the market turn the other way – as was the case in Brazil last year?" asks Negrete-Gruson. Analysts and fund managers says the upcoming referendum on constitutional changes could be as a catalyst for change.
"Although further consolidation of power may be a problem from a democratic angle, for the markets, ironically it may open the door to further reforms in a more expedited way," and could also "open the market to the growth it has been searching for", Negrete-Gruson says. 
Fund managers specialising in Turkey say the country has to improve its image to attract investors. "There is a dialogue in the Middle East and Turkey is changing its foreign policy. Such [positive] developments have not yet been priced in. Turkey lacks good PR perhaps," says Murat Salar, general manager and board member of Azimut Portfoy, a subsidiary of Azimut Holding Group. "In a world where there is micro-nationalism and rising protectionism, Turkey could act as a bridge, as a secular, democratic system. The west and Turkey must understand each other better."
So it is "never a one-way street as there are always as many opportunities as there are risks [in Turkey]," says Akcakmak. "Some positive developments, such as the ongoing talks on Cyprus, the new initiatives regarding Syria – with Turkey, Russia and Iran trying to find a solution [to the conflict], and there is also the issue of Trump, all remind us of the need to always look for what is next. As for the referendum outcome [and its implications], we all have to wait and see and hope for the best for Turkey's future."