Legal disputes between pension funds and their advisers are surprisingly rare. But, as Sally Ling discovers, this does not mean disagreements never arise, and with complexity rising, practitioners are more alive to the need to manage the risks.

In the past 18 months two legal cases, brought by the Dutch pension fund Vervoer and the British Coal Staff Superannuation Scheme, have caught the industry's attention. What made these cases unusual was that in both instances the trustees brought actions against their investment advisers on the grounds of professional negligence.
The Vervoer case, against its fiduciary manager (see panel), was settled last year shortly before it was due to go to court so details of the settlement remain confidential. The British Coal case, against its investment consultant, has only recently been instigated and to date, scant detail has made it into the public arena. In both cases the advisers reject allegations of negligence.
In this article we consider how common such disputes are and look at what investment advisers and their clients do to be sure that they understand one another's expectations.
Is there a problem?
Does the apparent dearth of legal proceedings involving pension schemes and their investment advisers mean that there are no disputes or disagreements?
Lesley Browning, pensions partner at Law Firm Norton Rose Fulbright says: "Investment advice is a complex area where there have been surprisingly few legal decisions. Professional negligence claims are mostly either quietly withdrawn following further investigation or if a claim has any merit, it will generally be settled before going to court. Understandably advisers want to avoid bad publicity and embarrassment."

At a glance
• The trustees of the Vervoer and British Coal pension funds have brought legal cases against their investment advisers alleging negligence – in both cases the advisers rejected the allegations.
• Contracts between trustees and investment advisers often limit the advisers' liability so it is important that trustees understand what is and what is not permitted under the terms of the contract.
• When considering whether they have a claim trustees need to establish whether the advice they were given was reasonable at the time and if the consultant followed the correct procedures when giving that advice.
• Good communication between trustees and their advisers is central to avoiding disputes.
• Consultants should make sure they understand their clients' objectives and that their clients are informed of the consequences if things don't turn out as expected.
Browning adds that it is quite hard to prove that an investment consultant has been negligent as trustees will always have a written agreement with their advisers.
"Things can go quite badly wrong for trustees if they have not taken adequate advice before entering into a contract or haven't understood the terms properly," she says. "It is difficult to say that a consultant has breached a duty of care if the consultant can point to a contract and say that an investment was permitted."
Clive Gilchrist, deputy chairman at independent trustee firm BESTrustees, feels there has not really been an issue with investment advice in the UK, because of the way the relationship works.
He says: "The consultant will work within a remit agreed by the trustees. So if, for example, it is an investment manager search the consultant will draw up a shortlist of two or three firms which the trustees will then interview and choose from. The consultant will not make a specific recommendation – all the firms on the shortlist will be 'buy-rated'."
Browning points out that contracts tend to be weighted in favour of the consultant rather than the trustees – often including a cap on liability - and that this is something trustees should look out for. So does this mean that consultants can hide behind their contracts?
Tim Giles, a partner at Aon Hewitt, believes that consultants have a duty of care to make sure they understand what trustees expect to achieve.
"If we don't understand we can't give good advice," he says. "I'd imagine a lot of legal actions would arise from the consultant not understanding the client's objectives and the potential outcome of failing to meet their expectations."
Pensioenfonds Vervoer and GSAM
The Dutch transport pension fund Vervoer was involved in a dispute with its former fiduciary manager Goldman Sachs Asset Management (GSAM). In 2012 the scheme issued a legal claim accusing GSAM of multiple breaches of contract dating back to 2006 and sought damages of €250m.
The claim related to investments in a portable alpha structure and the implementation of an increased investment in global high-yield credit. The case was settled out of court in June 2014.
The terms of the settlement were confidential, though a statement issued at the time by Vervoer said: "The parties have now reached an agreement through which the dispute has been settled to the satisfaction of both parties." For its part, GSAM is reported to have rejected all allegations as "mischievous and wholly unfounded" and claimed that Vervoer had acted with the benefit of "perfect hindsight".
British Coal pension fund and Towers Watson
In September 2014 the Trustee of the British Coal Staff Superannuation Scheme sent a 'Demand Letter' to Towers Watson under a pre-action dispute resolution procedure that applies in England and Wales.
This letter alleged that investment consulting advice relating to a currency hedge implemented in connection with the scheme's investment of £250m (€338m) in a BlueBay local currency emerging market debt fund in August 2008 was negligent.
The Trustee claims that the currency hedge caused a loss of £47.5m to the scheme over the period from August 2008 to October 2012.
Towers Watson has said that it disputes the allegations and says that it intends to "defend the matter".
Advice: Bad or negligent?
If trustees are unhappy with the outcome of an investment, they need to decide whether this was due to breach of contract or negligence or if things simply did not turn out as expected. As the saying goes, it is easy to be wise after the event and this was the view of Goldman Sachs Asset Management in the Vervoer case; the firm is reported to have said that the claim was made with the benefit of "perfect hindsight".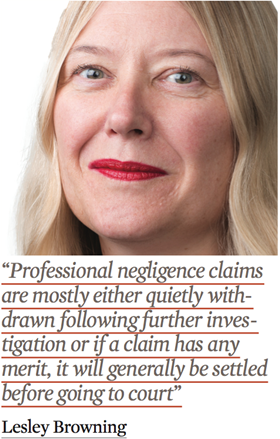 Gilchrist observes: "There's not a lot you can do about what turns out to have been bad advice in retrospect, especially if the consultant can demonstrate that they went through the proper processes at the time the advice was given."
Nonetheless he goes on to say that trustees might still have grounds for a legal challenge if, for example, an adviser recommends a manager and shortly after the manager is appointed it undergoes big internal changes that the adviser should have known about.
So how can trustees assess the quality of the advice they receive? Peter Dorward, managing director of IC Select, a firm that helps pension funds monitor investment advisers, says it can be difficult to challenge specific advice as there is always the question of whether the trustees have implemented the advice in a timely fashion.
He explains: "It's not really possible to monitor the quality of advice provided. Rather we can provide comparative data to make sure that consultants are doing what it says in their consultancy agreement and help clients understand how they match up to their competitors."
Is fiduciary management riskier?
It might be expected that there would be greater risk of dispute where trustees are delegating more responsibility, as is the case with fiduciary management. In recent years more firms have moved into this market, with consultancies offering investment implementation as well as advice and asset managers providing advice.
Giles feels that this should not necessarily lead to a blurring of responsibilities. "For us fiduciary management is a way of taking an objective and then taking discretionary responsibility for delivering that objective as best you can," he says. "The advisory piece is making sure the objective is correct, the management piece is putting in place the most appropriate investments to deliver it."
Not everyone agrees that things are as simple as this. For instance, Browning observes that fiduciary management does change things when investment consultants are both offering advice and making investment decisions. "There is a legal question as to whether the advice they give is truly independent or if there is a conflict of interest," she says.
As a result, she feels that trustees need to monitor closely what their consultants are investing in and suggests that this is why fiduciary management has not expanded as fast as expected. "It is expensive as you need two firms of consultants" she says.
Dorward also believes that there is the possibility of a conflict of interest.
"A firm that offers both investment consulting and fiduciary management will be using the same research for both areas of their business," he observes. "Clients need to understand if there are differences in how this research is implemented. It should be the same as it is based on the same set of investment beliefs."
He adds, though, that in his experience consultants that also offer fiduciary management are often at pains to be as transparent as possible to highlight any potential conflict of interest and that this should give some comfort to clients.
Mitigating the risks
In any case, it seems clear that communication is one of the keys to avoiding misunderstandings and disputes. "You have to spell out the circumstances under which a certain recommendation might not give the best results," says Giles. "There are no guarantees – advice is about taking a view of the markets. Concerns arise when things don't turn out as expected and the consultant has never explained that this might happen and the possible consequences. When an investment reacts in a surprising way people should understand why it is doing what it is doing. Then if you are unhappy with how something has reacted you need to change."
Dorward adds that reporting is very important. He explains: "A fiduciary management quarterly report can run to 50 pages and this is neither use nor ornament for the trustees. They need to be able to understand what progress has been made in managing their portfolio and assess the effectiveness of the service provided against 10 or so key risks. This requires clarity of reporting."
According to Dorward there are a number of areas on which trustees should question their advisers. For example, he says that if the underperformance of an asset manager is not being addressed, the trustees need to understand why their advisers are sticking with that manager.
With fiduciary managers, Dorward says trustees should look out for any apparent issues in the management of the portfolio or potential breaches in the mandate – for example, too much or too little risk versus the agreed strategy. There might be good reasons for this, such as changes in the market, but if there was
something the client wasn't made aware of that should ring alarm bells.
He adds: "All these things should be visible in the high level risk management report so that trustees can question their advisers on how they are going to address any issues and what they plan to change over the next three months."
Giles says that it is important to keep the objective of the investment in mind.
"You need to ask what is the objective?" he says. "What should I be monitoring it against and what are the red flags that indicate that I should change my approach? It's knowing where the limits of your understanding are and dealing with that appropriately – that applies to both the client and consultants."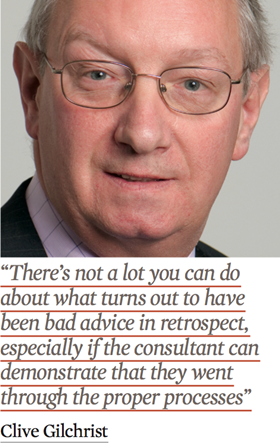 The two cases referred to here both relate
to advice given before the financial crash of 2008; so have things changed since then to make disputes between trustees and their advisers more or less likely? Browning says that in the UK, trustees are more vigilant than they were 10 or 20 years ago, pensions are better regulated and there is more focus on governance and the employer covenant.
Giles agrees that trustees are becoming more knowledgeable, while Gilchrist observes that larger schemes usually have a clear understanding of the legal nature of the relationship with their advisers.
He adds: "In smaller schemes the trustees tend to rely more heavily on their advisers – more than they should."
So, should we expect trustees to become investment experts in order to avoid misunderstandings and disputes? Giles thinks not.
"You hire a consultant because they've got the right depth of expertise to deal with what you are facing," he reasons. "What is important for trustees is assessing whether they are dealing with appropriately-qualified people. It is then down to the adviser to make sure that the advice is appropriate for the circumstances."
Consultants and pension funds: When disagreements arise
1

Currently reading

Consultants and pension funds: When disagreements arise

2

3