Smart beta strips out unwanted biases to deliver purified market risks – Martin Steward asks Indexx Markets' James d'Ath whether 'smart alpha' could strip out unwanted fund costs to deliver purified active management
What is smart beta? Essentially, it is finding systematic new ways to get exposed to the market risks that the market capitalisation-weighted portfolio was supposed to do. The problem with market-cap is not that it doesn't expose investors to those risks, but that it comes with biases to certain risks that are not necessarily the ones shown to perform best over the long run.
So what would 'smart alpha' be? Perhaps something like Indexx Markets, a quantitative investment solutions firm established in 2011 by Ronan Kearney and Leon Diamond.
"We all know how funds work and what their pros and cons are," says James d'Ath, the firm's head of sales and marketing. "Indexx Markets asks if we could go beyond that traditional structure, if there is a better way of accessing an asset manager's intellectual property."
If the problem with market-cap is unwanted biases, the problem with funds is unwanted costs – of depositaries, trustees, administration, accounting, and so on. And if smart beta aims to strip out unwanted biases with simplified, systematic investment processes, the 'smart alpha' approach at Indexx Markets aims to strip out fund costs by replicating fund managers' intellectual property with a similarly simplified, systematic investment process, rendered as an investable index.
"There is a lot of legwork for our team at the start to establish whether or not a potential partner's methodology is replicable – and indeed, whether it is really sound," says Diamond, an ex-global macro trader and portfolio manager. "After all, the way we get paid is linked not to a licence for our indices but to the success of the strategy and the assets that it attracts. But, by and large, if there is a relatively disciplined methodology and you know what the risk parameters and objectives are, that methodology can be replicated synthetically, albeit leaving out 5-10% of the 'secret sauce'."
A genuinely free-wheeling stockpicker or asset allocator who has generated alpha from decisions that are unpredictable is clearly not indexable in this way, but those that are tractable range from systematic trend-following managed futures programmes through to disciplined active management and asset allocation strategies.
"Like smart beta, this is part of a whole wave of attention that we see on transparency and costs in asset management," Diamond says.
Extracting manager skill from the fund structure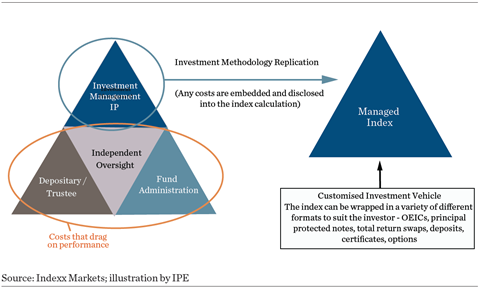 So far, Indexx Markets has worked with clients to create brand new index products. For Distribution Technologies, which specialises in risk-rating funds for the wealth management market, it has created a series of multi-asset class benchmark strategies, for example. With Cass Business School and Sarasin & Partners, it has taken quantitative-investment ideas and turned them into investable-index practice.
Andrea Nardon, head of quantitative strategies at Sarasin & Partners, who worked with Indexx Markets to create a 'US Efficient Strategy Indexx' based on a systematically-screened selection of stocks from the S&P500, remarked that this first of a proposed range of Sarasin products would "offer investors our strategies in an innovative format that allows for personalisation in a cost-effective manner".
Nardon hints at what is in this for the active managers themselves. After all, although they can position these as a new, standalone suite of products – with their own brand attached and Indexx Markets's presence only signalled by the double-x in the name – it does seem risky to offer clients a cheaper way to access your intellectual value-add. The risk looks even starker when moving from brand new products towards low-fat versions of existing full-fat strategies.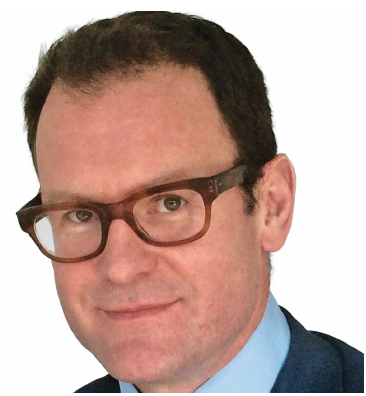 "The basic fund infrastructure costs are not going away, they are getting larger"

James d'Ath
One advantage is clear in Nardon's reference to "personalisation". What Indexx Markets creates are investable indices. The way clients track them – through an ETF, a total return swap, a deposit, option or principal-protected note, say - is entirely their choice. Indexx Markets will work with its investment banking partners to create the instrument if required. By removing the onerousness of creating new share classes to meet different investors or intermediaries' operational requirements, the indices potentially open up a manager's process to a much broader client base.
Diamond also emphasises the commercial value of transparency, pointing out that active managers often lose mandates when they are perceived to have deviated from their core strategy in response to poor performance or lack of good market opportunities. Indices of their distilled strategy can offer an objective assessment whether or not style drift is happening, he suggests.
But d'Ath also argues that active managers need to get on the right side of the trend to cut back investment costs rather than try to ignore it.
"They are under pressure from passive funds and smart beta so they are reducing fees in any case," he says. "The basic fund infrastructure costs are not going away, they are getting larger. This is one reason why we are focusing on the smaller end of the market – up to about $15bn in AUM – which is under immense pressure from the cost-cutting larger houses."
The firm has big ambitions, however. In particular, it senses an opportunity in the heated debate around active management costs incurred by the UK's local government pension schemes, and has sponsored two recent conferences on the question featuring contributions from the likes of Graham Vidler at the National Association of Pensions Funds and London Pension Fund Authority CEO Susan Martin.
"The smaller schemes who use external asset managers want us to talk to active managers to see what we can do to keep them involved with more cost-effective products, and the larger schemes with in-house investment teams are also talking to us about how we can partner them," says d'Ath. "This is a slow-moving issue, but there is appetite to do something to justify continued exposure to active managers' IP and head off some pretty prescriptive change coming down the line."
As d'Ath says, introducing new concepts like this can be a slow process. Investment banks have explored the idea in the past without it ever taking off, and while some of the very largest asset managers do similar things for intermediaries' white-label products, d'Ath and Diamond both express surprise that the idea is not being exploited more aggressively. Low-fat 'smart alpha' may never achieve the take-off velocity enjoyed by smart beta recently – but it is a worthy idea to add to the current discussion of costs, transparency and active management in the investment industry.