The real-market performance of three of the leading equity smart beta strategies shows these approaches have something worthwhile to offer, writes Anthony Harrington
Any discussion of 'smart beta' and its relative performance against cap-weighted indices has to begin with an admission that the term embraces a variety of different strategies. What these smart beta strategies have in common, however, is that they are all premised on the idea that market cap-weighted indices, as a proxy for the market portfolio, are inefficient.
Smart beta funds and indices have now built up a solid performance record demonstrating their ability to outperform cap-weighted indices by the order of 2-6% a year with reasonable consistency. They are able to do this, the smart beta index builders say, precisely because of the inefficiencies in the cap-weighted model. Here we will take a look at three of the leading smart beta strategies – fundamental indexation, maximum diversification and minimum variance – to get a sense of how they work and how they have performed over the past few years.
Dynamic
Jason Hsu is vice-chairman and co-founder along with Robert Arnott of Research Affiliates, which launched the first RAFI Fundamental indices in 2005. He says that, from the start, RAFI was designed to make it easy for industrialists, trustees and investors generally to understand.
"We go for a very simple process, looking to create a contrarian balance in the portfolio any time price deviates away from fundamental values," he comments.
The indices do this by weighting constituents, not by weight, but by companies' sales, cash flow, dividends and book value. As such, they seek to get exposure proportionately to what might be called those companies' 'economic footprint' – and thereby, something closer to the footprint of the economy as a whole.
Fundamental indexation differs most obviously from the cap-weighted index with its value tilt and slight small-cap tilt. But Research Affiliates emphasises that these tilts are not static but dynamic – this is not a simple small-cap value strategy.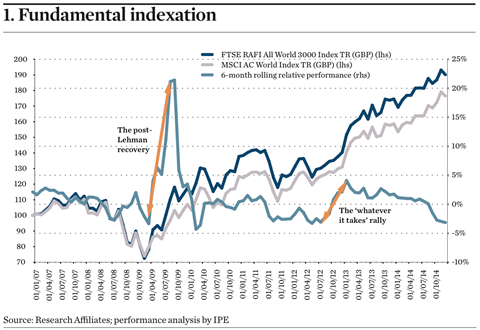 When value stocks are out of favour, fundamental index strategies tend to increase their allocation to deep-value stocks. Figure 1 shows this very clearly in the outperformance exhibited through the recovery from the huge market crash that occurred following the bankruptcy of Lehman Brothers in late 2008. Something similar, if less pronounced, is clear during the period following ECB president Mario Draghi's promise to do "whatever it takes" to save the European single currency – an intervention that radically changed risk appetite across world markets.
However, when value is in favour, the value tilt is much milder because these stocks tend to be priced higher. Hsu argues that rebalancing between unloved and in-favour stocks – "contra trading" – adds significant value in the fundamental indexation process.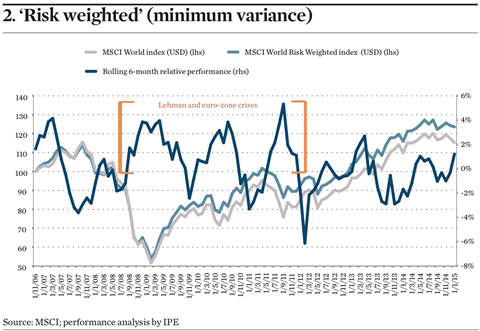 Smart low-vol
David Blitz, head of quantitative equity research at Robeco, likes to combine the classic equity risk factors into multi-factor products exposed to value, momentum, quality and the low-volatility effect. We will concentrate on low-volatility.
Blitz points out that there is a dilemma facing anyone designing a smart beta product. On the one hand, there is a great deal of merit in keeping smart beta absolutely simple and straightforward, so a low-volatility smart beta fund would be one that focuses purely on low-volatility as a factor. Split the S&P500 index, for example, to construct a universe of low-volatility stocks – and there you are. Everyone can understand that this is a low-volatility strategy.
"We go for a very simple process, looking to create a contrarian balance in the portfolio any time price deviates away from fundamental values"

Jason Hsu
The problem, however, is that there are some fairly obvious tweaks you can make to this which add complexity and opacity, but which definitely help performance. Figure 2 shows how a simple low-volatility strategy (in this case MSCI's risk-weighted methodology) exhibits high tracking error against the cap-weighted index, with relative performance swinging quite noticeably and outperformance focused on periods of market stress and losses.
Blitz notes that just picking stocks on volatility can leave you with a portfolio that is heavily concentrated on utilities and consumer goods, since these tend to be noticeably low-volatility stocks – you end up with a concentration risk that was not part of the plan. By extension, focusing just on volatility and ignoring valuation may not be that sensible, especially when the market becomes focused on defensiveness and 'high-quality' themes, as it has done over recent years.
"We are about to release a study where we compare 'smart low-volatility' that builds in filters for additional factors like price and diversity, against 'dumb low-volatility'. Smart low-vol outperforms dumb low-vol very significantly"

David Blitz
The problem, however, is that if you think smart beta strategies should be transparent and straightforward, once you start adding filters for other factors that transparency goes and you no longer have something that potential customers can understand immediately.
Blitz also adds something of a warning. There is a huge weight of literature documenting the importance of the four classic risk factors – namely, momentum, small cap, volatility and value, but there is very little evidence to show that it is possible to predict which of these factors is going to succeed at any one point in time.
"Because of this, we are reluctant to take big bets on any particular factor, so we recommend a well diversified mix," he says. "An equal weight for each of the four factors is a good starting point for a discussion."
Diversification
Yves Choueifaty, the founder of maximum-diversification pioneer TOBAM, would say that it is a good idea to go beyond this equal-weight starting point and to pursue something closer to genuinely equal exposure to the different risk factors in the market.
He says that the main flaw in the cap-weighted approach is that it results in a massive bias towards large-cap stocks and a related bias towards stocks that are over-priced. If you want to bet that a momentum trend towards large-cap and top-dollar stocks will continue, that's fine, but you need to know that you are taking that punt.
For Choueifaty, 'smart beta' is defined as a group of strategies that turn their backs on the cap-weighted index model entirely.
"If you believe that cap-weighting is fundamentally inefficient, then any alternative to this is potentially great, simply because it is not cap-weighted," he says.
The essence of Choueifaty's approach is to diversify by identifying the whole complex of risks that the portfolio faces and then to include all of them. TOBAM does this by optimising its portfolios to the 'diversification ratio' – the ratio of the portfolio's weighted average volatility to its overall volatility.
"The challenge is not to identify the risks but to weight them appropriately"

Yves Choueifaty
"The challenge is not to identify the risks, but to weight them appropriately," Choueifaty explains. "This is something that my team and I have been doing for years and we believe we are better at it than anyone else."
TOBAM's performance – in both fund strategies and indices licensed for replication – has been strong enough to keep its AUM growing at a healthy pace. It is in final negotiations with a sovereign wealth fund that will see another $1bn (€877m) added to the $7.7bn it already manages.
"We have a total of 16 live regionally specific strategies and 14 of them outperformed the market cap-weighted benchmark in 2014," Choueifaty says. "For example, our France strategy outperformed by 6.7%, our Pacific fund by 6%, our Euro fund by 5% and our US fund by 2%. We have increased our assets under management by 38% in dollar terms and by 58% in euro terms."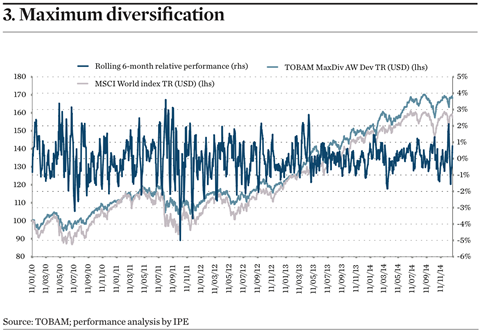 Choueifaty adds one caveat to his key idea that markets are efficient – in the sense that they cannot be successfully forecast – and it makes the relative performance over the recent period of central bank intervention and general 'financial repression' intriguing. Markets only work efficiently, he says, when the agents driving them are behaving rationally.
"Markets become very dangerous when the agents get irrational and the most irrational agents are those who are not concerned about profit or risk-related returns," he explains. "Today's markets are wild and volatile precisely because they are being interfered with by two groups of agents – politicians and central bankers – who are not interested in profit. The problem of having markets interfered with by irrational agents is that it inflates bubbles, and a fund manager's role is to place client assets into the capable hands of wealth creators."
It is noticeable that our three smart beta strategies have held their own during recent months, as three of the world's major central banks – the Federal Reserve, the Bank of Japan and the Bank of England – have been joined by the ECB in programmes of quantitative easing. It is also noticeable that the extent of their outperformance has been less pronounced.
This is as we might expect, given that all three aim to allocate capital efficiently against a cap-weighted index tradition that, their practitioners claim, is fundamentally inefficient and bubble-prone. The fact that these methodologies appear to have produced worthwhile returns during such difficult market conditions suggests that they have something to offer for the long term, and are more than just the latest investment marketing fad.