Despite the inherent risks, pension funds are looking to high-yield debt and syndicated loans in their search for above-average returns, as Anthony Harrington explains
At a glance
• Quantitative easing has affected high yield indirectly, reducing yields.
• The high-yield market could be boosted by companies issuing debt either for aggressive mergers and acquisitions or to finance dividends and share buybacks.
• The low oil price has swelled the ranks of 'fallen angel' investment-grade companies that have had their debt rating downgraded below investment grade.
If a week is a long time in politics, a few months can transform the markets. At the time of writing, despite all the doom and gloom predictions that followed the UK's unexpected Brexit vote, the major equity markets continue to hit new highs.
Yet there is no shortage of reminders of the risks associated with chasing yield through equities; the (albeit short-lived) dip of about 5% that followed the UK referendum result was one, as was the fall in the S&P 500 in the first two months of the year.
Given that there is considerable pressure to chase yield, the signs are that many are looking instead to increase their allocations to debt rather than equities as a way of generating above-average returns.
Turning to high-yield debt to boost returns requires overcoming the negative attitudes generated by a dismal performance in 2015. That, plus the occasional headline about the potential for the default rates in high yield to move higher, is still acting as a brake on investment.
However, working out just what is happening to cash flows in and out of the UK and European high-yield debt is tricky. PGIM portfolio manager Peter Allan points out that it is difficult to get reliable data. But he reckons, anecdotally at least, that some of the reluctance has worn off and funds are once again flowing into this space from institutions and pension funds. With $650bn (€580bn) of assets under management, PGIM Fixed Income is reasonably well placed to get a feel for whether or not cash is moving into high yield, even without precise statistics.
Quantitative easing (QE) by central banks has also had an impact on high yield. While the central banks are not buying non-investment-grade bonds, their weight in the investment-grade category has reduced yield significantly, driving many investors away from the poor returns in investment grade and into high yield. "We are seeing a lot of investment-grade tourists in the high BB space," says Allan.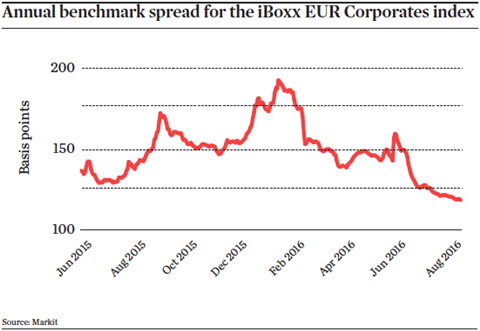 One of the more intriguing questions is how investors will react if the default rate in high-yield corporate bonds rises beyond the current level of about 1.5% for European debt. Allan argues that it is impossible to predict what the impact of a marginal rise would be, at least until it doubles to about 3% and over, if it does.
"A 3% default level could chill the markets. But at the current spreads, which are around 4%, the market is factoring in higher default levels than we expect to see, so there is clearly relative value in the market right now," he notes.
The current problem with the UK and European high-yield market is more one of constrained supply than nervousness over rising default rates, he suggests. Issuance for the first six months of 2016 has scarcely amounted to half the amount for the same period in 2015. Marc Kemp, institutional portfolio manager at BlueBay, adds that in Europe there have been more high-yield corporate redemptions of bonds than new issuances so far this year.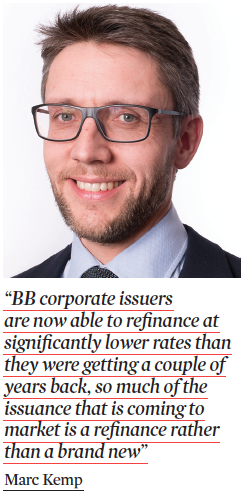 This means that pension funds that decide to increase their allocation to the high-yield corporate bond market are going to be setting their fund managers a challenge in getting that money placed – though it could always be parked temporarily in a high-yield bond exchange-traded fund (ETF).
"What we are seeing is that BB corporate issuers are now able to refinance at significantly lower rates than they were getting a couple of years back, so much of the issuance that is coming to market is a refinance rather than a brand new," he says. This means that the bond market is just churning on itself rather than expanding.
The next stage in the development of a positive cycle in the high-yield space should see companies issuing debt either for aggressive merger and acquisition (M&A) strategies or to finance strong dividend policies or share buyback schemes. "Right now we are seeing small instances of this happening, but not to the extent that we would expect. So this is something that the market is analysing and is maybe expecting to pick up," says Kemp.
With several newcomers, those who could fairly be dubbed non-traditional investors in high yield, coming into this space, there is more demand for defensive structures. These include shorter duration bonds acquired some way into their life via secondary markets. However, that source of supply is thinning as more investors look to hold for the life of a bond. Kemp points out that, according to JP Morgan, assets under management in short-duration funds have increased by just over 20% [in Europe] in 2016. Meanwhile, the mainstream high-yield corporate bond market has been relatively flat.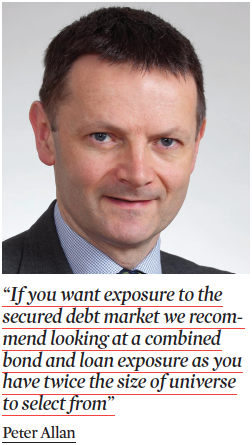 "We don't play in the shorter duration market at all. But it is natural to see first-time investors in this market wanting to manage risk by limiting duration," Kemp notes.
One of the reasons for the lower issuance in Europe and the UK in 2016 has undoubtedly been the fact that mid-market companies – the kind that would command BB ratings – have several financing options open to them presently. Those near the top of the mid-cap range, which are looking for debt of $200m or more, are likely to find the banks interested in forming a syndicated club to lend to them. There are several large funds in this area, according to Allan, that are specifically tuned to provide funding for syndicated debt. PGIM itself is a substantial player here.
The total syndicated loan market in Europe is down by 35% in terms of issuance, from its peak a few years ago. However, the big change is that the size of the secured bond market is similar to the secured loan market. "If you want exposure to the secured debt market, we recommend looking at a combined bond and loan exposure as you have twice the size of universe to select from," Allan notes.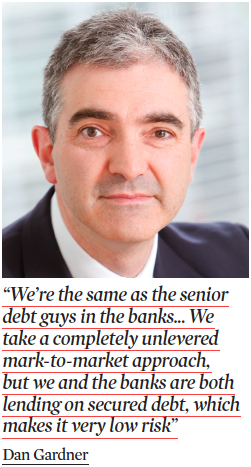 Below that there are several funds set up to directly lend to corporates. Such portfolios are also looking for investors, with returns north of 8% on offer. Dan Gardner, manager of the M&G European Loan fund, which has $3.5bn under management, runs a mark-to-market fund. Investment money for the fund comes largely from pension funds and insurance companies.
"What we are trying to offer is a steady return, targeting LIBOR plus 4% net of fees, with very little by way of month-to-month volatility," Gardner says. Lending is to the secured part of investment-grade company capital structures.
"We're the same as the senior debt guys in the banks, but the banks are reliant on wholesale funding and their game is to make a net interest margin over the cost of funding. We take a completely unlevered mark-to-market approach, but we and the banks are both lending on secured debt, which makes it very low risk," he says.
For those who want a percentage point or two above this, there are few places to go other than high yield with its default risk. There is no doubt that a lot of the fear over rising default levels in high yield is coming from the US, where energy companies make up about 18% of the high-yield market.
By way of contrast, energy stocks make up about 1.2% of the European high-yield market. If the energy component is stripped out of US high yield, the default rate is reasonable. Niklas Nordenfelt, senior portfolio manager, Wells Fargo US High Yield Bond fund, points out that it is less than 1% presently.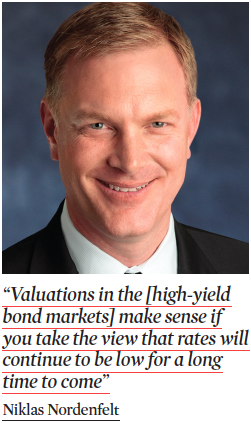 For sophisticated investors, dollar-denominated debt – given the relative strength of the dollar versus other leading currencies – is attractive, and the returns on high yield more than compensate for the risks, Nordenfelt says.
This is particularly true since the low oil price has swelled the ranks of the so-called 'fallen angels' – investment-grade companies with large exposure to the price of oil that have had their debt rating downgraded beneath investment grade. "Basically, valuations in [the high-yield bond market] make sense if you take the view that rates will continue to be low for a long time to come. However, any change to rates will really impact the high-yield bond market," Nordenfelt says.
For him the high-yield market looks likely to turn into a stockpicker's market in the coming months. "Up until now it has not been about being picky. The problem was getting fully invested in anything you could find. Spreads are currently below 500bps over investment grade, which is tighter than the historical average, but remains fair compensation for the risk you are running," he says.
Martin Reeves, head of high yield at Legal & General Investment Management, expects the third quarter of 2016 to see the peak in high-yield default rates. "Political turmoil in Europe around Brexit and low growth rates will not affect the fact that Europe will come out of this cycle with lower default rates than the US. Provided the Federal Reserve does not act precipitously, the rest of 2016 and into 2017 could be a great environment for high-yield bonds," he notes.
Reeves also argues that in the current environment the spread of high yields over government has limited usefulness. "This is one of the very few sources of predictable, reasonable income," he notes. The next move will be buying into Asian emerging-market bonds, where the yield has come down from say 12% to 13% a year or so ago for a B-rated issuer, to no more than 6% or 7%. The message is get in soon because the tightening might not be over.
Special Report Fixed Income Strategy: No more easy gains
1

2

3

4

5

6

Currently reading

High Yield: A risk worth taking

7

8

9

10