German Asset Management: Investors climb the risk ladder
Continuing low interest rates are forcing investors to move further up the risk ladder in search of returns. Barbara Ottawa reports
At a glance
• German investors are increasing their fixed income risk and hiring more asset managers and consultants for advice.
• Bespoke solutions are increasing in importance.
• Investors are questioning fee structures in low-return environment.
Nobody knows for sure how long the low-interest-rate environment will continue. Michael Schütze, managing director for institutional business Germany and Austria at Allianz Global Investors, says: "[The low-interest-rate environment] is really starting to hurt now and I am not sure whether everyone is aware". Currently, investors are still feeding off their old bond investments with a higher yield, he adds. 
According to Schütze, most German insurers have still well over 50% of their portfolios in traditional, directly held bond investments. He adds that if this exposure rate continues into a period in which interest rates rise again "it will be a bloody year from a mark-to-market perspective". It is only now that insurers are adjusting their portfolios to meet EU Solvency II requirements and increase durations to match liabilities.
André Haagman, managing director at Union Investment and responsible for local and international institutional clients, points out that investors are "climbing the risk ladder" and are now including asset classes which so far have only been on the margins of a portfolio. Instead of senior corporate bonds the demand has shifted. "Slowly equity-like instruments as well as cocos [contingent convertibles] are coming onto institutional investors' radar," says Haagmann. 
Including these new asset classes means investors often turn to asset managers for their know-how. "They are also increasingly using consultants and Master KVGs to get another intermediary and a holistic view on the portfolio and possible risks," Haagmann adds.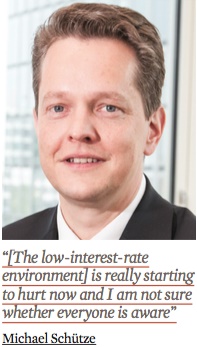 Marcus Burkert, managing director of international consulting at FERI Trust, says: "All the things people previously might have left untouched because they seemed too complicated and require too much know-how are now looked into together with an adviser – and hedge funds have become socially acceptable again." 
A recent survey by AXA Investment Managers showed that 63% of German institutional investors see their knowledge of investments in the alternative debt space as "satisfactory" or even "poor". The most self-critical were foundations, followed by insurers, pension funds and corporates. 
Overall, however, Manfred Schraepler, head of financial assets and liquid private markets at Aquila Capital, sees a much greater understanding of the benefits provided by the different types of alternative investment strategies among German investors.
At Deutsche Bank, managing director Alexander Preininger, head of institutional coverage EMEA and solutions for EMEA, APAC and Japan, confirms a spectrum of institutional investors is looking into alternatives. "We are trying to make these asset classes accessible, especially for smaller investors," he says. Preininger sees substantial demand for illiquidity premiums, for example from real estate, and "significantly increased" interest in private debt. 
Hartmut Leser, country head for Germany and Austria at Aberdeen Asset Management, points out that there has been "growth in the alternatives segment for years, but now the interest has widened and it is not only specialised investors looking into these asset classes." But along with this "democratisation" of alternative investments – as he calls it – comes the risk of overcrowding. Leser says: "The competition is getting tougher and selecting the right managers has become quite resource intensive."
According to Schütze, competition in Germany is toughest in the liquid asset classes, both from active as well as passive providers. He points out that pressure on fees comes from a different source: the low interest-rate environment. "It is hard to explain to clients why they are still paying the same level of fees for a running yield of 1% which they paid for 3% to 5% running yield a few years ago – and this is true both for active as well as passive mandates," says Schütze. 
Preininger confirms: "Many investors are starting to question why some of the fees they are paying are higher than the running yield they now get from certain mandates." 
Special features like individualised reporting, bespoke portfolio solutions and a better feeling for the market in difficult conditions shaped by exogenous factors are the unique selling points that should convince investors about the advantages of active management, says Haagmann. "It cannot be denied that both the low interest-rate environment as well as a shift to passive investments are putting pressure on fees," he says. 
Liquidity-eating ECB 
According to Haagmann, asset managers have to acquire or develop liquidity management skills. "Especially in markets where the ECB is acting as a buyer and soaking up assets, liquidity is a major issue because supply is limited," he says.
Apart from classic bond markets, this now includes securitisations, which Haagmann thinks are "indispensable" for institutional investors in the current environment. According to him, German investors are getting more interested in vehicles like European asset-backed securities and collaterised loan obligations "after initial doubts and caution". Haagmann adds that the industry "has learned from mistakes made in the past" about what to put into securitised vehicles and "not to distort illiquid instruments into liquid ones".
For Preininger, one of the significant changes is the loss of liquidity in certain asset classes  because of investment banks or trading houses putting fewer trading activities onto their own balance sheets and the ECB as a new massive player on the buyer side. "This leaves us and our clients constricted in our actions by a new corset," he says.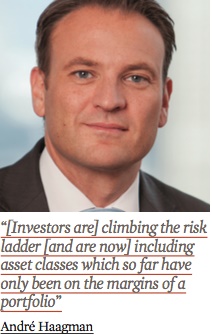 For Haagmann, this changed environment poses completely new challenges to asset management and product development. He points out that liquidity management, swing pricing or redemption charges may have to be introduced to protect long-term investors. 
Schraepler agrees: "In the liquid space, German institutional investors have recently started to allocate more actively into so-called liquid alternatives. Multi-asset strategies, risk premia or more specifically long–short equity market neutral strategies". 
But, Schütze warns investors about the illiquidity trap, especially within alternatives: "The low-yield environment pushes investors into illiquid alternatives."  
Restrictions, rules, regulation 
According to Preininger, most German insurers are a way off testing their investment limits for alternatives. 
However, especially under Solvency II, illiquid investments without an equivalent rating can trigger higher capital requirements. To avoid this, or because of a lack of alternatives, insurers are sometimes still forced to buy Bunds, Schütze notes. 
Investment restrictions also mean there has not been a major shift to equities. "Many German institutional investors are not willing to take this kind of risk," says Leser. 
Stefan Bauer, head of institutional sales Germany, Franklin Templeton Investments, says he has seen "a small uptick in the demand generally for equities, but given the limited risk budgets for many investors, it is only a minor shift". 
But where possible, many institutional investors are trying to break out of benchmark "corsets" and are going into unconstrained segments, says Preininger, who sees more total return and multi-asset mandates. 
Overall, says Schütze, it has become important for asset managers to understand the effects and structure of individual clients' portfolios, including the liabilities and come up with tailored solutions. "We can no longer sell a product to all clients in a certain group but we have to understand each portfolio in detail," he says.
Schütze notes that this year, for the first time investment guidelines contain conditions pertaining to Solvency II minimum capital requirements and so on. "This is also a new focus for us on how much and which kind of solvency capital we can take on behalf of our clients," he says.
Bauer notes: "Some institutional investors have to deal with many different parties, such as trustee boards or even stakeholders within another part of their organisation. It stands to reason that the managers who have the vast resources and expertise to be able to cope with these complex demands will be better suited to servicing this segment of the market." 
One final trend Haagmann mentions is the increasing importance of sustainability factors – "not only because environmental, social and governance issues ensure a stable, long-term investment but also because of reputation risks".
Pages in: German Asset Management: Investors climb the risk ladder