Everyone seems to want to talk about investing for impact these days. But a lack of a common understanding can make this difficult, according to Susanna Rust
At a glance
• Interest in impact investing is booming. The size of the market is hard to pin down, but measures suggest it has grown rapidly and that this will continue.
• The UN Sustainable Development Goals (SDGs) have captured the imagination as a possible framework for impact investing.
• One of the big areas of debate is whether impact investing can legitimately be claimed to be done in the public markets.
"You're going to see it everywhere." So says Matt Christensen, global head of responsible investment at AXA Investment Managers, about the word impact. It is "part of the Zeitgeist of today."
Add the word 'investing' and you get the term for a market that Amit Bouri, CEO of the Global Impact Investing Network (GIIN), says has "exploded".
Pinning down the size of the market is hard though, the non-profit organisation acknowledges. It says this is because the term is relatively new and used to describe investments made across many asset classes, sectors, and regions.
However, the organisation has been carrying out annual investor surveys for several years and compiling a directory of impact investment funds and products, and it says these indicate that "the market is substantial, with significant potential for growth". An investor survey it is due to publish in mid-May puts the size of the market at $114bn (€108bn). This is based on 208 respondents.
A trend report from late last year, based on a smaller (62) sample size of repeat respondents from its previous three surveys, showed that assets under management grew from $25.4bn in 2013 to $35.5bn in 2015. The majority of respondents were fund managers (34%) followed by foundations (12%).
The latest biennial review from the Global Sustainable Investment Alliance (GSIA), released in March, also has some figures. It said that impact investing was the fastest growing sustainable investment strategy between 2014 and 2016, followed by sustainably themed investing, although both are also the smallest in absolute dollar terms. It put assets under management in impact investing strategies, including 'community investing' at $248bn at the start of 2016, up 146% from 2014; this includes retail assets.
According to Eurosif, the European responsible investment association, the European market for impact investing amounted to $107.2bn, up by 385% from 2014. This represents less than 1% of what the association counts as assets dedicated to sustainable and responsible investment strategies overall.
Measuring the size of the impact investing market is clearly not an easy task, but the figures convey the growth trajectory it has been on. And the outlook is very much for interest in investing for impact – a twist on the impact investing term that is heard from time to time – to continue.
Bertrand Gacon, head of the impact office at Lombard Odier, says his firm expects impact "to move from the margins of responsible investing to the heart of mainstream investing, and 'impact' to become the dominant terminology".
The power of the brand
Given its roots in philanthropy, institutional investors with a fiduciary duty might understandably have shied away from this earlier understanding of impact investing. Today, however, impact investing is not seen as requiring financial sacrifice and, as GIIN's Bouri says, there is "booming" interest from institutional investors.
Citing an academic paper1 , Daniel Wild, head of research and development at RobecoSAM, says the term 'impact investing' was coined in 2007 by investors participating in the Rockefeller Foundation's Bellagio Centre, "putting a name to investments made with the intent of creating measurable social/environmental benefits in addition to financial return".
GIIN's Bouri expands. He says that in 2007 and 2008 the Rockefeller Foundation convened meetings at its property in Bellagio – an area that juts into Lake Como, in northern Italy – and that the term impact investing "had come up as a potential label for the use of investment capital to address social and environmental problems".
It stuck. And has had a big, if you forgive the term, impact.
John Goldstein, co-founder of Imprint Capital, an institutional impact investing firm that was acquired in 2015 by Goldman Sachs Asset Management, where he is now managing director, says that this was a "valuable brand pivot" that allowed "fresh thinking around practices, some of which had built up some ingrained scepticism".
Bouri says the creation of the brand was powerful because it "connected a bunch of really exciting fragmented efforts into a unified market".
"It coalesced all these different strategies under a bigger umbrella that makes it easier for large scale global investors to connect with and pursue more holistic strategies that will have an impact on a variety of fronts at the same time," he says.
Millennials, SDGs to the fore
That was many years ago though. Why is impact investing attracting such attention at the moment?
One reason, according to the GSIA, is because of "increasing concerns about climate change, perhaps driven by key international events such as the 2016 Paris Agreement". These concerns have benefitted impact investing and sustainability-themed investments, says the alliance.
The millennial generation – those born in the 1980s and 1990s – is frequently said to play a role, or to be likely to.
"Millennials are much more attuned to sustainability and social justice than any generation before, which will have profound implications on investing as their numbers increase and their influence grows as they reach their peak earnings years," says Chris Turpin, regional managing director, EMEA at First State Investments. "We expect to see a rise in interest in the investment options offered by [defined contribution] schemes, with millennials looking for strategies that are designed to have positive impacts, where the outcomes and societal benefits are quantified and reflect members' values."
Giles Gunesekera, CEO of Global Impact Initiative, a Sydney-based intermediary, says that in addition to bottom up pressure from millennial investors the interest in impact investing from pension funds is also coming from "CEOs and CIOs that want to make a difference on their way out and/or setting an innovative platform for the future".
Marion de Marcillac, vice president and business manager for ESG carbon and sustainable impact products at MSCI, suggests that the increased interest in impact investing is also partly a natural evolution in responsible investment, corresponding to a different objective than the one that so-called ESG integration is intended to meet.
And then there are the UN Sustainable Development Goals (SDGs). Agreed at a UN summit in September 2015, they are a set of 17 goals to make the world a better place, from eradicating poverty to providing clean water and sanitation for all.
It is striking how quickly the SDGs have captured the imagination of the institutional investment community. The link with impact investing is arguably two-fold. One, impact investing is seen as being able to contribute towards meeting the SDGs. Second, the goals could be a way of scaling up impact investments by serving as a framework, or a shared convention or language for communicating about impact investing.
The goals are already finding their way into asset owners' investment strategies and asset managers' and providers' product offerings.
On the asset owner side, pension investors in the Netherlands and the Nordics region are most visibly taking the lead. In December last year a group of major Dutch financial institutions launched an investment agenda pivoting around the SDGs, and several of the country's large pension investors are linking a part of their investment portfolios to the SDGs.
From the perspective of NN Investment Partners, however, the SDGs "have generated many investment discussions, but resulted in limited investment action so far, as investors struggle how to deal with [the] SDGs".
It has developed a "tagging approach" to assess company exposure to the SDGs and with that the investment opportunities in SDGs. MSCI has also developed tools incorporating the SDGs, having designed a framework and accompanying data and index "to measure exposure to sustainable impact solutions and support clients looking to align with the UN Sustainable Development Goals".
This was in response to its observation that "[i]nstitutional investors are increasingly looking for ways to steer capital towards companies and projects that provide solutions to major social and environmental challenges, but achieving impact at scale can be a challenging proposition".
Do the job well
Intentionality is regarded as one of the key characteristics of impact investing. It requires positive impact to be deliberately pursued rather than, as Christensen says, "having a portfolio strategy where it accidentally happens". An important aspect of impact investing is also being able to measure, and report on impact.
Another hallmark of impact investing, according to the GIIN, is that investments are made with return expectations: a financial return on capital or, at minimum, a return of capital. Financial returns can range from below market rate to risk-adjusted market rate (most of the respondents to GIIN's 2016 survey were seeking competitive, market-rate returns).
Impact investing, many say, is not an asset class but a strategy, and as such can be implemented across a range of asset classes that investors can slot into their portfolios in different ways depending on their objectives; it has also been described as an overlay.
Put this way, impact investing seems fairly straightforward to define.
And yet RobecoSAM's Wild says: "Although it is clear that impact investing is gaining momentum, it is not so clear which institutions are also participating, and the precise definition of the term often varies from one institution to the next."
In its annual investor surveys the GIIN has been tracking respondents' views on challenges to the growth of the impact investing industry. Respondents were asked to rank the top five challenges from a choice of nine. Ranked fifth in the 2016 survey was the challenge surrounding a "lack of a common understanding of definition and segmentation of the impact investing market".
Speaking at an impact investing conference in London in late March Goldman's Goldstein also talked of the challenges involved in or facing impact investing. One of the first things he mentioned was "alphabet soup" of language.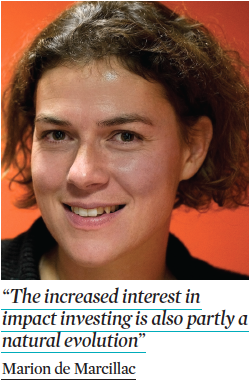 "People get very confused," he said. "Hype can engender the scepticism" and "the talk to action ratio is not where people would want it to be", he added.
An area of contention is whether impact investing, which has traditionally been associated with private markets, can be done in the context of the public markets.
The contentiousness in part has to do with the fact that, as AXA's Christensen puts it, "that's where the numbers are going to balloon".
But Christensen is sceptical: some argue it should be "completely banished as an option because it's a secondary market and not a primary market", he says, and that the 'intentionality' involved does not qualify as impact investing.
However, Christensen concedes that there are ways to do impact investing in public equity although he says it is "harder and more diluted". High conviction, small cap or emerging market strategies "are the fastest ways to create a link to impact investing", he says.
Some have also argued that impact investing has to involve 'additionality', which is the idea that an impact investment brings about a positive change beyond what would have occurred without that investment.
MSCI's de Marcillac says this can be challenging in public equity where "if you don't invest in a public company someone else will".
Andrew Parry, head of equities at Hermes Investment Management, is fully aware of the questions surrounding impact investing in the context of public markets.
Participating in a panel at the aforementioned conference in London he was questioned about how much public markets investing goes into "real impact strategies".
He said "zero" is being done in the way that many of the delegates would understand impact investing.
In a subsequent speech, he argued that "truly impactful investments" can be made in the public markets, but that this requires equity investors to fundamentally re-think and transform how they invest. (see article in this report).
"Public markets provide enormous leverage to improve the overall system and to deliver a more sustainable world, and which sits alongside, and reinforces, the more precise and targeted conventional impact investing space," said Parry. "To achieve this, however, it has to be driven by belief, and not marketing cynicism, and must be implemented through the behaviour and aspiration of equity investors and asset owners alike."
Does it matter if an investor "falsely" claims to be doing impact investing? Or is the debate about what does and doesn't count as impact investing, as one conference delegate said, "crazy – it's all good stuff"?
Goldstein has some ideas. He suggests there is no need to get territorial about one's definition or patch of impact investing, and that what matters is "honouring the spectrum" and doing the job well.
Footnotes
1 Wood, David; Thornley, Ben; and Grace, Katie. 2013. Institutional Impact Investing: Practice and Policy. Journal of Sustainable Finance & Investment.