Swedish buffer fund AP1 highlights resource efficiency as key to a sustainable investment strategy
Swedish institutional investors have been frontrunners in sustainable and environmental, social and governance (ESG) investments, not least the country's buffer funds, the AP funds. New guidelines governing investments came into force at the beginning of the year which puts further emphasis on ESG. The underlying idea is that companies that work towards solutions for ESG challenges will be more sustainable and therefore offer better growth and return characteristics in the long term.
ESG concerns have always underpinned AP1's investment, as it has with the other AP funds, without compromising returns or its fiduciary duty of maximising pensions.
AP1 recently invested in Summa Equity's private equity fund which is committed to the UN Sustainable Development Goals (SDGs) and earlier in BlackRock's Emerging Markets Impact fund. However, AP1 does not see itself as an impact investor. In fact, the investment team has come up with its own definition to better fit the fund's strategy and thinking.
Mikael Angberg, CIO at AP1, prefers to call it "dedicated sustainable investments" where the investment target has a direct link to sustainability, be it renewable energy or the above mentioned investments. "This is a softer, or broader, definition than impact investing which we are not, cannot be and do not want to be. The buzzword impact investor risks becoming very binary," he says.
Angberg says the new guidelines raises the bar of sustainability by focusing on it further but, in essence, does not change the way the fund has managed its assets from the start. "We are opportunistically continuously searching for interesting investment opportunities both within the listed and unlisted space which are tilted towards sustainability," he says. In the unlisted space the link to positive impact is often clearer through direct investments in areas such as electricity distribution, energy or digitalisation, he says, adding that AP1 also works towards improving the already high ESG profile of its property portfolio.
Resource efficiency in general is key, he explains, adding that AP1 looks beyond single challenges such as climate change. Instead, it favours a circular economy in which companies minimise waste and make the most of resources. This applies not just to physical resources such as waste and water but also financial and human resources in order to create a sustainable business or environment for the long term.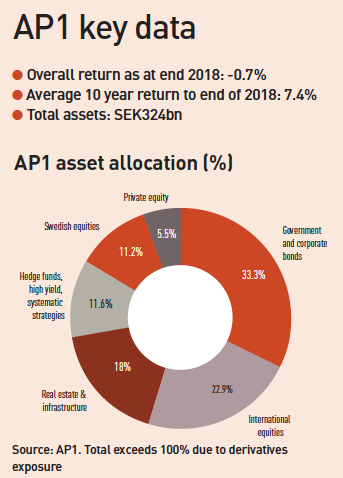 Angberg says resource efficiency is integrated in the investment decision-making process as it captures many of the most important aspects of sustainable investments. "One of the most prioritised issues is to integrate sustainability aspects in our internal analysis of stocks and shares both on the fundamental side but also on the systematic, quant side. There we look at how to devise the algorithms to take into account sustainability criteria," he says.
AP1 does not have any specific goals or percentage of assets which will be funnelled towards sustainable investments or those that use the SDGs as a framework for their investments.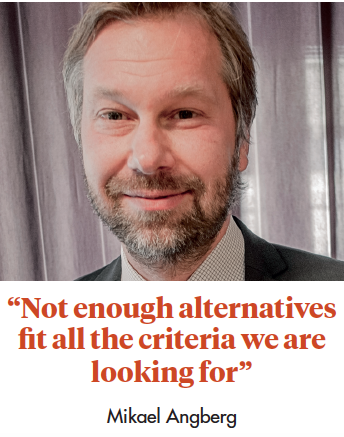 "It stands to reason that these types of investments will increase over time but if you set specific targets, the risk is that you pay a premium because you have to allocate a certain amount, irrespective of market circumstances.
"This is the case with green bonds at the moment, where you pay a premium compared to regular bonds within same type of company," Angberg says, adding that cost is an issue and all the pieces have to fit for AP1 to get involved.
This is one of the reasons AP1 remains picky. "The market is developing and while there are plenty of products not all are good and definitely not enough alternatives that fit all the criteria we are looking for which include cost as well as an attractive risk/return profile." he says.
The criteria AP1 looks at for selecting investments or funds depend on the region and asset class. For instance, Summa Equity was unusual in its approach, using the SDGs as a framework for investments, Angberg says. "It was a local player with an experienced team and it fit us well," he says.
The BlackRock investment came about in a different way. AP1's external management team took a more active role in creating the product. AP1 put $100m (€89m) into BlackRock's Emerging Markets Equity Impact fund which was created at the request of AP1. "BlackRock is very much a speaking partner and the external management team took a very active role in creating this opportunity," Angberg says.
"Working with ESG criteria in emerging markets can be difficult. It is therefore very important to us to understand and know the approach the managers take. This does not mean their ideas have to be an exact match to ours but we want to see that they have implemented a carefully thought-out approach," he says.
The new investment guidelines allow AP funds to increase their illiquid allocation to a maximum 40% of their total and at the same time they are allowed to invest less in fixed income, enabling them to increase risk. However, Angberg does not see an increase from the current 25% in illiquid assets. "We are late in the cycle and I do not see a reason to increase risk or illiquidity at this stage," he says.