Insurance-linked securities are gaining popularity as a diversifying asset class, but what are the available strategies, underlying risks and costs? 
Rachel Fixsen speaks to PGGM and AP3, two pioneer investors in the insurance-linked market
Diversification across catastrophe risks between different territories and natural perils is essential, according to Anthony Harrington
Diversifying into aviation, marine and energy risks through private placements makes sense from a risk-and-return perspective, writes Anthony Harrington 
Investors in insurance-linked securities (ILS) generally underwrite non-life risk, but sometimes insurers are willing to offload life risk as well, finds Carlo Svaluto Moreolo. What can investors expect from entering the life-risk market?
US investments ballooned last year at the expense of European assets

Company 'must keep its focus on sustainability' following rejection of Kraft Heinz takeover bid
Third of financial services professionals say recent regulation having little to no impact on financial stability 

Church's £7bn fund leads second attempt to secure greater disclosure at oil and gas giant
CEO sees benefits of investments being less coupled to developments in the world economy and equity markets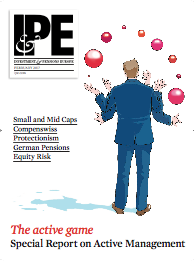 Digital Edition
Registered users are entitled to the first digital issue of IPE with the compliments of the IPE.com team.