Insurance-linked securities are gaining popularity as a diversifying asset class, but what are the available strategies, underlying risks and costs? 
Rachel Fixsen speaks to PGGM and AP3, two pioneer investors in the insurance-linked market
Diversification across catastrophe risks between different territories and natural perils is essential, according to Anthony Harrington
Diversifying into aviation, marine and energy risks through private placements makes sense from a risk-and-return perspective, writes Anthony Harrington 
Investors in insurance-linked securities (ILS) generally underwrite non-life risk, but sometimes insurers are willing to offload life risk as well, finds Carlo Svaluto Moreolo. What can investors expect from entering the life-risk market?
Plus: Schroders buys $7bn private equity firm, BNY Mellon launches US municipal infrastructure debt fund

Pension fund policy supervisor says funds 'must be willing to-invent themselves' 

'Sleeping giant' company pension schemes said to be lagging corporates and institutional investors on ESG

Scheme to provide graph showing contributions and asset growth through investment

Final agreement seen as still some way off as trustees reiterate desire for RAA solution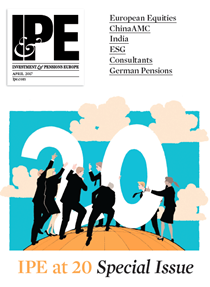 Digital Edition
Registered users are entitled to the first digital issue of IPE with the compliments of the IPE.com team.