Late-cycle dynamics, geopolitical tensions, trade wars and uncertainty surrounding Brexit are making investors jittery
John Huss and Yao Hua Ooi, principals at AQR, explain the firm's approach to risk parity
Multi-asset funds that take account of investor goals and time horizons could provide steady income
Investors in multi-asset strategies must make sure they understand all the risks involved
In-house asset management can deliver cost savings, control and overall value benefits but for complex or short-term strategies external management may offer better value for money
AP2's in-sourcing journey has reduced costs and boosted its flexibility and transparency
A checklist for investors looking to tap into multi-asset credit

Risk parity strategies have confounded the sceptics in 2017, performing well following mixed performance in previous years
Risk parity strategies have posted good results in 2017. What next?
Franklin Templeton recommends schemes align with member values via better integration of responsible investment into DC strategies
The PRI has commissioned research forecasting the nature and financial impacts of a forceful and disorderly government response to climate change by 2025

Complementa study also finds that pension funds will have to cut benefits to close the gap between required returns and forecast returns

The £8bn multi-employer scheme has requested authorisation from the UK regulator to set up NEST Invest to allow co-investments and derivatives use
Amundi and BlackRock will manage roughly 5% of the DC master trust's default funds with inflows expected to start in October
Digital Edition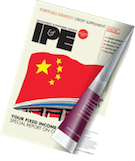 Subscribe to the digital edition of IPE magazine to view the latest issue directly in your browser.