Risk parity strategies have confounded the sceptics in 2017, performing well following mixed performance in previous years
Risk parity strategies have posted good results in 2017. What next?
Bridgewater's co-CEO tells Christopher O'Dea about some of the misconceptions regarding risk parity
HFR's new risk parity index family covers 25 strategies and $110bn in capital
How multi-asset, alternative risk premia strategies are disrupting the alternatives sector
How have major risk-factor correlations affected euro-denominated model portfolios?
Investors have for years used a 60% allocation to equities and a 40% allocation to bonds (sometimes inverted) as a simple and informal benchmark for an investment strategy
Joseph Mariathasan asks how multi-asset managers are seeking to prove their worth in a low-return, high-correlation world, when a 60/40 equity/bond portfolio looks hard to beat
Adoption of 1950s-born modern portfolio theory seen at heart of many industry problems
Board of dental technicians' sector scheme refuses to work with current accountability body

Plus: GKN-Melrose latest; expert panel to scrutinise USS valuation; Brunel gets FCA green light 

Companies prefer engagement with pension funds to short-term shareholders

Panellists at Pensioen Pro conference call for Dutch government to issue inflation-linked bonds
Digital Edition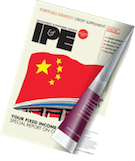 Subscribe to the digital edition of IPE magazine to view the latest issue directly in your browser.