HFR's new risk parity index family covers 25 strategies and $110bn in capital
Key points
Risk-parity strategies have attracted assets from institutional investors over the past decade
Most of those portfolios have been compared to custom-built benchmarks
A family of new indices offers measurement tools suited to the specifics of risk-parity investing
"What gets measured gets done." That well-known incantation to improve results through precise quantification of performance is variously attributed to management gurus Peter Drucker and Tom Peters, quality maven Edwards Deming, and Victorian physicist and engineer William Thomson, a measurement titan better known as Lord Kelvin, inventor of the eponymous temperature scale specifically suited to research in thermodynamics.
There is a similar diversity of authorship in the burgeoning field of risk parity investing. The seemingly straightforward core idea of risk parity – that it's better for investors to allocate their portfolios based on the risk posed by various assets than by simply dividing capital between stocks and bonds – has led to a wide range of portfolios being offered by investment managers ostensibly pursuing that same core idea.
As risk parity strategies have attracted assets from institutional investors over the past decade or so, the performance of those portfolios has often been compared to custom-built benchmarks. While that has helped investors keep tabs on their individual allocations, the lack of a common benchmark has complicated efforts to compare the performance of risk parity managers, and may have restrained the growth of risk parity by making it more difficult for institutions without sophisticated internal resources to commit capital.
Common platform
A new family of indices aims to change that by introducing measurement tools suited to the specific characteristics of risk parity investing.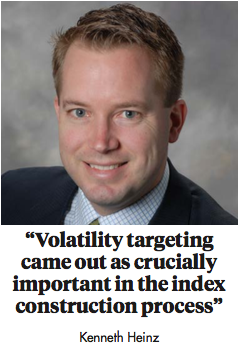 In August 2017, Hedge Fund Research (HFR) launched the HFR Risk Parity indices, a family of six benchmarks geared specifically to the risk parity approach. The primary objective of risk parity investing is to match the performance as traditional asset allocation strategies, with less volatility and risk, or to realise stronger performance, with risk and volatility equal to the traditional strategies. To provide a common platform for comparison of risk parity strategies, the new indices incorporate two important specialised features integral to benchmarking the performance of risk parity portfolios – volatility targets and institutional asset levels. Each risk parity product carries a specific target of annualised volatility which reflects the amount of risk taken in major asset classes in each portfolio.
The new HFR indices are published with volatility targets of 10%, 12% and 15%, each of which contains a sub-index of funds exceeding an institutional asset minimum threshold of $500m (€420m) in capital in the strategy. The HFR Risk Parity indices are rebalanced annually, and are investible through HFR Asset Management. The current universe of index constituents represents a total of 25 risk parity products, managing approximately $110bn in strategy capital.
Yes, we can!
The impetus for the new benchmarks crystallised in late 2016, when a pension fund that was using HFR's main index product to benchmark performance of its $7bn hedge fund allocation asked the Chicago-based hedge fund indexing and analysis consultancy to develop a tool to assess its $5.5bn risk parity portfolio. "The client said, 'we have a separate portfolio, but there's no benchmark for it and you can't imagine how much of a headache that is for us from an accounting, reporting and operational standpoint'." HFR president Kenneth J Heinz told IPE in an interview at HFR's riverside office in Chicago's financial district. After some consideration, Heinz says, HFR concluded: "We can do that."
The devil was in the details. The risk parity universe that HFR set out to survey included some of the largest firms in the industry, as well as new entrants, each one balancing the risk of four or five different assets classes. "There are different interpretations of how that's implemented across the different firms, but the idea is pretty similar," says Heinz. "You've got an equal budgeting across four passive asset classes," he adds. "The more we talked with managers, it emerged that this is a passive, long-only, strategy that has some natural hedging intuition behind it by nature of the portfolio being balanced by risk."
As the indices were developed, one issue rose to the top with both managers and investors, says Heinz. "Volatility targeting came out as crucially important in the index construction process," he says. "People were adamant that 15 vols should be compared to 15 vols, and so on," he adds. "The idea of a roll-up of all risk parity strategies across all of the volatility levels was something that nobody wanted to see," he says. "That's apples, oranges, and bananas, from their perspective."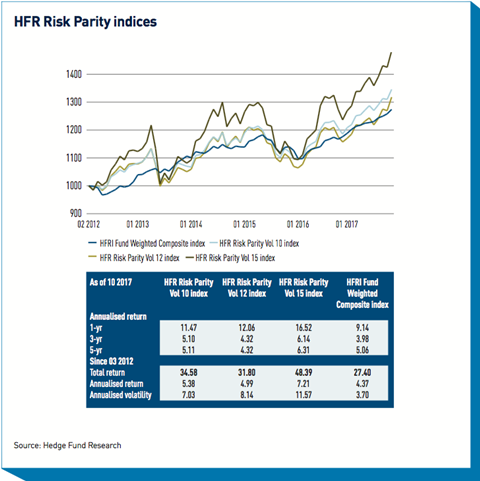 Because of the wide variation in the amount of assets being invested by the largest and smallest risk parity managers, the indices present performance of all managers in each volatility band alongside the performance of the institutional subset of managers, those investing at least $500m of capital in risk parity strategies.
A way of life
The diversity of risk parity implementations comes as no surprise. After all, says Eddie Qian, risk parity is a way of life, and an approach to thinking about investments and portfolio construction rather than a prescription to hold any particular portfolio of assets. Qian coined the term, and today serves investors as chief investment officer and head of multi-asset research at PanAgora Asset Management in Boston.
Although managers won't be able to build portfolios to manage directly against the new indices, HFR's new benchmarks are an important step in the development of risk parity. "For investors it's good to have a sort of yardstick," says Qian. "If their managers outperform, they can point to that, and if their manager underperforms they ask managers questions."
Going forward, HFR plans to expand the universe of its risk parity indices as the sector grows. "If there are products out there that are operating bona fide risk parity strategies, we would be happy to add those," Heinz says. At the moment, based on extensive consultation with managers, consultants and investors, HFR is "highly confident this is a very representative, if not entirely complete universe of strategies for the indices."
The first annual rebalancing of the HFR Risk Parity Indices will occur on 1 January 2018, at which time any new risk parity funds will be eligible for inclusion. And now that the risk parity market is being measured, look for more risk parity investing to get done.
Risk parity: Renewed vigour
1

2

3

4

5

6

7

8

Currently reading

Risk parity indices: Defining the market