The investment industry is hoping that 2018 will look much like 2017. Are such hopes likely to be dashed?
As Xi Jinping consolidates his control of the levers of Chinese power, he seeks to solve structural issues within the economy through greater central control
Will an ageing global population and a falling saving ratio trigger rate rises?
Are investors behaving complacently, ignoring the warning signs of markets still reliant on central bank generosity?
Digital Edition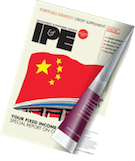 Subscribe to the digital edition of IPE magazine to view the latest issue directly in your browser.