It is astonishing how much economic and financial discussion focuses on the short-term and essentially trivial.
How might a British exit from the European Union affect European institutional investors both inside and outside the UK?  IPE asked experts across Europe for their views in the run-up to the 23 June British referendum. Here is a selection of their responses 
Economic debate tends to focus obsessively on short-term indicators while underestimating the importance of productivity and business investment, Daniel Ben-Ami explains
The European Union has made substantial progress towards economic integration but there is some way to go before it can achieve its full potential, writes Carlo Svaluto Moreolo
Europe's banks no longer seem to face a systemic threat but their profits are meagre. David Turner reports
Sustainalytics identifies six prevailing types of approaches to ESG integration
Dutch chemicals company criticised for rejecting shareholder call for EGM

Muted start to the year masks a rush from insurers to cater for mid-range de-risking deals

Law dismantling second pillar to be published by mid-year

Watchdog also consults on pension scheme audit guidelines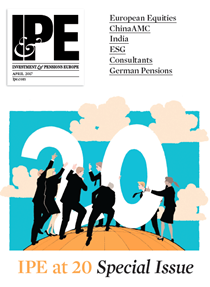 Digital Edition
Registered users are entitled to the first digital issue of IPE with the compliments of the IPE.com team.