Space: The final frontier
A reduction of costs is enabling disruptive applications that use satellite-derived data 
Key points
• Costs in the satellite sector are in the midst of a dramatic drop
• The global demand for internet access is a key driver of growth
• It is harnessing off-the-shelf technology from the consumer electronics sector to help drive down prices
The satellite-related space sector is experiencing a stellar shift akin to the replacement of the old mainframe computers by the now ubiquitous personal computers. It is rare to find a multi-billion-dollar industry that is facing a potentially 100 times reduction in costs. 
There is a new space race going on, says Morgan Stanley in a recent report – Space: Investment Implications of the Final Frontier. The race is driven by a confluence of factors including the huge reduction in launch costs catalysed by Elon Musk's strategy of using reusable rockets; a dramatic reduction in satellite costs and sizes; rapidly increasing demand for internet bandwidth across the globe; national security requirements of the US in particular; and the key role private sector investment is starting to take in the space sector. These are presenting some profound opportunities to build some substantial businesses in the future. 
Satellites are used for three distinct purposes: navigation with the global positioning system (GPS); communication; and earth observation. Until the past five years or so, the profile of the space sector was the antithesis of what the venture capital community typically demands. It was characterised by being incredibly capital intensive with long-life cycles for maturing businesses and heavily reliant on government subsidies. James Bruegger, managing partner of Seraphim Capital, says it was insular in its focus in attempting to reinvent technology rather than engaging with and taking advantage of existing technology. It was for good reasons that venture capital (VC) firms steered clear of the sector.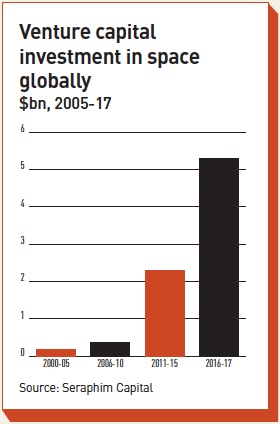 But the more important development is what is often referred to as the space sector's 'PC moment'. A decade ago, satellites resembled mainframe computers – they were large and expensive.  
What has changed is that, for the first time, the space sector is harnessing commercial off-the-shelf technology, particularly from the consumer electronics industry. 
One key area of interest is the demand for internet access which is growing rapidly across the globe. Today's space industry is dominated by consumer TV but the space economy in 2040 will be dominated by consumer broadband.
It is only by having large numbers of relatively low-cost satellites that concepts such as global internet access even for remote areas can be put into place. But this also applies to many applications of remote sensing as well as communication. 
"With the miniaturisation of satellites, it has become possible to put crates of satellites on rockets"

Dan Schnurr
"With the miniaturisation of satellites, it has become possible to put crates of satellites on rockets being sent to replenish the International Space Station and launching them from there as well as directly from rockets," says Dan Schnurr, co-founder of Geospatial Insight, a provider of research based on satellite imagery.
Both Geospatial Insight and Seraphim see drones as also part of the space sector for two reasons. First, drones are made using the same components used in satellites.  Second, drones and satellites in unison are better placed to solve customer's requirements. 
The changes in the economics of space have allowed the space sector to be aligned with the profile of opportunity that early-stage venture capitalists such as Seraphim demand. Satellites' PC moment will have a multi-decade impact on a multitude of large industries. It may be only early stage venture capitalists and industrial firms that are willing to look at the sector now. But for institutional investors, the challenge may be in deciding when they feel confident that the space sector is taking off.