Austria: Politics distracts from pensions
Pension reforms take second place to political squabbling
Key points
• Early elections are distracting from the pension debate.
• Pension funds are performing well.
• There is no significant growth in the market.
• Mandatory provident funds still have flaws.
He had a plan but then everything changed. Last year, IPE reported how new Austrian chancellor Christian Kern aimed to present an agenda, Austria 2025, which would have included a strategy on pensions. But then the government coalition that included his social democratic SPÖ and the conservative ÖVP collapsed. Snap elections were called for October 2017. In the wake of the political campaign, 30-year-old foreign minister Sebastian Kurz took over the conservative party and re-invented it as 'Liste Kurz'.
Following the government's break-up, the opposition green party, Die Grünen, had heated internal disagreements on future policy. Its former leader Peter Pilz left to set up his own 'movement'. The question Austrians seemed most interested in after his announcement was what colour his column will have in the charts on the election results. (He wants it to be "transparent" or "white if it has to have a colour").
This political squabbling does not leave much room for discussions on policy, let alone pensions, which have not been a subject of debate for a while. In fact, most of the debates about Austrian pensions reform that IPE has covered in recent years remain unresolved.

One of them is the governmental advisory body, the Pensionskommission. It was supposed to be restructured to also give recommendations on second and third-pillar pensions but, so far, it has only considered the first pillar. In addition, Austrians remain uncertain about future state pension payouts as the letter informing them about what to expect from the first pillar, sent out in 2014, was a one-off. Since then, future retirees have had to actively request any information pertaining to their future state pension payouts. However, as in many countries, people suffer a special kind of inertia when it comes to their pensions.
While pensions were high on the political agenda and pre-election campaign in neighbouring Germany, Austrian politicians kept ignoring all advice on how to make the country's retirement system more sustainable.
Meanwhile, Austrian Pensionskassen are trying to meet the challenges from the financial markets and an ongoing low-interest-rate environment. Overall, they are doing a good job. On average, Austrian Pensionskassen achieved a return of 4.17% for 2016. In the first half of 2017 it was 3.2%.
Customer service as well as investment options continue to improve. Pensionskassen have all introduced life-cycle models to allow people to choose risk categories depending on their age. As of year-end 2016 just over 900,000 people were either already receiving an occupational pension from a Pensionskasse or were entitled to one – out of over 3.5m registered as employed (not-including self-employed).
However, the political void they find themselves in still does not allow much self-promotion by Austrian Pensionskassen. So they continue to exist more or less outside the public debate.
Whenever the term 'pensions' makes it to the news, it is about the pay-as-you-go state pension system –but only to reiterate that it is safe. So far, no politician has proposed reforms despite the demographic challenges of longevity and fewer births.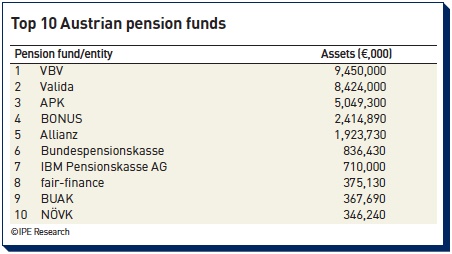 Meanwhile, the number of Pensionskassen continues to fall as further corporate pension plans are outsourced to multi-employer providers, of which there are five on the market. One other growing entity is the Bundespensionskasse for federal employees, as this is the only sector that has introduced mandatory, albeit minimal contributions.
After the sale of the Victoria-Volksbanken pension and provident funds to the Bonus group, the number of Vorsorgekassen has also fallen to eight. These funds are already edging close to the €10bn mark in assets under management. Pensionskassen, on the other hand, which were introduced a decade earlier, stood at €21bn at the end of  2016.
Every employer has to pay into one of these provident funds, in which severance pay is accumulated. This means that in a few years' time these Vorsorgekassen could overtake Pensionskassen in size and asset volume. However, they have a short-term investment horizon as money can be withdrawn during the accumulation phase. People cannot top-up contributions but they can transfer the lump sum to a Pensionskasse upon retirement, if they are already member of one.
The providers – most of them also offer a Pensionskasse – want a longer investment horizon and have demanded other technical changes to the legal framework. But these reforms have been put on hold until politicians are ready to talk about retirement.
The VBV group even has a fully developed product which would combine the provident fund with a long-term savings product that can also help to monetise overtime and holidays. The idea would be to allow people to save for early retirement or their old-age care. However, the legal framework does not allow for such fundamental changes to the Vorsorgekassen. And it has to be said tha t other providers are sceptical as well, as this would complicate a product which currently demands little administrative effort.
Maybe next year the government will have time to follow up the latest International Monetary Fund recommendation for "further pension reform measures" – for example, to increase the actual retirement age versus the statutory one and to make the state system more sustainable.