The past year has brought changes affecting pensions and the investment sector, along with a new government
Key points
The Social Democrats, who support the introduction of a financial transaction tax, took power in June
The previous government had agreed to increase coverage of the early-retirement disability pensions
The supervisor is acting to foster best practice in infrastructure investment
A technical move by EIOPA to lower the discount rate is seen as hastening the switch from guaranteed to unit-linked pension products
The past year brought a change of government to Denmark, as well as new proposals affecting the pensions and investment sectors. In addition, the country's financial regulator has taken steps to improve the risk management of infrastructure investment.
A general election in June shifted power to the centre-left, headed by the Social Democrats. It moved away from the former governing centre-right bloc led by the Liberal Party of Prime Minister Lars Løkke Rasmussen.
The Social Democrat-led government has already voiced support for the imposition of a version of the EU's financial transactions tax, which could require financial institutions to pay 0.1% of the value of shares or bonds they buy or sell.
Separately, an agreement was signed in May between the then Liberal Party-led coalition government, the Danish People's Party and Radical Liberal Party, on pension reforms to increase the coverage of the senior pension, an early-retirement disability pension. This move followed debate in Denmark on whether some groups of workers, in particularly mentally or physically taxing occupations, should be entitled to earlier retirement than others.
The agreement included setting up a pension commission to look at the benefits and drawbacks of differentiated pensions. The presidency of the Danish Economic Councils (De Økonomiske Råd) – four Danish academics known as the 'wise men' – subsequently called for the remit of such a commission to consider other broader pensions issues. For example, the relationship between public services and individual pensions, and the issue of pension coverage for groups with a loose connection to the labour market, according to the academics.
Finance Denmark, which represents banks and asset managers, recommended that a pension commission also examine the possibility of banks being allowed to offer annuity-like pensions in free competition with the pension academics.
Denmark is implementing IORP II, the EU's broad reform of pension fund legislation, which came into force in January. The new EU directive adds 43 new articles to its original version, and requires institutions for occupational retirement provision (IORPs) to invest according to prudent person principles, to improve internal risk management, and to make more data and information available to members.
However, implementation of IORP II will only cover a smaller group of pension providers of occupational retirement provisions. Most of the country's work-related pension providers are already regulated under Solvency II.
All change at Denmark's biggest pension fund
The labour-market supplementary pension fund ATP, a beacon of stability in the Danish financial landscape because of its population-wide coverage and pension guarantees, has undergone substantial changes to its management line-up.
In February 2018, Aarhus University's Professor Torben Andersen was voted in as the new chair of ATP's supervisory board, ending the 15-year tenure of the previous chair Jørgen Søndergaard. At that point, chief executive Christian Hyldahl had been in place for just over a year, but circumstances conspired to bring about his resignation in November 2018.
Hyldahl, who had become embroiled in a dividend tax controversy, said he decided to quit because "parts of the outside world that ATP relies on do not trust me as the director of ATP, and I have to conclude that there is no prospect that this will change".
He said there was an increasing risk that ATP's reputation would start to suffer, and this was something he wanted to avoid above all.
It took ATP's board nearly seven months to announce a successor to Hyldahl. In June, Bo Foged – who had been filling Hyldahl's shoes temporarily – became the new CEO, despite his earlier reluctance to be considered for the role.
ATP also announced that Martin Præstegaard, head of department at the Danish finance ministry, would be brought in as Foged's deputy, starting in September. However, at the same time as filling its chief executive and deputy CEO vacancies, ATP announced that its CIO, Kasper Ahrndt Lorenzen, was moving to the country's biggest commercial pension provider, PFA Pension.
Over at ATP's property investment subsidiary, ATP Real Estate, there have been important changes following the departure of long-time CEO Michael Nielsen at the end of 2018. Since new CEO Martin Vang Hansen started work in January 2019, the appointment of a new team and the creation of a new strategy has been under way.
In May 2019, Kenneth Olsson was appointed as CIO of ATP Real Estate, returning to his old workplace after a year-long spell as head of property at Industriens Pension.
Fostering infrastructure investment
As part of its thematic investigation into the infrastructure investments of eight Danish pension funds, which has been going on since 2017, the Danish Financial Supervisory Authority (FSA) wrote to the funds in January with instructions to improve aspects of risk management.
There were no serious consequences and the aim of the exercise is seen as encouraging best practice in the increasingly important investment class for some pension funds. The FSA said firms' supervisory boards needed to take more responsibility for setting out a clear risk profile for their investments. Management documents had to be specific enough to make clear the risks that the board wanted to assume on behalf of the pension savers, the authority said.
In January, the European Insurance and Occupational Pensions Authority (EIOPA) published a revised calculation of the Danish Volatility Adjustment – part of the risk-free interest-rate curve used for discounting liabilities. The revision, which is technical in its nature, has the effect of lowering of the interest rate curve by more than 10bps. This move reduces the expected financial return on savings in guaranteed products, according to the industry association Insurance & Pension Denmark (IPD), because investment strategies are forced to be more conservative.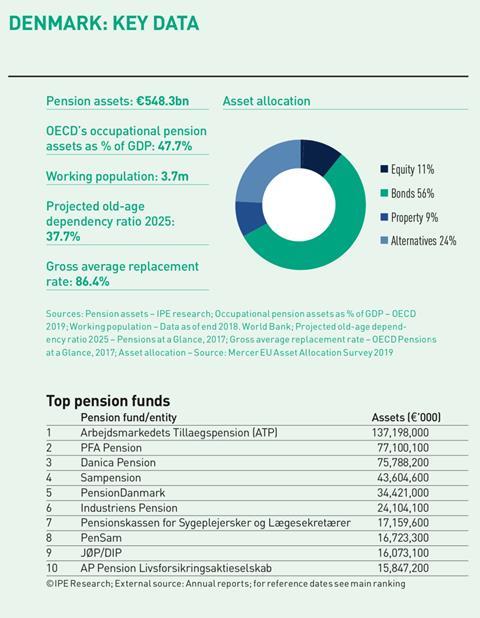 The industry group sees this regulatory tightening as another factor hastening the switch in pensions from guaranteed to unit-linked products.
Against the background of a specific example, in March 2019, the FSA warned the country's pension funds against giving false or misleading information to customers who wanted to leave the schemes. AP Pension was reprimanded by the authority for breaches of good practice for insurance distributors in this context.
The FSA said it wanted to send a clear message to the industry that customers had to be able to rely on the accuracy and truth of the information provided by the companies. It also said it was necessary for them to have balanced advice on both advantages and disadvantages when facing an economic choice.
In March, the authority also began investigating the provision of market-rate pensions and risk transfer to scheme members associated with this that had been happening since the products had become widespread.
It said it would put particular focus in the investigation – whose conclusions are expected to be published this year – on the decisions taken by pension companies' supervisory boards about the payout process. The supervisor is also planning to probe the stability of pension payouts and how this is included in the risk management of the product, also looking at how stabilisation and smoothing mechanisms are used.
The parliament agreed in March that ATP, the country's largest pension fund, would manage the new Obligatorisk Pensionsordning (Mandatory Pension Scheme), which will cover citizens making mandatory savings while on social welfare benefits. The new scheme will come into force in 2020 and, ATP estimates, it will bring inflows amounting to about 40% of the deposits it now receives.