Finland: Waiting for sustainability plan
Pension funds are awaiting news on how the European Commission's sustainable finance action plan will be adopted in the country 
Key points
• The Finnish approach to socially responsible investments has been to handpick suitable companies rather than avoid whole sectors
• The new regulations may lead to the allocation of additional resources to investment teams
• Market liquidity could be improved by the new regulatory framework
Pensions investors are waiting to hear the detail of how the European Commission's Sustainable Finance Action Plan will be implemented in national legislation. 
The country's four main mutual pension insurance companies managed assets totalling €117.6bn as of quarter one 2018. Decision on the details and timetable of adopting the new rules rests with the ministry of social affairs and health, which might choose to implement them in full or just some important parts. For now the focus is on Brussels, where the new regulations are being worked on. 
The action plan, presented earlier this year, aims to harness European capital markets to help implement international agreements on climate change reached in Paris in 2015. The proposed regulation will, for example, require asset managers, pension funds, and insurers to report on the procedures they have in place to integrate environmental, social and corporate governance (ESG) risks into their investment and advisory processes, and the extent to which these are expected to affect financial returns. 
In addition, the Commission plans to create an EU-wide classification system to designate which economic activities could be considered environmentally sustainable. The system aims to channel investments into sustainable activities and addresses problems of 'greenwashing'.
Mikko Mursula, CIO of €46.3bn Ilmarinen mutual pensions, says the finance action plan is the only ongoing and evolving regulatory issue which will directly affect investments of local pension investors in the short to medium term.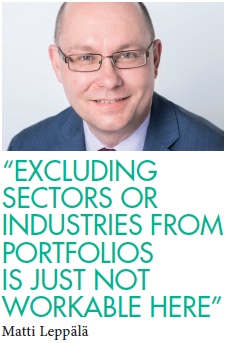 "For several years, there has been a lot going on and on the pipeline of Finnish pensions regulations. Most recently, in early 2017, the so called equalisation factor was increased from 10% of all liabilities to 15%, and at the beginning of this year from 15% to 20%, like was initially set as the target.
"This was done to make it possible for pension providers to invest more to equity risk and thereby achieve greater returns in the long run. We are now keen to hear the details of how the sustainable financial action plan will be adopted here."
Deputy managing director of Finance Finland (FFI) Esko Kivisaari was a member of the High Level Expert Group on Sustainable Finance, an advisory body to the European Commission. FFI is the representative body of the Finnish financial sector. Kivisaari says the working groups on the case have a relatively tight schedule.
He says: "There should be progress on the taxonomy issue and rules on green bonds by the end of the year. The schedule is somewhat ambitious. The European Commission can focus on the issue only until next spring, but after that its work will be more that of a bureaucratic entity, as the parliamentary elections of spring 2019 will start to approach. There is a need to get something visible done about the Sustainable Finance Action Plan before next spring".
Having worked in Finnish pensions, Matti Leppälä, secretary general of Pensions-Europe in Brussels, is apprehensive about the busy schedule of such a substantial shift. He says: "Pension funds in Europe are different kinds of investors from, for example, investment funds. There is no point in harmonising just for the sake of harmonisation and push all sectors to the same format at this stage.
"The reform should be planned in stages, make the regulatory changes that are necessary and then review the situation. Or at least first see, how the IORP II, which comes into force in January 2019, works and use that as the base of new regulations."
When the sustainable finance action plan is adopted in Finland, it is unlikely to have any notable effect on the everyday running of companies' investment functions because they already have active socially responsible investment policies. Kivisaari says: "Finnish funds have been for long time forerunners in actively managing socially responsible portfolios and communicating about these issues in a transparent manner. No new challenges are involved in this regard."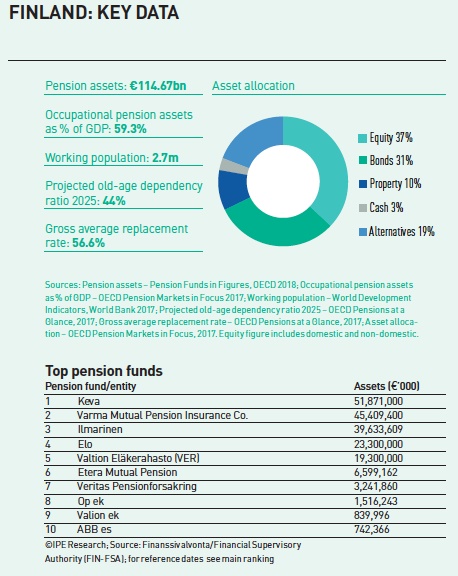 Leppälä, who drafted the code for socially responsible investments for Finnish pension funds when he was director of International Investment & Legal Affairs at Finnish Pensions Alliance (Tela), notes that measuring social governance within companies is easier said than done. 
"It is easy to rate companies' stance on environmental and climate-related issues but social governance is a different issue. How does one really evaluate and measure it inside a company?"
The Finnish approach to socially responsible investments has been to handpick suitable companies rather than avoid whole sectors. "If one starts rating certain sectors as a whole not compliant then one limits the investment horizon and it complicates diversification and makes it harder to pull comparatively sound returns," he says. 
Finnish funds also prefer to be active investors, and affect investee company's operations from within, as a board member. "Therefore, categorically excluding certain sectors or industries from portfolios is just not workable here," Leppälä says.
Mursula of Ilmarinen notes the new regulations could require additional resources for the investment team, especially after environmental and social issues start to be taken into account in stress tests. 
"Of course, this will require, in the beginning, additional focus and time dedicated accordingly. We, however, are not yet making any practical arrangements to this end as it is not clear yet in how much detail the regulation will be adopted in Finland. We will have to be compliant, but we will work on the details once they are out," says Mursula.
Leppälä agrees and says the new regulations mean higher costs for pension funds. "New kind of stress tests and, for example the duty to report, mean there will be a need for further expertise."
Kivisaari, on the other hand, says the new regulatory framework would improve liquidity in the market. Investing will, in fact, become easier, he says. "There will be a clear definition for all European bonds, a green bond standard, which makes operating in the market simpler. It will be easier to identify investment targets, which saves time from the investment process and makes selling the bond later easier too," says Kivisaari.
Social reform to change face of pensions
An important health, social services and regional government reform (Sote) is expected to come into force in January 2020. The reform transfers a greater share of social and health services from the public to the private sector and creates 18 regional governments. 
For the country's occupational pensions sector, the reform could mean that the pensions of 220,000 municipal employees are transferred from the municipal pensions system (KuEL) to a mandatory defined benefit arrangement covering private sector employees (TyEL). In addition, 5,000 employees from state regional administrative services will become employees of the provinces. 
According to a 2017 study by the ministry of social affairs and health, shifting provision from the public to the private sector will reduce the numbers covered by the KuEL and boost the numbers covered by TyEL. Recently, an increasing number of politicians have said they will work to prevent the Sote reform in its current form. So there is still a chance the reform will be modified.
Pension updates for the self-employed
An informal working group of experts at the ministry of social affairs and health is considering whether the pension scheme for the self-employed (YEL) needs updating. The unofficial working group is headed by Mika Mänttäri, an insurance specialist at the ministry. 
One of the questions that needs to be addressed is that only 200,000 of the estimated 350,000 self-employed Finns have YEL work pension insurance. The working group, which is expected to report this year, is also discussing the minimum income limit for compulsory YEL insurance, time limits, and insurance techniques.