Iceland: A time of change
New laws are having a liberalising effect on pension funds 
Key points
• Limits on foreign investment for Icelandic pension funds were finally removed in March 2017.
• Pension funds look set to  increase foreign allocations to about 40%.
• A new law introduces the prudent person principle for pension funds.
• Pension members may now put part of their statutory occupational pension contributions into a private pension plan.
Pension funds in Iceland have been dealing with changes made by regulators and lawmakers over the past 12 months. The process has generally had a flavour of liberalisation.
In March, the Central Bank of Iceland swept away curbs on pension funds investing in foreign markets. They had originally been imposed after the 2008 financial crisis devastated the Atlantic island's economy.
With the new set of rules it published, the bank said restrictions on foreign exchange transactions and cross-border movement of domestic and foreign currency had largely been lifted.
Over the past few years, pension funds had already been making use of the foreign investment allowances they had been granted. However, these intermittent allowances were limited in amount as well as in their applicable time periods.
In October 2016, the Icelandic parliament did vote to remove some of the capital controls put in place in the wake of the 2008 crisis – relaxing controls on capital movements by individuals and firms – but that did not change things for pension funds.
In March, however, the central bank said it had been possible to alter the rules on foreign exchange because of a big fall in the risk of monetary, exchange rate, and financial instability.
Icelandic pension funds are expected to continue increasing their asset allocations to foreign investments gradually over the next few years, bringing allocations to about 40% or more, from about 25% now.
Two important pieces of legislation on pensions came into effect in July.
In October 2016, Act number 113/2016, Amending the Act on Mandatory Pension Savings and on the Activities of Pension Funds No 129/1997, was adopted.
This law made changes to the authority and strategy for investments of the pension funds, and brought in new risk-management provisions. It changed the classification of asset categories and quantitative limits, and introduced general principles of pension fund investment based on the prudent-person principle.
According to the regulator, the Financial Supervisory Authority (FME), the principles are, among other things, meant to encourage informed decision-making and forward-looking investments. They are also intended to make sure that pension scheme members' best interests are taken into account.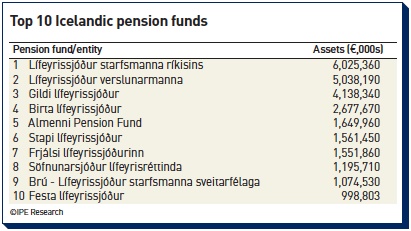 In June, Icelandic pension funds made changes to their investment policies in line with the new legislation that was about to take effect. This was despite the fact that details of further provisions related to various aspects of the regulation had not yet been issued. These included the form and content of investment policy as well as the implementation of risk management.  
The legislative change has not yet gone through all necessary stages to be fully incorporated into national law. However, the Icelandic Association of Pension Funds said the Ministry of Finance and Economic Affairs as well as the FME have, nevertheless, given the go-ahead for pension funds to amend their Articles of Association. This is in accordance with the new law because the changes are considered to be within the framework of existing legislation.
Pension scheme members have been able to take part of their statutory pension contributions into occupational schemes and put them in a private pension plan since July. Þorbjörn Guðmundsson, the association's chairman, described this shift as "one of the biggest changes in the national pension system for decades".
The Federation of Icelandic Employers and the Confederation of Employers agreed in January 2016 that the employer contribution to pension funds should increase in three stages by a total of 3.5% in 2016, 2017 and 2018. Employee contributions will remain unchanged at 4%.
As a result of this, total contributions to occupational schemes will rise to 15.5% by July 2018.
It is the supplementary 3.5 percentage points that scheme members will be permitted to allocate to a private pension plan.
These savings can, as with other occupational pension savings, be inherited, but cannot be used for housing purchases, according to the new rules.
The private pension cannot start paying out to the member more than five years before the usual retirement age.