Italy: Focus on flexibility
Lawmakers in Italy are increasing flexibility of access to pensions to soften the impact of the rising retirement age and boost savings 
Key points
• The recent budget law established that Italian workers can access private pension savings before retirement age.
• Tax breaks have been offered to workers who want to grow their pension pots.
• Pension funds have also been extended income tax breaks in exchange for domestic investment.
• A country-wide financial education programme has been launched.
Planned rises in statutory retirement age are proving difficult for Italian workers to accept. At the same time, companies are finding it difficult to restructure their workforce as people are staying in work well past the age of 65. To address these concerns, Italian lawmakers have focused on easing access to retirement benefits before pension age.
After introducing the APE (anticipo finanziario a garanzia pensionistica), a mechanism allowing early access to the state pension, lawmakers next turned to private savings. The most recent budget law (legge 232/2016) introduced the RITA (rendita integrativa temporanea anticipata), a measure that allows workers to access their private pension savings before retirement. Workers can access their second-pillar pension savings as monthly income for three years. To qualify they must be eligible for the APE. The budget law also introduced the 'APE Sociale', a supplementary pension for workers who are 63 or older and unemployed.

These are temporary measures, however, designed to offer flexibility while politicians work out how to make workers accept the harsh reality of a rising retirement age. Recent proposals to halt the process by which retirement age rises according to life expectancy have been met with scepticism. Italians retire at slightly different ages depending on their employment type, but in the current regime most workers retire between 66 and 67. This is perceived as an increasing burden by workers, but holding off the planned increases would create a shortfall for the pay-as-you-go public system.
Thankfully, lawmaking activity has not focused only on flexibility in retirement. Lawmakers are also offering greater tax relief for pension savings as part of the continuously changing and complex fiscal framework. The budget law offered a substantial tax break on performance-related bonuses, when such bonuses are transferred to pension pots or used to pay insurance premiums for private healthcare. Workers can transfer up to €3,000 tax free, and the tax relief is carried on to the payout phase.
In other words, the portion of pension benefits earned through tax-free performance-related bonuses is also not subject to tax. This is significant, as it shows lawmakers are sensitive to the issue of tax relief for pension savings. The annual limit for tax-free contribution to pension savings is €5,164.57, and increasing that ceiling is seen by many as a potentially strong incentive to increase savings.
Lawmakers are discussing further measures that may encourage saving into pension funds as part of 'DLL Concorrenza', a bill intended to boost competition in various markets. The bill, currently under discussion in Parliament, foresees that industry-wide pension funds may individually decide the minimum share of trattamento di fine rapporto (TFR) to be collected as contribution from employers.
TFR is the statutory severance pay that since 2005 has been used to finance contributions to pension schemes. Workers can decide whether it should be kept on their employer's books or transferred to their pension scheme, but in the latter case pension schemes must transfer the whole amount. The bill would offer some flexibility on the amount.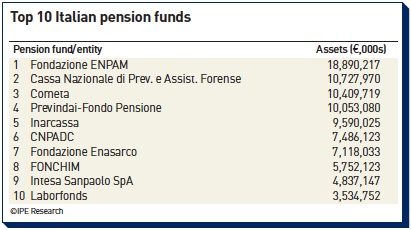 Although it might seem counter-intuitive this could boost retirement savings. The measure would allow workers to keep part of their TFR, instead of making a binary choice whether to keep it or put it all in a pension fund. Many workers in dire need of cash, owing to stagnant wages and long periods of unemployment, have been discouraged from parting with their TFR in exchange for future retirement security.
In a bid to boost institutional investment in the Italian economy, lawmakers have offered tax breaks to pension funds. The budget law established that pension funds that invest in Italian companies for at least five years will not be paying income tax on dividends from such investments. The exemption applies to up to 5% of balance sheets.
There are further discussions on facilitating pension fund investment in small and medium enterprises (SMEs) beyond the existing instruments, such as listed mini-bonds. Last year, the government set up Piani Individuali di Risparmio (PIR), retail funds that invest in Italian SMEs and offer substantial tax advantages. Pension funds have called for a similar structure to be offered to them, a call which has been echoed by the pension industry regulator, COVIP.
Regulatory activity has also focused on growing the awareness of pension fund members. Covip changed the rules on how workers are enrolled in pension schemes, by increasing the demand for transparency on costs by schemes upon enrolment. Workers are also assessed on their knowledge of the second-pillar system and appetite for risk, to make sure they choose the most suitable investment solution on offer within the fund.
More importantly, this year the parliament passed a law launching a country-wide strategy for financial education. This is something Covip and other organisations had lobbied the government to do. The strategy foresees education in schools and in the workplace on a wide range of topics, including savings and pensions. It is of a long-term nature and the effects will not be felt for some time. However, the scheme is the first of its kind and promises to speed up change in the country, to the benefit of its pension system.