---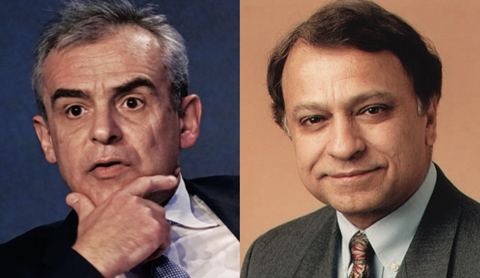 In the second of three articles on a new survey, Pascal Blanque and Amin Rajan argue that pension investors are adapting to challenges that go beyond the realms of a maturing business cycle, as the age-old global trade and security order is being up-ended

History shows that when real interest rates are abnormally low, future returns on equities and bonds tend to be lower. That aside, there are four worries weighing on pension investors, according to our survey, Rocky Road for the European Union: Pension Plans' Response*.
What will be the end-game in the tariff dispute between the US and China? With markets addicted to credit, will the Federal Reserve's rate-hiking cycle mark an orderly withdrawal or a rout? Even with rising rates, will the Fed have enough ammunition when the next recession comes? And, under populist President Donald Trump, will the Fed be able to act as the global lender of last resort in the next crisis, as it did in 2008?
Against this uncertainty, pension plans in our survey have identified the asset classes they are likely to favour (see figure). The main message is that investing will remain a relative-value game in a low-return environment.
Other points also emerged. First, certain equities will remain popular, including global equity (64%), high-quality equities (52%), emerging market (EM) equities (excluding China) (46%) and European equities (44%).
US equities (not covered by global equities) are absent from this list and their current weighting is unlikely to rise (14%). At the time of the survey, their overstretched valuations were showing signs of correcting. In Europe, well-governed companies give investors the opportunity to generate growth in the years ahead, in sectors such as industrial, technology, and consumer staples.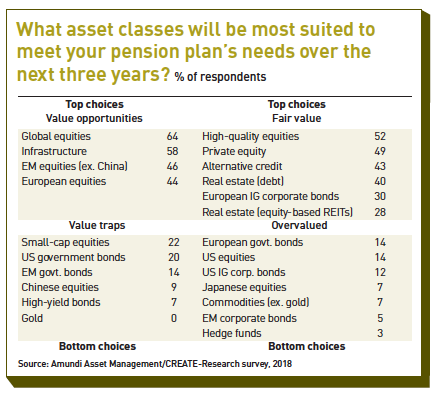 Second, EM equities and debt offer the best return prospects on a time horizon of five years or more – in the short term, they are vulnerable to US rate hikes and trade disputes. However, entry points can materialise next year, as the Fed tightening cycle gets close to the end.
Third, credit as an asset class is also stretched. Last summer, Moody's reported that its loan-quality indicator fell to its worst recorded level in the first quarter of 2018, indicating that collateral may not be available in the bankruptcy scenario.
Fourth, in search of yield, inflows into real estate will be increasingly targeted at value-added investments, with a higher risk–return profile than core investments, which are overvalued. The preference for opportunistic investments, the top end of the risk–return spectrum, is also set to rise.
Fifth, as they move into negative cash-flow status with ageing membership, pension plans are expected to continue favouring real assets, with strong cash-flow features (see UK case study). Infrastructure, real estate, and alternative credit will feature high on their list.
Sword of Damocles
Liquidity concerns hang over the heads of investors like the sword of Damocles. When liquidity is reduced, bid-ask spreads tend to widen disproportionately, making it harder to exit positions when volatility spikes, as happened in February 2018.
That episode confirmed the age-old paradox that liquidity vanishes when needed most, causing a mass exodus of investors, a sharp decline in prices and large losses for sellers. As the 35-year bull market in bonds shows every sign of ending, how this negative feedback loop between volatility and liquidity will play out during periods of future market stress remains the most serious concern.
*Available at www.create-research.co.uk
UK case study: The rise and rise of cash-flow-driven investing
Some 55% of defined benefit plans in the UK were cash-flow negative in 2017. We have been in that challenging situation since 2015. It exposes us to the risk of being a forced seller in a down market, when asset disposals become the only way of paying pensions.
As a preventative measure, over the past five years we have been rebalancing our portfolio towards real estate, private debt and infrastructure, which have regular, predictable cash flows and a illiquidity premium of up to 2% annually.
The three asset classes are good diversifiers: they have a very low correlation with traditional equities and bonds, except in a severe crisis. They are also regular cash-flow generators, enabling us to pay pensions irrespective of the wider environment. Also, they are backed by solid collaterals and, unlike equities, their valuations do not fluctuate much from year to year.
The pension plan run by our Danish subsidiary comes under Solvency II rules. For it, infrastructure carries a low capital charge compared with investment-grade bonds.
With real estate, our investments are less exposed to the adverse impact of interest-rate rises on property valuations. There is also a good capital upside as property prices and rents tend to rise with general inflation.
With private debt, our investments are insulated against rate rises owing to their floating rate structure. The default rate has been about 2% and delivers the consumer prices index +5%.
We see good potential for infrastructure investments globally. But public authorities are always tempted to move the goalposts in their favour.
Amin Rajan is CEO of CREATE-Research. Pascal Blanque is CIO of Amundi Asset Management