By his own account Nico Marais is an extraordinarily lucky man. The CEO of Wells Fargo Asset Management (WFAM) is keen to use every opportunity to emphasise his good fortune. In Marais's modest telling of his own story, his success is thanks to the qualities of others, rather than to his own merits. "It's the story of my life. I've just always worked for amazing people," he says.
A parallel theme is a belief in the capacity of others to thrive despite facing adversity. Whether it is a financial scandal or institutionalised discrimination it is possible, in his view, to overcome the most difficult of circumstances.
Marais's first unnamed mentor at the South African Reserve Bank (SARB), his home country's central bank, was "an incredibly dynamic boss" while his co-workers were "very young, very talented". Marais worked there during and after he was studying for his doctorate. Part of this time there was spent as a gold trader.
Then he moved to Washington DC to work for the World Bank. There he worked under Afsaneh Mashayekhi Beschloss, then its treasurer and CIO, whom he describes as "one of the most dynamic women at the World Bank". Later she went on to found RockCreek, a firm specialising in applying innovative technology to sustainable investment.
At the World Bank, Marais worked as a bond trader and then as a strategist for its pension fund. In the latter position he got a chance to see external asset managers at close quarters as they came in frequently to pitch their services. "It gave me an interesting insight into how good and sometimes not so good managers communicate," he says.
He then ran equity strategies for Barclays Global Investors (BGI) in San Francisco before moving to London to run its European equity business. When the firm was bought by BlackRock he took over the joint firm's multi-asset businesses as head of active multi-asset before moving across London to Schroders to run its multi-asset and solutions business.
Marais then got the call to become president of WFAM under Kristi Mitchem, then its CEO and now head of BMO Global Asset Management .
There was no pre-conceived plan to end up running an asset management group. "By sheer luck and coincidence it took me through from being a bank supervisor to a gold trader to a bond trader to an equity trader and then running multi-asset and solutions businesses for the last 30 years."
Marais says his lucky streak has continued at Wells Fargo despite the well-publicised involvement of its consumer banking business in a fraud scandal. Back in 2016 it became widely known that its staff had created millions of unauthorised customer accounts in a desperate attempt to meet sales targets. That was before Marais joined the group and it did not involve the WFAM part of the business. Nevertheless, he is quick to acknowledge that it was a heavy blow to the reputation of the company as a whole.
However, he insists that it ultimately came out stronger. "Wells Fargo is a wonderful, wonderful company that had a really tough experience," he says. But the scandal has "unleased energy to do things we never would have dreamt of in terms of rethinking the value proposition, so it's an amazing time to be here".
In any case, after a stint as president and then co-CEO for a few months, Marais was appointed CEO of WFAM in June. That put him in charge of a group with $495bn (€451bn) in assets under management (as of 30 June 2019), with more than 1,500 staff, of whom over 500 are investment professionals.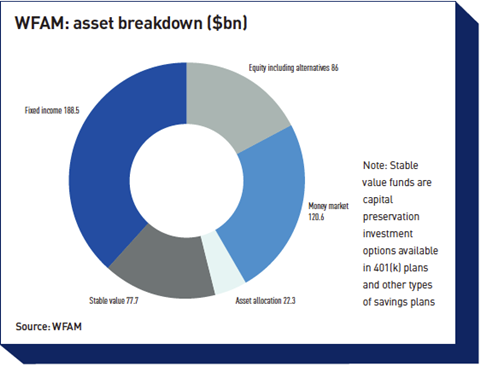 However, for Marais, the company should be known as a trusted partner and thought leader first, rather than simply as a product provider. "Investment into products is a natural product of building the relationship," he says.
And, even in these days when ESG is widely accepted, WFAM probably puts more emphasis on it than most. Central to its approach is a four-phase process for putting ESG into action: determining ESG values and priorities; assessing the existing portfolio; alignment strategies with ESG objectives; and monitoring ESG investing outcomes.
Of course, as a South African above the age of 40, Marais grew up in a society where it was literally illegal not to discriminate against a large section of the population. Apartheid has long been synonymous with institutionalised discrimination. It is often seen as the antithesis of contemporary ESG.
Marais, while firmly distancing himself from the South Africa of his youth, is keen to emphasise that he learnt from the experience of growing up under the apartheid regime.
He says his passion for diversity and inclusion is fuelled by his direct observation of discrimination as a child. "Yes, I might have been on the lucky side of that equation in South Africa. It doesn't matter. I've seen the pain. It's something that I know very well and I'm very vocal on and very passionate about."