Hopes that the funding position of UK DB schemes might improve still further were dashed in 2014. Data from the Pension Protection Fund (PPF) show that aggregate scheme deficits increased from £27.6bn to £266.3bn (€340.9bn). Despite initial optimism, equity returns were mediocre at best, while Gilt yields fell back to historic lows as the notion that the UK Monetary Policy Committee might soon raise the bank rate was kicked into the long grass.
We see little prospect of a significant improvement in scheme funding in 2015. From a yield perspective, things are likely to get worse before they get better. China's economy is slowing fast. According to Fathom's China Momentum index, growth might already be close to 4%.
The consequences are being felt in the commodities markets, with oil prices down more than 50% over the past six months. A period of several months of sub-1% inflation for the UK economy is more or less a done deal, in our view. And if China's policymakers respond to the slowdown by abandoning the dollar peg, causing the price of its exports to fall dramatically, then the UK may yet suffer a period of outright deflation. Either way, downward pressure on Gilt yields will be maintained, for the next few months at least.
Arguably, these developments pose something of a challenge to the latest set of long-term forecasts for the UK economy published by the Office for Budget Responsibility (OBR). At the time of its 2014 Fiscal Sustainability Report, published in July, UK growth was expected to average some 2.25%, with inflation remaining close to target. Against this backdrop, the OBR had pencilled in a steady normalisation of yields, beginning more or less immediately.
Were the OBR to re-run those forecasts today, it might be tempted to push back the point at which yields begin to rise by a year or two. Nevertheless, we find it helpful to consider the consequences of this official scenario, not least because it makes plain that, if yield normalisation does cure the deficit headache, then scheme trustees will soon face a new challenge in the form of a serious undersupply of index-linked Gilts.
As part of recent work undertaken with Pension Insurance Corporation, Fathom Consulting ran the OBR's long-term forecasts through its proprietary DB pension scheme model, and found that the sector as a whole should be restored to a position of full funding by the end of the decade.
Looking across the distribution of outcomes for individual schemes, just over half of all schemes will have reached a buyout level of funding within seven years. Only a small proportion of schemes will fail. Specifically, we find that, by 2050, fewer than 5% of schemes will have sought protection from the PPF, transferring cumulative deficits of some £7bn.
But there is a cloud hanging over this fair-weather scenario. As scheme funding improves, we would expect those responsible for managing the assets of a scheme that has reached a buyout level of funding to demand more protection against unexpected movements in inflation, and therefore to demand more index-linked Gilts. However, if the UK Debt Management Office issues and buys back Gilts, as it currently does, so that the proportion that are index-linked stays close to 25%, then over the next 10 years the industry could be facing a cumulative shortage of these assets that runs to more than £500bn.
In response, the UK government could choose to issue more index-linked Gilts than are required to finance the deficit, and to use the proceeds to buy back conventional Gilts. But it would need to do this on a very large scale.
Under the official forecasts described above, we find that the proportion of all Gilts that are index-linked would need to rise from 25% to 75% in order to meet the needs of DB schemes and their insurers over the next decade.
The alternative is to leave the DB industry substantially exposed to unexpected changes in inflation. That could have major implications for the solvency both of individual schemes and their sponsors, and by extension for the PPF. Ultimately, it may lead
to restrictions being placed on the benefits received by many scheme members.
If the UK economy evolves according to the latest official long-term forecasts, then there will soon come a time when policymakers must decide who carries the inflation risk. Should it be left to the successors of those who, many years ago, made promises to pay sums of money far into the future linked to an index over which they have no control? Or should it, instead, be left to the state, the body that is responsible not just for setting a target for inflation, but for appointing a body of experts to meet it?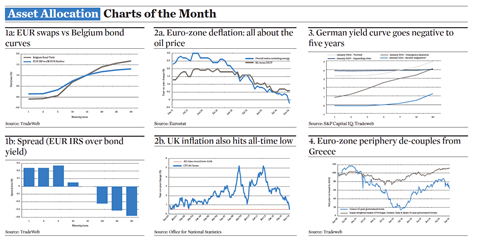 Andrew Brigden is chief economist at Fathom Consulting