The new disruptive environment is having a profound effect on the types of businesses that can survive and prosper
Key points
• The so-called FANG companies – Facebook, Amazon, Netflix and Google – have disrupted the US consumer marketplace.
• Shopping malls are experiencing the greatest impact.
• The FANG companies take a large share of advertising revenues.
Who can survive the bite of a FANG? Facebook, Amazon, Netflix and Google/Alphabet have disrupted the US consumer marketplace in a winner-takes-all onslaught. Whether the FANGs themselves are seen as good or bad investments at any one time, may be of less importance than the impact of their activities on the US economy as a whole.
"The concept of creative destruction is not new but what makes it feel different is that it is happening across a range of different areas simultaneously," says Robert Almeida, a portfolio manager at MFS Investment Management. As he argues, the world is experiencing a network effect where the biggest players have completely dominated their respective marketplaces with Facebook in social relationships, Amazon in retailing, Netflix in subscription services and Google in internet searches. For investors, there is little point in trying to find another FANG-type success in the mid and small-cap markets of the US. Instead, the emphasis has to be which firms can survive and prosper in the new environment.
The most obvious impact of what is essentially an internet-driven revolution is in shopping malls. While China's large cities have shopping malls packed with high-end retailers and few customers who prefer using WeChat, the area of mall space, given the size of its population, is relatively small compared with Europe.
In the case of the US, the opposite is true. Almeida sees the US as over-supplied by a factor of four to six times. The impact is being seen in store closures with more than 1,200 closures in 2016 and a likely 2,100 closures in 2017 says Tim Parton, portfolio manager at JP Morgan Asset Management.
That means many malls are struggling, particularly those in second or third-tier locations. Their large spaces may end up being repositioned for a variety of other activities including call centres and distribution points, with even Amazon taking up space.
The impact of mall closures is also being seen in restaurant chains whose revenues are down with lower footfalls in malls. The flip side is that home delivery firms such as Domino's Pizzas have been hugely successful – primarily as a result of their good mobile phone apps for ordering pizzas rather than their quality, according to Parton.
If everything can be bought from Amazon, who can prosper in its shadow? Unknown brands with the latest fad have all the distribution capabilities they would ever need. But well-known brands with expensive bricks and mortar such as departmental stores are suffering. Macy's announced plans to close 100 stores in early 2017 and is trying to rapidly develop a digital strategy.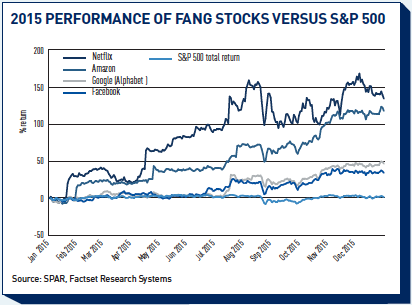 More likely candidates for success are retailers who are largely immune to disruption, argues Andrew Acheson, portfolio manager at Pioneer Investments. He sees retailers such as Home Depot and O'Reilly Auto Parts as examples of retailers whose business models Amazon will find difficult to attack. Garages require specialist parts within a day for repairs to older vehicles, while DIY enthusiasts value the immediacy and advice they can gain from visits to Home Depot.
Luxury goods are also a sector where, although inroads have been made, few would wish to buy high end jewellery on the internet.
As well as the direct impact of changing consumer activity to on-line purchases, the other significant impact of FANGs is clearly through their increasing stranglehold on advertising spending. The internet already accounts for 40% of all US advertising spending. TV may still be bigger but not by much. Facebook saw a 54% increase in advertising revenues last quarter. It had $8bn (€7bn) revenues in the first quarter and margins of 41%. Some 1.9bn people use it on a monthly basis but it only has 19,000 employees. We are starting to see the impact on advertising revenues for traditional TV while subscriptions for cable TV are showing 2% a year decline.
Internet providers are moving to content as well. Netflix has torn up the playbook, says Parton. Instead of needing to buy content from traditional providers, they know from the data what their audience wants and they are large and powerful enough to go directly to content creators to commission new material.
The effects of the FANGs can also be more subtle but still profound. One might have thought parcel delivery firms such as UPS would do well. But Pioneer, having had it for many years, has recently sold the stock because of the FANG-driven disruption. As Acheson explains, the business-to-business parcel delivery is unaffected by the internet as costs are irrelevant. The business-to-consumer activity is much more price-sensitive and also much more expensive to undertake, which has required a large capital investment to keep up with demand. The last mile of delivery, meanwhile, is being undertaken by the US postal service which delivers exclusively for Amazon on Sundays. Its fee structures effectively cap prices that the likes of UPS can charge, making it difficult for them to get a decent return on their capital expenditure.
US Equities: Opinions differ on valuations
1

2

3

4

5

Currently reading

US Equities: Survival in the internet onslaught

6