The Office for National Statistics (ONS) has released its latest dataset about occupational pension schemes in the UK which shows that at the end of June 2021, 71% of private sector schemes' direct investments were in long-term debt securities, while 41% of public sector schemes' direct investments were in equities.
This difference in asset allocation reflects the differences in age profiles of public and private sector employee schemes, with the ageing of private sector defined benefit and hybrid (DBH) schemes, and bonds seen as a way of providing income for cashflow negative schemes and managing the interest rate risk associated with pension liabilities, ONS said.
In addition, it could highlight the differences in the risk and regulatory environments of schemes where the government is the "pension manager", compared with those that have private sector sponsors, it said.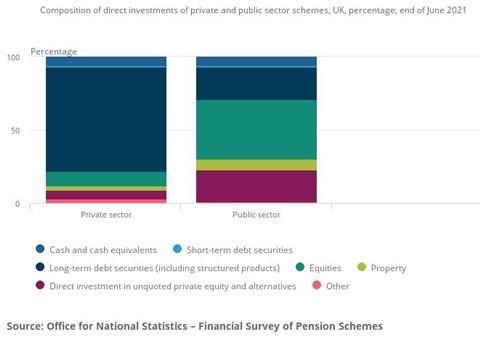 The latest ONS dataset also showed that the value of gross assets excluding derivatives of private sector DBH schemes increased by 3% between the end of March 2021 and the end of June 2021.
During this period, ONS said, private sector defined contribution (DC) and public sector DBH schemes also experienced growth, of 9% and 4% respectively.
The growth of DC assets over time correlates with growth of DC membership, which according to ONS, total private DC membership experienced a quarterly increase of 3% to 25.3 million at the end of June 2021, from 24.6 million at the end of March 2021.
Both private and public DBH membership continued to remain stable, with the combined membership of these scheme types presenting a quarter to quarter decline of less than 1%, at end-June 2021, the dataset found.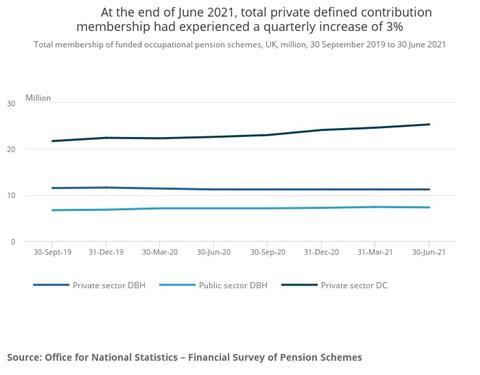 The ONS data also revealed that contributions in private sector employee and employer DC schemes grew by 19% and 18%, respectively, between Q2 of 2020 and Q2 of 2021.
These movements are subject to a base effect from the impact of the coronavirus pandemic, the office stated.
Helen Morrissey, senior pensions and retirement analyst at Hargreaves Lansdown, said: "While there were concerns the pandemic would lead to an exodus from pension schemes and plunging contribution rates, the growth of DC schemes is undeniable with membership soaring to 25.3m at the end of June 2021."
She said the pandemic had an "enormous effect" with furlough and increased redundancy rates meaning employer and employee contributions temporarily plunged last year; but they have since bounced back and membership continues to grow. DB scheme membership is flat as expected, she added.
"While contributions and memberships are on the rise, we can also see an increase in benefits being paid out," she said.
Between Q1 and Q2 2021 there was a 51% increase in pension payments and income withdrawals – including death benefits for DC schemes.
"While some of this will be explained by the horrible death toll of the pandemic, we could also see this as evidence that people have chosen to retire early or access their pension early to cover financial expenses," Morrissey said.
Looking for IPE's latest magazine? Read the digital edition here.