Supplementary guidance to be provided for financial sector, including asset owners and asset managers

Traditional investors increase exposure to alternative debt, says Kirstein
Panel on costs, fees warns of overly hasty reactions to fee levels, but asset managers 'need to do better' 
Assumptions driving asset allocations, liability calculations 'no longer relevant'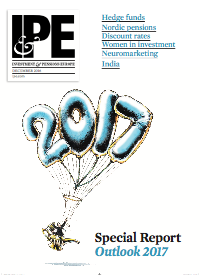 Digital Edition
Registered users are entitled to the first digital issue of IPE with the compliments of the IPE.com team.
Three pension funds - CWPS, ERAFP and Stapi - discuss chnges to their asset allocation

Emilio Giorgi (pictured), chief risk officer at ENPAM, Italy's largest private pension fund, talks to Carlo Svaluto Moreolo about its commitment to investing in projects that directly benefit its members
As risk-free rates edge towards zero or below in many regions, questions must be asked about discounting methods, according to Carlo Svaluto Moreolo
The signs suggest India is poised for dramatic improvements in its economy. But there are challenges around job-creation, education and manufacturing 
John Bilton, Michael Feser and Stephanie Flanders look at the effect that excessive leverage within the global capital markets can have on long-term economic growth 
The election of Donald Trump as US president represents a sea-change in politics and for a second time in less than six months, following the UK's Brexit vote, investors are left unscrambling the implications for markets over various time horizons.
There is a danger that the investment world could pay too much attention to geopolitics in 2017. Although politics is important, there is a risk its current high profile could obscure more fundamental factors.

Headlines suggest institutional demand for hedge funds is waning. But the facts paint a different picture, finds Carlo Svaluto Moreolo
Joseph Mariathasan explores the universe of emerging market hedge fund strategies
Niki Natarajan looks at how liquid alternative strategies could be the answer to the current low-interest-rate and high-volatility environment, even if it seems counter-intuitive
An explosion of providers and events promise to turn investors into low-carbon heroes. Even campaigners use it to benchmark managers. What will it deliver? Raj Thamotheram writes
"Successful managers are hard to find but those that do exist generally share some common characteristics"
Recently we had to admit that the trustee board of the Wasserdicht Dutch pension fund isn't very diverse. Of course, we fulfil the requirement to have one female trustee and one under the age of 40 and have for some time