Digital Edition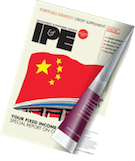 Subscribe to the digital edition of IPE magazine to view the latest issue directly in your browser.
The suspension of a GAM fund manager has revived the discussion about due diligence. We asked three pension funds how they deal with it

Christian Mosel, CEO of Ärzteversorgung Westfalen-Lippe, the pension fund for doctors in Germany's Westphalia-Lippe region, talks about his old-fashioned approach to investment
The rate of increase in life expectancy in Germany appears to be slowing down 
Despite generous state incentives in the Turkish auto-enrolment system, opt-out rates are high
A major GICS index methodology change seeks to reflect underlying market economics
Sweden's experience with the Premium Pension system shows how arduous dismantling of poorly constructed architectures can be
Demographic trends tend to be outcomes rather than causes of broader social shifts
Some US smaller companies may benefit from America First policies but others will not
Comparisons of the performance of listed smaller companies and private equity are fraught with difficulty
It is fitting that we launched our 'Purpose of Asset Management' paper in London, not far from 221b Baker Street, the home of the famous fictional detective, Sherlock Holmes. 

Paying good pensions is a noble purpose but much less so if investors, inadvertently or otherwise, help create a world that is not worth living in
The focus of ESG investment has been moving towards the environmental over several years. Topics like green bonds, carbon indices, green ETFs, portfolio carbon footprinting and decarbonisation are making headway

Incorporating changing behaviour and technological trends in retirement planning is essential
It is impossible to know how today's CIOs will look back on their actions in the 2010s. But, we still have time to avert the worst of runaway climate change