IPE asked three pension funds how private equity managers are progressing in terms of integrating responsible investment
Torben Möger Pedersen , CEO of PensionDanmark, tells Carlo Svaluto Moreolo that he sees the Danish pension provider as part of an improved Scandinavian welfare system
All over the world, the financial industry is grappling with the 'ideal' post retirement investment strategy and with how best to pay out income in retirement. There is an arms race and the question is the following: who will win the retirement agenda? 
Who needs Pennywise the terrifying clown when one has Argentine bonds in their investment portfolios?
UCITS are an example of EU financial innovation and a global success story. With €10.1trn in total net assets, UCITS help global investors save for financial goals, including retirement, education, and housing. 
As we approach the 2020s, what have we learned about pension investing in the last 20 years?

There is a growing consensus that there needs to be a shift from extraordinary monetary policy to fiscal activism. Although quantitative easing (QE) will continue, there is a widespread recognition that its effects are diminishing.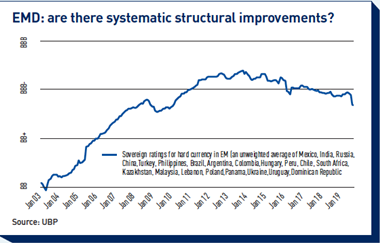 Although emerging markets are in aggregate enjoying structural improvements, there are stark differences between regions
Public markets are shrinking while private markets are attracting huge amounts of capital. But it is still not clear which is the better bet
An anti-corruption drive by Latin American companies is creating opportunities for responsible investors

More than a thousand Google employees have signed a public letter calling on the company to take bold action on climate change. They joined employees in other companies such as Amazon and Microsoft who published similar letters, calling their companies to take real action on climate change in response to the climate crisis.
"With DC now globally dominant, the momentum that has been building is likely to continue" 
"It is crucial to remember that the focus on good governance extends to including illiquid and private investment"

The ESG project is well beyond its childhood, even its teenage years. PRI has been going for 13 years and SRI activity pre-dated it by a decade. 

"Principles 3.0 is intended to offer a road map to optimal partnerships in the private equity industry"