Digital Edition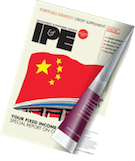 Subscribe to the digital edition of IPE magazine to view the latest issue directly in your browser.
APK Pensionskasse, APG Asset Management and Sampension Denmark share their views on hiring and keeping the best investment professionals
Olivier Rousseau, member of the executive board of Fonds de Réserve pour les Retraites, talks about regulation, ESG and his vision for the markets
What happens to UK accounting standards after Brexit?
After a period of underperformance, active investment strategies are on the up – for now at least

Investment committees have been pleasantly surprised by a fairly benign asset growth period from the Trump election onwards

Everyone is, at least to some extent, a product of their past. It is hard to break from the habits picked up over our lifetimes
The countries covered by the term emerging markets today have such diverse economies that the label could be misleading for investors

Structural changes could make it worth considering an allocation to Indian equities
It is not easy to predict where markets are heading in this era of great economic disruptions but there are big opportunities for skilled investors
As an investment professional I am used to traditional risk categories like equities, interest rates, inflation and the like. Now it seems we will have to add information security risk to that list
Decent folk in the investment world are beginning to ask why our sector is so slow to change. Why can't it function as a fit for purpose enabler of human prosperity?
"The selection of a benchmark is secondary to many other provisions for encouraging long-term behaviour"

"The FCA has picked the wrong fight. We need a way to rate alternative investments"
Investors are salivating over possible US corporate tax cuts. But evidence suggests this excitement is misplaced, at least from the perspective of the end beneficiaries