Prices of non-listed commercial real estate will dip in the coming period as a result of the COVID-19 crisis and lockdown restrictions and due to an acceleration of ongoing trends, Dutch central bank and pensions regulator De Nederlandsche Bank (DNB) said in a report.
DNB based its expectation of a price decline between 11% and 34% on the sharp drop in market liquidity within private markets for commercial real estate, whcih has been observed since the outbreak of the coronavirus pandemic.
"The drop in market liquidity in the first three quarters of 2020 was approximately 28%," DNB noted in its report, adding that market liquidity tends to be an early predictor of price developments as it responds more quickly to shocks.
DNB also noted that prices in the direct real estate market continued to rise in the first three quarters of 2020, while prices of listed real estate that tend to respond more rapidly to market developments had already plummeted.
As reported last week, some Dutch pension funds have been reluctant to accept losses on their non-listed real estate holdings. This has led market analysts to speculate about the magnitude of losses on their portfolios which have up until now effectively been concealed.
Rather than using already absorbed losses on listed real estate as a proxy for direct real estate returns, DNB has used the past relationship between market liquidity and price developments in the commercial real estate market to estimate future price effects.
DNB's calculations "indicate a negative price correction of 25% on average, with a bandwidth between 11% and 34%. This is a substantial price correction, but it is smaller than during the financial crisis," its report said.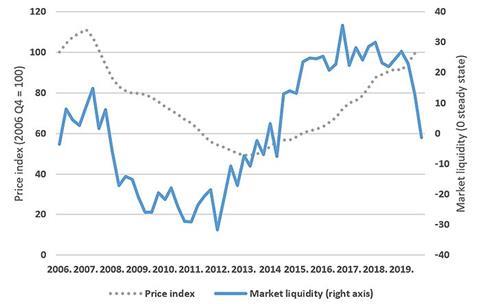 DNB expects this price correction to occur mainly in office and retail assets, which have not only been affected most by the pandemic but are also vulnerable to "structural trend shifts to online shopping and remote working".
The regulator concluded by announcing it will include the results of a stress test involving the effects of a sharp decline in commercial real estate prices on the balance sheet positions of pension funds and other financial institutions in its spring 2021 Financial Stability Report.
Dutch pension funds had invested some €140bn in the asset class at the end of 2020. This is approximately 8.3% of their overall investments.
To read the digital edition of IPE's latest magazine click here.