Focus Group: Too much debt around
Just over half of the respondents to this month's focus group are restructuring, or planning to restructure, their fixed-income portfolio. Of these, 10 are moving towards a more active management.
A Spanish fund states it is "adapting to the current situation of negative yields", while an Austrian fund is motivated by "optimisation of [the] risk-return profile". A German fund is focused on the "addition of direct corporate lending and syndicated loans as stable long-term income. [The] rationale is to profit from [the] banking disintermediation trend."
Two-thirds are diversifying into new asset classes; five respondents are changing duration; four are increasing credit risk; and three are changing investment strategy.
The commonest asset class being considered by those restructuring is infrastructure debt. Direct lending and absolute return or long/short credit strategies were the next most popular.
Twenty say the euro-zone is in a persistently 'lower for longer' scenario, while three anticipate euro-zone interest rates will trend back up in the medium term. However, 13 expect UK interest rates to trend up in the medium term, six say the UK is in a 'lower for longer' scenario.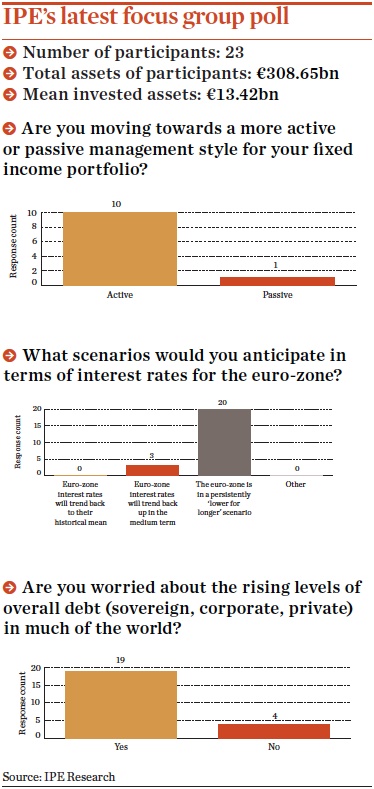 Some 83% of respondents are worried about the rising levels of overall debt (sovereign, corporate, private). This is compared to 64% in 2015.
"Low interest rates and high debt levels, combined with low inflation and low economic growth is not a good scenario for getting lower debt levels," says the head of fixed income at a Dutch fund. "A slight increase in interest rates might bring many debtors into trouble".
Another Dutch fund comments: "Debt is at historically high levels, but consumer spending and corporate investments are at low levels. There seems to be a disconnect in the system and/or we are moving towards a new economic order."
A Swedish fund adds: "One has to divide [it] in duration terms. Zero or short duration is no problem and where long-term investors 'hide the money'. Long duration rates are a dangerous bubble and it will be hard [for] them when interest rates go up."
However, a third Dutch fund states: "In some areas of the world levels are too high, however most industrialised nations can handle [it], especially with the current low interest rate environment."
Two-thirds of respondents believe the asset management industry is equipped to help its clients withstand future high volatility in fixed income markets. "New means and instruments will be developed as the environment is constantly changing," states a Swiss fund.
A Dutch fund adds: "The industry will come up with solutions. The question is whether clients are willing to accept those solutions or will simply carry on in the old way."
A German fund disagrees: "There are no magic tricks. We know what's possible and there is simply not much room to manoeuvre if you want to stay credible."
Twelve respondents agree that the effect of quantitative easing on pension funds in their country is so serious that they will be unable to meet their obligations without change in central bank policy or pension regulation.
"Discount rates or minimum legal returns are too high, with the current risk-free negative up to 50 years. Taking risks to reach [the] target return is a choice between a quick and sudden death or a slow death," says a Swiss fund.
Six disagree, while five are neutral. "Regulators have been very forgiving," says the chief investment officer of a UK fund. "Solutions have been available for 10 years plus, but consultants (and trustees) have held a Panglossian view that the market would rescue them in the near future when 'normality returned': amazingly irresponsible."
Nearly all of those polled have developed market sovereign debt and investment grade corporate bonds in their portfolio, while three-quarters have high-yield corporate bonds and emerging market sovereign debt (hard currency). Over half have inflation-linked government debt, supranational and agency debt, and emerging market sovereign debt local currency bonds.