The search for yield has sucked significant institutional capital into European direct-lending markets. Emma Cusworth finds some commentators warning of a 'lack of discipline'
Direct-lending markets have been enjoying a surge of interest as investors travel further afield in their search for yield. Deals in the European market posted a 43% year-on-year increase in the final quarter of last year, according to figures from Deloitte, and look set to continue on a strong growth trend this year.
At a glance
Direct lending funds have been soaring as institutional investors seek some spread over low public-market bond yields.
But the flow of investment may already be tightening those spreads.
Concentration on particular parts of the market that appeal to institutions may be eroding value.
While some warn of a lack of discipline, others insist that a meaningful premium remains available, and point to loosening covenants in public bond markets as another reason to favour direct lending.
But where there is a surge in demand, a fall in returns usually follows, as has been the case across most of the fixed-income market. With such strong demand in play and excess liquidity sitting in the hands of many private lenders, are investors still getting the same risk-reward payoff that they enjoyed in previous years?
Boom
Direct lending has increased dramatically in recent years as a growing number of private debt funds have raised assets. According to Deloitte's Alternative Lender Deal Tracker March 2015, which tracks primary deal flow in the European mid-market involving up to €350m of debt, 354 transactions were completed over the past 27 months, jumping from 136 during 2013 to 195 in 2014 – a 43% year-on-year increase.
Deloitte expects growth to continue apace, with European direct lending funds looking to raise more than €15bn over the next 12 months.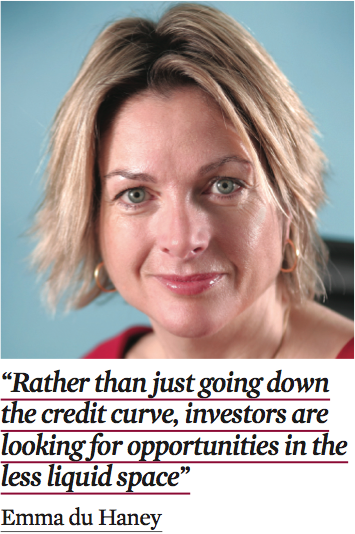 Investors are drawn to the space because direct-lending funds offer higher absolute and risk-adjusted returns compared with traditional bonds and equities. Figures from Moody's show returns on direct-lending funds focused on senior loans are currently around 8%, but can reach mid-teens on a leveraged basis.
With yields at historical lows across traditional bond markets, investors have been forced to look further afield for additional yield. Even in high-yield, the returns available have fallen considerably since the ECB announced its bond-buying programme on 21 January. Since October 2014, yields on the Markit iBoxx EUR High Yield Liquid 30 index fell from around 4.5% to below 3% in early March. Over the longer term, the picture is even more pronounced, as yields on the index had been edging up towards 9% in January 2012.
"Rather than just going down the credit curve, investors are looking for opportunities in the less liquid space," according to Emma du Haney, senior fixed-income portfolio specialist at Insight Investment.
One lender reports that around 70% of its client base comes from insurance companies, for example. They need a steady cash yield to meet liabilities. Pension funds are also increasingly interested in this market sector.
On the supply side, the growth of direct lending has been driven predominantly by the disintermediation of banks from the lending market.
"Regulations like Basel III and Dodd Frank have significantly changed the dynamics of the lending space," says Elvire Perrin, partner at private market investment manager, Altius Associates. "It is more expensive for banks to lend to less liquid parts of the market, such as small and mid-cap firms where the debt is not rated. They would need to put a lot of capital aside under Basel III."
Banks are therefore targeting the more liquid end of the market, where companies' debt is rated by agencies and businesses have longer track records and more cash flow.
"Banks are much more selective about who they will lend to," Perrin continues. "In this new environment, credit platforms have started to see an interesting space to raise capital."
The fall in bank participation in the lending space has occurred on both sides of the Atlantic, but has been more pronounced in Europe in recent years. Prior to the 2007-09 credit crisis, banks accounted for around 80% of overall lending to small and mid-caps in Europe, and only around 20% in the US. Since then, while banks have retreated below 20% in the US, in Europe the change has been more dramatic, falling to around 50% of lending and is expected to continue falling.
"This means the opportunity for direct lenders in Europe is arguably even greater," Perrin says.
Lack of discipline
But, just as with all other parts of the fixed-income market, a significant increase in demand has the inevitable effect of pushing down yields, and the premium in direct lending has come down as the popularity of the space has grown.
According to Soo Shin-Kobberstad, managed investments analyst at Moody's, the increased competition in the space is decreasing the absolute yield level. "The margin over LIBOR appears to be tightening versus three years ago," she says.
What was less clear in her eyes, however, was the extent to which the decline was related to price competition, rather than simply the impact of tightening spreads across the entire risk spectrum in fixed-income markets.
Deloitte Debt Advisory's head of alternative lender coverage, Floris Hovingh, says the return in the direct-lending sector has come down by at least 100 basis points over the past two years.
He points to a concentration of focus among many providers, driven by what they are hearing about clients' requirements. "In reality, a lot of funds are doing the same thing, targeting the same part of the market, not least because institutional end-investors have a certain yield requirement," he says.
Hovingh also points to excess liquidity in the space following successful capital raising by a large number of new funds, which subsequently needs to be put to work.
"Providers make management fees mainly on deployed capital, which creates an urgency for some funds to deploy," he says. "This is resulting in structures becoming more flexible, leverage increasing and prices coming down."
The impact of weakening structures driven by the need to invest large amounts of capital appears to be particularly acute in Europe, where there has been a greater rush of new funds coming into the market, creating what one independent expert described as a "lack of discipline" among lenders.
Across the region, the UK remains the biggest market for direct lending, accounting for 43% of deals, followed by France with 25%, Germany with 13% and the rest of Europe making up the remaining 19%, Deloitte data shows. Its report suggests large numbers of managers are now raising new funds with lower margin hurdles of around LIBOR+500 basis points.
Insight's du Haney also agrees that the premium has come down as activity and engagement by the institutional investment community has risen. Insight manages approximately €1bn in commercial real estate loans. "Two years ago commercial real estate loans were yielding 4.5%," du Haney recalls. "Today, that is much closer to 3.25%, but would be less in prime central London real estate, for example."
However, she adds: "While the illiquidity premium has come down, it is still there. This return is still substantially above that on investment-grade corporate bonds."
Premium
Altius' Perrin estimates the premium offered by direct lending over more liquid bonds is around 400 basis points, but can be up to 600 basis points depending on the strategy and the risk a fund manager is taking.
"The illiquidity premium is still attractive in direct lending," she insists. "It still represents a significant premium over high-yield, for example, where not all the risk is priced into today's market."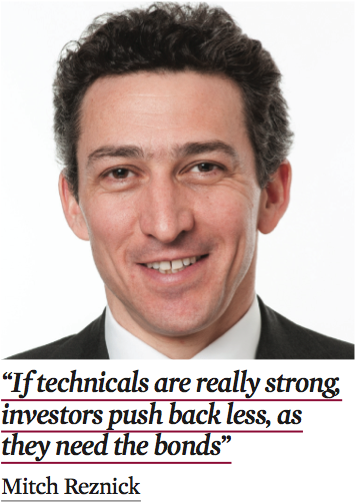 Relative to high-yield, the direct-lending market arguably has some other key advantages. As well as demand-driven yield compression, the high-yield bond market has seen a significant deterioration in the terms and conditions associated with bonds, tilting them increasingly in favour of issuers.
Mitch Reznick, co-head of Hermes Credit, believes covenants are roughly half as strong as they used to be in the high-yield space.
"If technicals are really strong, investors push back less, as they need the bonds," he observes. "Covenants are one of the main issues in the high-yield market, where the buyers are all takers, and are giving sellers more flexibility."
Because direct lending is privately negotiated, it gives buyers more control over factors like covenants, increasing the protections for those who can afford to give up some liquidity.
"The risk in high-yield is pretty high," Perrin argues. "Covenants on bonds are pretty limited and there are no collateral provisions. So, if an issuer gets into trouble, there is little chance of getting your money back."
Although covenants have also deteriorated to a degree in the direct-lending space, the impact has been less pronounced and investors are more protected, given the more senior place in the capital structure, should an issuer run into trouble.
Direct lending can also offer protection from rising interest rates. In an environment where rates will begin to rise in the US relatively soon, the protection afforded to investors by floating rates could draw more investors in, especially into the US market.
When rates do start to rise, or if bond markets see a correction such as that experienced in high-yield late last year as the oil price tumbled, direct lending will also offer a higher degree of protection from volatility. While weakening covenants and lower yields may exacerbate volatility in high-yield markets, especially since most high-yield investments are made through open-ended UCITS products, the lower liquidity offered to direct-lending investors through closed-end funds should work to dampen volatility in that market sector.
Ultimately, Deloittes's Hovingh believes the illiquidity premium may be at or near its bottom right now.
"People will always want to see a premium over where liquid markets are," he says. "It can't really go below 650 basis points, and leverage is also hitting a natural ceiling."
Whether that is a source of comfort to those about to deploy capital, or a warning that it might pay to hold fire for a few months, is for investors to decide.