Bond bonanza beckons
China's continuing reforms to open up its fast-growing bond market to foreign investors could make it the largest market yet for global investors, writes Tsering Namgyal
At a glance 
• The Chinese bond market, the third largest in the world, is being opened up to foreign investors.
• Although the bond market is huge in absolute terms, it is small relative to the size of the economy.
• The main participants in the bond market are commercial banks and insurance companies.
• The international credit rating agencies are barred from operating directly in the onshore market.
China's domestic bond market – the third largest in the world after Japan and the US – is becoming increasingly accessible to foreign investors as China moves to internationalise its currency. Yet fund managers say important caveats remain. 
The opening up of the China's fast-growing bond market is watched closely as it is probably the first time that global investors have been introduced to such a large market.
"There was no historical precedent for such a large amount of wealth behind a closed capital account," says Teresa Kong, portfolio manager with Matthews Asia, one of the world's largest Asia-focused fund managers. "That's why the opening up of the Chinese bond market is so interesting." 
China's domestic bond market has grown dramatically over the past decade with a compound annual growth rate of 21%, to reach RMB39.5trn (€5.5trn) as of June 2015, according to the People's Bank of China. 
Thanks to its relatively low current level, the market is expected to double in size within the next four years to reach RMB90trn by 2020, according to PineBridge Investments.
"While large in absolute size, China's bond market is like its equity market in that it is small compared to its economy," says Arthur Lau, head of Asia ex-Japan fixed income and co-portfolio manager for emerging markets at Pinebridge Investments. 
It is equivalent to 56% of national GDP, while the markets in the US and Japan are more than twice the size of their economy's annual output, according to PineBridge. 
The growth of the market is, in large measure, driven by China's decision to gradually scrap its capital controls as part of its goals to internationalise the renminbi. "China wants to make it a premier world currency, even a reserve currency," says Kong.
The government hopes to see the renminbi admitted as one of the currencies in the IMF's basket of Special Drawing Rights (SDR) – alongside the euro, dollar, yen and pound – when the SDR basket is next due for a formal review in 2016. The consensus view is that it is unlikely to be elected into the basket, at least before the Chinese currency becomes fully convertible.
"However, whether or not the RMB would be included in the SDR matters less than the fact that the Chinese government is undertaking the reforms to make the bond markets increasingly open and accessible to foreign investors," says Kong.
Still, the country has come a long way since it first allowed foreign investors into its capital markets through its QFII (Qualified Foreign Institutional Investor) system in 2002. The system allowed foreign institutions to remit in dollars but their investments are subject to lock-up periods and repatriations require regulatory approval.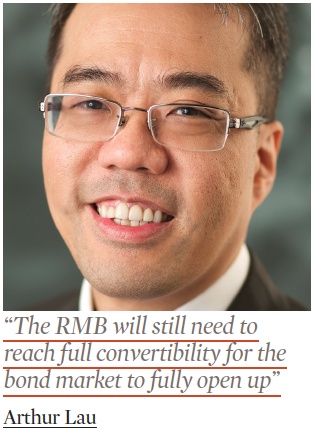 Its newer variation, RMB Qualified Foreign Institutional Investors (RQFII) – which was implemented in 2012 – let foreign investors remit their capital in local currency through renminbi accounts held in designated offshore financial centres. There are no lock-up periods or restrictions on capital remittance.
Furthermore, as China accelerated the pace of its reforms the size and amount of these quotas that have been granted by the Chinese authorities has been steadily rising over the past two years. 
In what is seen as a crucial step, in July 2015 Chinese authorities allowed foreign central banks and sovereign wealth funds to enter the interbank bond market on a registration basis instead of the quota approval process.
Investment managers expect these measures to be gradually extended to other investors including foreign fund managers and, over time, also to retail investors. 
"We expect reforms to continue. We also expect to see quotas granted to the intermediary and retail level in the near to medium term," says Lau at PineBridge.
Despite concerns that recent volatility in the Chinese stock markets and the devaluation of the renminbi might slow down the pace of reforms, authorities seem set to continue to move ahead with their goal to liberalise the capital account.
Investors often look at these reforms as an important yardstick of how serious China is about rebalancing its economy by moving away from heavy reliance on bank lending and equity markets. 
"While the internationalisation of the RMB and opening up of the bond market are not necessarily dependent on each other, the RMB will still need to reach full convertibility for the bond market to fully open up," says PineBridge's Lau.
In the near term, however, one immediate benefit of the opening up of the bond market would be the currency market. The inflow of foreign currency into China to purchase onshore bonds would help counter the pressure on the renminbi caused by the growing demand for foreign assets among Chinese investors.
China's bond market is currently divided into two main markets – the interbank market and the exchange market, with the former accounting for nearly 90% of the total. Types of bonds primarily include pure vanilla cash bonds issued by the governments, state-owned enterprises, policy banks and corporates. 
"In the past, corporate financing relied mainly on borrowings from banks, but this has changed in the last decade since the development of the corporate bond market which grew from scratch in 2003 to a size of $2.4trn in 2014," says Cary Yeung, head of Greater China debt at Pictet Asset Management.
This trend towards financial disintermediation is expected to gather steam as part of the government's strategy to encourage private sector companies to directly tap the bond market. PineBridge, for instance, expects the corporate bond market to grow at more than 20% a year over the next five years.
"There was no historical precedent for such a large amount of wealth behind a closed capital account. That's why the opening up of the Chinese bond market is so interesting"
Teresa Kong
"A healthy bond market will reduce the current over-reliance on the banking system for credit, it will improve the pricing of credit risk  while, at the same time, it will impose discipline on local governments and state-owned companies," says Lau.
Unlike the stock market, which is 80% dominated by retail investors, the main participants in the bond market are commercial banks and insurance companies.
How should foreign investors gain exposure? One method would be to invest against global indices, but no Chinese renminbi bonds are currently included in benchmarks such as the Barclays Capital Global Aggregate Bond index series. Index providers have blamed a lack of full market accessibility as a reason behind the exclusion. However, that might also change as the bond markets open up, analysts say.
Furthermore, limited transparency remains a concern for those managers investing in the bond market. 
This includes the conspicuous lack of a risk premium priced into renminbi bonds. Since most of these bonds are issued by state-owned enterprises with government backing, investors are not pricing in any default risk. It might, however, be unrealistic to expect the government to support all the state-owned companies, some of which might not be very well managed or are mired in challenging sectors.
"To support every company just creates moral hazard. In the current environment, Chinese onshore corporate bonds do not offer attractive compensation for the potential default risk," says Kong. 
A related problem is the lack of coverage by international credit rating agencies, which are currently not permitted to operate onshore.
The three main local credit rating agencies – China Chengxin International, a joint venture with Moody's; China Lianhe Credit Rating, a joint venture with Fitch; and Dagong International Credit Rating – dominate the market with nearly 90% market share. They, however, adopt a different rating methodology, which is less stringent than those of their global counterparts.
For instance, a property developer in China called Longfor has both onshore renminbi-denominated bonds as well as offshore renminbi bonds. 
While the issuers are separate legal entities with different assets, and overseas bondholders have subordinated claims to onshore bondholders, the offshore bonds are rated Ba2/BB – which is sub-investment, or junk grade – by Moody's and S&P while Dagong International Credit rates it AAA.
"Nearly half of the corporate bonds in China are rated AAA onshore, despite having very different credit fundamentals, says Pictet's Yeung. 
That means most fund managers are left to their own devices in terms of their research, although much of the material is only available in the Chinese language.
But analysts say that foreign credit rating agencies will sooner or later be permitted into China, if Chinese authorities were keen on fostering a more transparent bond market. "We do believe this is inevitable," says Lau.