Bonds have become more lucrative and important in securities lending
KEY POINTS
Institutional investors can earn greater fees than before from lending government bonds.
Banks are prepared to pay more to borrow government bonds because regulation encourages them to do so.
There has been a strong increase in term trades, where asset holders lend securities for a longer period than overnight.
Regulation may discourage institutional investors from some securities lending because of the increased expense and administrative burden.
For pension funds and institutional investors, the appeal of securities lending can be likened to the scene in the classic western film The Magnificent Seven, where two gunfighters, played by Yul Brynner and Steve McQueen, approach a third, Charles Bronson, who is hard at work chopping wood in return for his breakfast.
They discuss the large sums of money he has earned as a gun for hire in years gone by, before offering him the considerably less generous sum of $20 to defend a village of poor Mexicans. Bronson initially rejects the offer, only to change his mind with the wry comment: "Twenty dollars? Right now that's a lot."
"I think back to the heyday of 2000 and 2001, when asset managers shied away from securities lending, saying: 'The single or low double-digit basis points it gives me make no difference to the performance I'm currently enjoying'," says John Arnesen, global head of agency securities lending, market and financing services at BNP Paribas Securities Services in London.
"Fast-forward 16 or 17 years, and the conversation is more like: 'What can you do for me to add basis points to my return?' In some ways securities lending has become far more interesting for them." The change in attitude is caused, he notes, by the change from high yields in the underlying bond market to low and in many cases negative rates.
Institutional investors holding bonds can take advantage of the fact that they have become far more important, and lucrative, in securities lending than hitherto.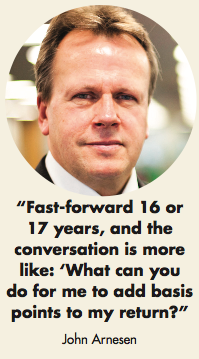 The lending of government bonds generated $455m in revenue in the first quarter of 2017 alone, according to IHS Markit, a data provider – up by 64% on a year before.
"The net increase in revenue from sovereigns is being driven by an increase both in term trades and in cross-currency trades," says Simon Heath, EMEA head of agency lending trading at State Street Global Markets in London. Term trades are any trade that is more than overnight – the dominant transaction of earlier times.
These can be both fixed-term contracts or 'evergreen' contracts, where the loan is for a certain time period but the contract is automatically reset every day. This means, in effect, that the lender must give a notice period before ending the loan.
Term lending increases revenue for the lender because it earns a premium for it – often 15 or 20 basis points higher than an overnight contract, depending on the demand for the particular security, the collateral being pledged and the contract length.

The growth in both term lending and cross-currency trades is down largely to regulation, say agency lenders.
"The market is much more focused on regulatory topics than four or five years ago," says Christian Schuetze, head of securities finance business for Germany, Austria and the German-speaking part of Switzerland at Société Générale in Frankfurt.
"The markets have moved much more in the direction of thinking: 'How much balance sheet do I consume? What is the liquidity coverage ratio?'"
Both these ratios are creations of the Basel III regime, which has been progressively phased in since 2013. The regime compels banks to hold more capital in reserve.
The liquidity coverage ratio aims to make the kind of runs on individual banks seen at the height of the credit crunch less likely, by decreeing that banks must always hold sufficient high-quality liquid assets to more than match potential net cash outflows over the next 30 days, even in a stressed scenario where outflows might be greater than usual. Because of the ratio, banks' broker-dealer divisions are incentivised to borrow government bonds and other safe assets for much longer than overnight. The net stable funding ratio sets a minimum amount of funding over a one-year time horizon. As with the liquidity coverage ratio, banks are rewarded for holding assets that are inherently stable.
This not only makes safe government bonds attractive – and the safer the better, with US Treasuries, followed by German Bunds, particularly highly prized. It also encourages long-term borrowing, in line with the time horizons set by the two ratios.
These factors explain the growth both of evergreen and fixed-term loans, and of cross-currency trades. When these factors come together, with a bank requesting a cross-currency trade for a long fixed period, the rates earned by lenders can be high.
Gareth Mitchell, head of agency lending trading at Citigroup in London, gives an example. At the end of 2016, lending US Treasuries and taking Japanese government bonds (JGBs) as collateral earned lenders an annualised rate of up to 70 basis points.
That was possible because of high year-end demand for US Treasuries, high dollar-yen volatility and the high credit rating of Treasuries compared with JGBs.
The notion that the securities lending market is being shaped largely by regulation is echoed by Mitchell: "Most of the trends we are seeing are in response to some sort of regulatory impetus", he says.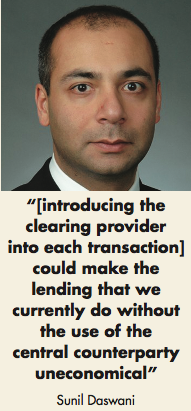 Mitchell gives one example of this impact, saying: "Five or so years ago, by far the majority of securities were lent overnight. Now a lot more of the lending is on term."
Regulation cuts both ways, however. Agency lenders worry that specific upcoming regulations could hamper the securities lending market by increasing costs.
Sunil Daswani, international head of securities lending and capital markets client servicing, EMEA & APAC, at Northern Trust in London, points to three EU initiatives that all come into force between now and early next year: the introduction of compulsory central counterparty clearing for securities lending; MiFid II; and the Securities Financing Transactions Regulation (SFTR).
Central counterparty clearing would, he says, add an extra layer of cost by introducing another intermediary, the clearing provider, into each transaction.
"This could make the lending that we currently do without the use of the central counterparty uneconomical," says Daswani.
Mifid II, which requires agency lenders to show regulators that they have executed each trade in the best way possible on behalf of their client, adds administrative costs. So too does the SFTR, since it requires borrowers and lenders to report each trade to a data repository by the end of the day, and to report the reception of collateral by the following day. This is cumbersome, given the large number of fields that must be filled out, and also checked between borrower and lender for consistency, for each trade: 140-plus, say experts.
Daswani says that because of these regulations, many asset managers may in the future see declines in revenue from lending assets such as fixed income, if margins fall back. As a result, some clients may prefer to concentrate on 'specials' lending – anything that earns a fee of one percentage point or more.
Much of the specials market is made up of commodity stocks and stocks in demand because of potential market-moving corporate events such as mergers.
Sceptics warn against relying too much on revenue from specials; they point to IHS data showing that specials revenue was down by 6% on the year in the first quarter of 2017, because of lower market volatility. However, other experts suggest this is merely a cyclical downturn.
Arnesen of BNP Paribas is particularly concerned about the SFTR, but says it is more likely to put off smaller than larger institutional investors. Using economies of scale: "The large lenders may take this data in house and conclude: 'We can take care of it.'"
Securities Services: The search for the next big product
1

2

3

4

Currently reading

Securities lending: Why bond lending is surging