• Healthy prognosis for Chinese economy
• Political risk still paramount
• US employment bucking inflationary expectations
Last year was good for risk assets: ample central bank liquidity; and supportive macro fundamentals, as global economic growth surprised after years of disappointment. While central banks look to delicately bring an end to quantitative easing (QE) measures, the synchronised global pick-up in growth and trade looks like it could have the strength to carry on without central bank liquidity infusions.
A key factor in the benign outlook is the healthy prognosis for the Chinese economy. The recent 19th Party Congress of the Communist Party of China emphasised the importance of quality over quantity in its growth targets. Decent progress appears to have been made in tackling high leverage, in addition to enabling more decisive cuts in over-capacity. This optimism needs to be maintained if the MSCI Asia ex-Japan is to repeat its 2017 record-breaking feat of a calendar year without a 5% correction.
Political risk, both domestic and international, seems likely to remain. Angry electorates have yet to be soothed, and voters could still punish their ruling political classes. Elections in Italy, Hungary and Sweden could result in greater representation for non-mainstream parties.
Over the course of 2018 there will be increasing speculation as to who might succeed European Central Bank (ECB) President Mario Draghi when his term ends in 2019. His "whatever it takes" speech of July 2012 has come to epitomise his stewardship during troubled times.
Despite a healthier economic tone, with credit agencies lining up to upgrade peripheral Europe, Draghi's successor will have a job persuading the world that they can maintain credibility in the face of the inevitable tensions and squabbles in the years ahead.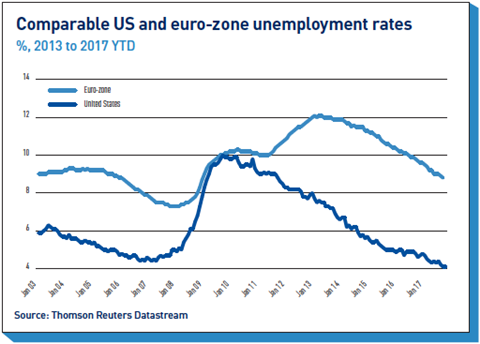 Bonds
In the slew of forecasts and investment themes tendered by economists and analysts, a recurring topic has been about the changing slope of the US yield curve. There seems to be a consensus that the curve-flattening trend, which began in earnest in 2017 with two year Treasury yields leading the way, has more to run as we enter 2018.
Yield curves normally flatten as the economy recovers and expands – longer yields can respond to the stronger economic data and preempt policy tightening, while at the front end, rates are pegged to the actions of the central bank. Flattening does not always lead to inversion and signal recession.
Interestingly, there seems to be a divergence in predictions for how many hikes by the US Federal Reserve there could be over 2018, with surveys suggesting that over half of investors think there will be fewer than the Federal Open Market Committee's dots, but a significant proportion predict more hikes.
Market scepticism has to be good and more reassuring than a complacent consensus. While most would agree that the global recovery has become self-sustaining, this cycle has some unusual features. For the US, leading the cycle, this is one of its longest economic expansions in post war history, which raises questions about its durability.
Jobs figures are also puzzling. Unemployment in the US has been declining since peaking in 2009-10, and euro-zone unemployment, although it topped out a few years later, has also been falling at a similar pace.
To date, US unemployment has dropped to low levels without triggering inflationary wage pressures. The last time US unemployment was this low was in 1999, when the Fed Funds rate was 5.25%. By the end of the hiking cycle it had added another 1.25 percentage points.
The more optimistic forecasts suggest that today's cycle may pan out differently, because of changing demographics or practices, or maybe an underestimation of spare capacity, but also because inflation expectations are anchored. Thus, unlike in the past where the Fed had to over tightening monetary policy, endangering the economic expansion, this hiking cycle could be more benign.
Currencies
A Fed hiking cycle has not, historically, boosted the dollar and, given today's paucity of predicted Fed rate rises, it is hard to see what would make this cycle different.
Conditions outside the US, like improving growth prospects and stabilising commodity prices, are more supportive for other currencies. Emerging market currencies have tended to do well during healthy growth, especially when there is also a pick up in global trade as we have seen.
For other G10 currencies (of the largest developed economies), improving macro fundamentals are not so supportive, and their respective moves to the dollar are less clear. For sterling, for example, it is likely that Brexit politics will dictate the trajectory of the currency.
Whereas euro-zone politics remain tense there is no sense of impending calamity. Also evident is the self-sustaining strength of the recovery across Europe, which could imply that official rates will rise faster than predictions. And technically the picture for the euro is supportive as
it remains under-owned, particularly by foreign exchange reserve managers.
However, with an unpredictable Italian election looming, as well as the possibility of a boost to the US economy from the passage through congress of at least some of the Trump administration's tax reforms, euro bulls may have to wait longer to see the resumption of their bull run versus the dollar.
Including China in bond indices
In June 2017 MSCI announced that it would (partially) include mainland Chinese stocks in its global indices, some four years after putting the shares up for review. In a two-step inclusion process beginning in June, 222 China A Large Cap shares will join the MSCI Emerging Markets Index, and will represent 0.73%.
Not long after the MSCI news came the announcement that China would establish Bond Connect, a straightforward, and simpler, conduit allowing foreign investors to access China's onshore bond market. Like Stock Connect – introduced in 2014 – the bond platform represents another step towards index inclusion for China government bonds (CGBs).
It was a multi-year journey for Chinese equity inclusion, finally signalled by MSCI approval. For Chinese government bonds there are still hurdles, though some observers wonder if the bond process could be faster with index inclusion potentially happening sometime in 2018.
Although the Chinese bond market is large, and the trend towards inclusion both structural and irreversible, fixed income investor appetite for more CGBs might be underwhelming. Although, the diversification benefits could be significant, present total return forecasts for CGBs are not compelling, particularly given potentially tightening monetary and loosening fiscal policies, coupled with a weakening renminbi.
Transparency – or rather the lack of it – remains an issue for foreign investors in China. Too often changes, for example in the currency management regime, are announced with little, or no forewarning. Access to reliable and accurate economic data for credit calculations is also not easy. And the possibility of increased capital controls is never too far away, an uncomfortable hazard for international investors to accommodate.