The decline of lending standards could spell future trouble for loan investors
Key points
• Cov-lite loans, where lenders receive weaker protection, have become the norm
• The shift is the result of excess demand for credit investments
• It is unclear how cov-lite loans will behave if default rates increase
• Volatility in cov-lite loans could increase as the end of the credit cycle nears
The term 'cov-lite' is perhaps not as evocative as 'sub-prime', but it could well become the new bugbear for investors and the public, when economic conditions start to worsen.
Short for covenant-light, it refers to the leveraged loan market, and indicates loans that lack the protections – or covenants – traditionally offered.
Cov-lite leveraged loans were less prevalent, particularly in Europe, before the global financial crisis. They were usually sold to investors seeking higher risk-reward ratios. But cov-lite loans have become widespread as a result of excess demand for loans and other credit asset classes. The spread of cov-lite loans is a clear trend of the current credit cycle.
Traditionally, in the leveraged loans market, loan terms would include both 'incurrence' covenants and 'maintenance' covenants. The first kind requires the issuer to pass tests of financial strength in order to take actions like increasing leverage, issuing a dividend to equity investors or acquisitions. These could consist of showing that the ratio of debt to EBITDA or interest coverage exceed a certain level.
Maintenance covenants force borrowers to pass similar tests regularly, often quarterly. Cov-lite loans typically lack any maintenance covenant. This means investors forgo their ability to regularly prove the financial strength of issuers and spot potential problems.
"Even in the run up to the financial crisis, when the loan market was arguably at its most aggressive, you had at least one maintenance covenant," says Fiona Hagdrup, director of leveraged finance at M&G Investments. "This meant that a borrower had to routinely certify that its leverage did not exceed a certain multiple of its earnings. If the borrower deviated from this path, it had to ask lenders for a waiver, which would mean lenders would refresh their view of a company and reset the pricing terms. In cases of material underperformance, it was a mechanism for bringing forward restructuring discussions."
Today, most loan agreements do not foresee these checks. As of February 2018, the share of cov-lite loans was 75.8% of total outstanding US leveraged loans, according to Leveraged Commentary & Data. Data on covenants in less liquid credit markets is not readily available, but cov-lite seems more prevalent in the more liquid part of the market.
The issuance of cov-lite loans took off in 2015. The obvious reason for this deterioration of standards is the search for yield by institutional investors. It has allowed corporates to issue sub-investment grade debt in various markets. Companies of various sizes and their private equity sponsors can issue high-yield bonds or broadly syndicated loans with similar terms. Collateralised debt obligation (CDO) vehicles have played a part in allowing cov-lite loans to grow. All these markets show signs of convergence, according to Mikkel Sckerl, portfolio manager at Capital Four. "With leveraged finance and both high yield and loans growing in Europe, I wouldn't be surprised to see that convergence continue," adds Sckerl.
Throughout this period, Marc Kemp, institutional portfolio manager at BlueBay Asset Management notes, investors have not just sat and watched. "We have seen backlashes from investors at various stages over the last two or three years," he says. "I think we are currently seeing the most significant period of pushback that we've had in the market for some time. Over the last few months, borrowers have tried to aggressively adjust definitions of profitability in their favour. But managers are pushing back and definitions are being flexed to be more restrictive for borrowers. It's a bit of a sea change."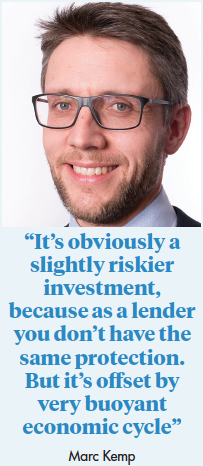 And yet, it feels as though investors have given up a lot, given the current tone of discussions. M&G's Hagdrup says: "This year is not so much about the removal of maintenance covenants, it's more about the dilution of other loan terms, and this is true for the high yield sector as well."
Negotiations are heated on how counterparties define the metrics with which profitability is measured. According to Hagdrup, "very aggressive company owners, supported by very aggressive legal advisers", are asking for more flexibility on dividend payments and transfer of assets, but also on the assumptions used to calculate EBITDA. "It leads you to question whether you are truly a senior secured lender at all," she says.
It is hard to see how the loosening of credit standards will stop as investors continue to search for yield. "Loan investors simply must accept that borrowers generally have the upper hand in this market," says Jean-Philippe Levilain, head of leveraged loans and structured finance at AXA Investment Management. But are cov-lite loans riskier than 'cov-heavy' loans? Intuitively, doing away with covenants means more risk for lenders. Unsurprisingly, however, opinions on this issue differ somewhat.
"It's obviously a slightly riskier investment, because as a lender you don't have the same protection. But it's offset by very buoyant economic cycle," says Marc Kemp, institutional portfolio manager at BlueBay Asset Management. "At the moment, you don't feel the risks. Companies are growing and earnings are strong. We will probably feel that risk as the cycle peaks and starts to turn."
In such a positive environment, particularly in Europe, corporates are unlikely to break the limits posed by existing covenants. And, as any manager will agree, covenants do not replace analysis.
Capital Four's Sckerl says: "It's hard to get data clearly showing that cov-lite loans should have either better or worse recoveries than cov-heavy loans. That's not to say that covenants are not important, but more important is the appropriateness of the capital structure issuers put in place."
"What's going to drive default losses in the asset class is default rates and recovery rates. If a business is over-levered, ultimately it's going to be harder for it to service its debt, whether or not it has maintenance covenants. Over time, the vintage you invest in has been far more important than covenants. You should consider whether you are investing in loans or high yield at a point in time where companies are adding significant leverage ahead of a weakening economic environment."
As Sckerl says, the dilution of loan terms has affected the high yield and loan market similarly, but the smaller end of the loan market, in terms of company size, has been almost immune to the cov-lite trend. "If you look at the mid-market segment, and invest in businesses with €40m to €50m of EBITDA, maintenance covenants are still very prevalent, particularly when it comes to senior secured and unitranche lending." Further below, in the less liquid part of the market, maintenance covenants are still the norm.
But what happens when default rate rise from the current low level? Kemp says: "Without maintenance covenants, the signs that would have clearly showed stress in a company earlier in the cycle are less clear. There's no mechanism for us as a borrower to rely on, other than our own credit work, that will catch a company doing silly things when the cycle turns, like overextending their debt or doing too many acquisitions."
Data on recovery rates from cov-lite loans is scarce. AXA IM's Levilain points out research by Moody's showing that recovery rates for defaulted cov-lite loans is comparable to cov-heavy loans. The sample size for Moody's study was so small, however, that it is hard to see it as proof that cov-lite loans are not riskier than cov-heavy ones. Moody's did found higher default rates in cov-lite loans in a 2014 study, and recently warned about lower-than-average recoveries in the event of a downturn.
"I don't know that we can conclude that cov-lite and cov-heavy loans will not behave differently in a downturn. In our view, recoveries are likely to be lower for cov-lite loans, although the data says otherwise at the moment," says Levilain.
He adds: "It's true, however, that in today's bullish environment, when a business has to give more protection to lenders, it is because lending to that business isn't justified on the merits of the business alone." That is why, Levilain says, to focus on cov-heavy today would be a mistake, as you would not be lending to the best businesses.
But at this stage, it is hard to tell what will be the impact of worsening economic conditions. Kemp argues: "Perhaps, slightly perversely, it might take longer for defaults to happen because there is no early warning sign, but the lack of covenants ultimately going forward might increase the default rate. On the flipside, it could mean the company has time to work through the issues, and that it never actually defaults."
The behaviour of cov-lite loans in a rising default environment is the big issue. But, in the near term, there is an important question, according to according to M&G's Hagdrup: will the volatility of cov-lite loans will be significantly greater than we've seen so far? She argues: "Now that maintenance covenants have been removed, which effectively means the sensitivity to changes in spread [spread duration] has been extended, there can be significant underperformance on a mark-to-market basis, even when default rates are fairly low. After all, loans are not uncorrelated to what's going on in the wider market."
Private Credit: One ring to rule them all
1

2

Currently reading

Covenants: Uncharted territory

3

4