Integration of ESG within multi-factor portfolios is the next frontier in asset management
Key points
Several investors have begun to combine ESG and multi-factor exposure in individual portfolios
ESG cannot be regarded as a traditional factor but it is known to reduce risk in portfolios
Combining the two approaches introduces unwanted biases that must be controlled for
The relationship will become clearer as information on companies' ESG behaviour grows
The promise of better long-term, risk-adjusted returns is persuading investors to integrate ESG approaches within multi-factor portfolios. The HSBC UK pension scheme and Sweden's second national pension fund, AP2 , have made some convincing attempts in this growing area. In 2016, the HSBC UK pension scheme seeded the Future World fund, a factor-optimised global equity fund with a climate change focus. The fund is managed by Legal & General Investment Management (LGIM) and was designed with FTSE Russell and Redington. Last year, AP2 designed two multi-factor indices that seek high exposure to ESG factors (see box).
Those wishing to go down the same road face some significant challenges. Introducing an ESG bias into a multi-factor portfolio can affect the balance of factors in the portfolio. Investors who want to apply an ESG overlay to their multi-factor portfolio need to ensure that the desired factor exposure is maintained, or at least that the ESG bias does not affect the portfolio.
But there is a more fundamental question to ask about the relationship between the two. Can ESG be considered a factor in itself, similar to those already pursued by investors, such as value, quality, low volatility, momentum and size?
To prove that this is the case, we would need to find systematic outperformance of ESG portfolios. Research on the subject is growing in scope and quality. So far, the consensus among experts and practitioners seems to be that ESG cannot be seen as a factor in the same way, for instance, as value. At least for the time being.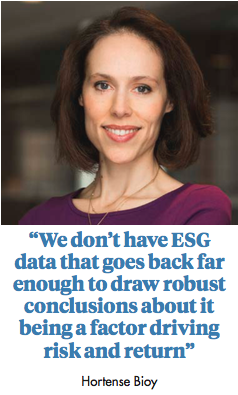 But the reason is not necessarily to do with the fact that ESG portfolios do not outperform. Hortense Bioy, director of passive fund research in Europe at Morningstar, says: "I think everyone would agree that ESG is not a factor in the traditional sense. A factor is defined as a set of quantifiable characteristics that can explain stock risk and returns. Traditional factors are well documented, have been tested for long periods of time and in different geographies, which makes them very robust. They may be defined differently by different practitioners, but there is consensus agree on the basic definitions. The same can't be said about ESG. The problem is we don't have ESG data on companies that goes back far enough to draw robust conclusions about it being a factor driving risk and return in a systematic fashion."
Lack of data
The main obstacle is indeed a problematic lack of data. Although information on the ESG behaviour of companies is becoming increasingly available thanks to providers like MSCI and Sustainalytics, it is by no means as abundant as data on traditional financial factors. ESG data spans two decades at most, and is available only for a fraction of companies in the investable universe. Data on factors such as value, quality and others has been collected and analysed for several decades and covers potentially thousands of stocks.
Bioy explains: "We have a problem with the quality of data. Company reporting of ESG behaviour has massively improved over the past decade or so, but the data is still inconsistent and is not always accurate."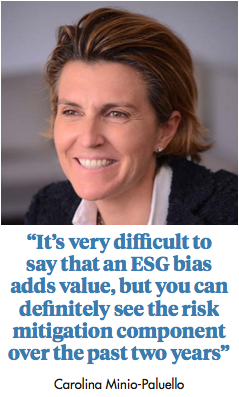 Honor Fell, manager research associate at Redington, agrees: "We think of traditional factors as being underpinned by a clear behavioural finance logic. They are empirically backed and rigorously tested and verified."
ESG factors do not share the same characteristics, Fell says. Nevertheless, recent research findings confirm that an ESG tilt does not adversely affect a portfolio and can reduce its risk levels. Fell adds: "Having analysed the enhanced index products available, we're pretty confident that if you apply certain ESG exclusion policies and ESG titles to a sufficiently diversified pool of stocks and bonds, it's possible to create a product that has the same risk-return characteristics as the mainstream product you started out with. We are definitely comfortable that you can improve the ESG profile without damaging the risk-return profile."
The relationship between the ESG behaviour of companies and the outperformance of their stock is actually evolving over time, according to Carolina Minio-Paluello, global head of sales and solutions at Lombard Odier Investment Managers (LOIM). She says: "Looking at the past seven years, if you rank companies in quintiles in terms of ESG scores, and adjust for regions and sectors, no matter how you cut it, you won't find a link between ESG scores and performance. However, if you repeat the same analysis for the last two years, starting from the third quarter of 2015, you start seeing that the bottom quintile of companies massively underperforms."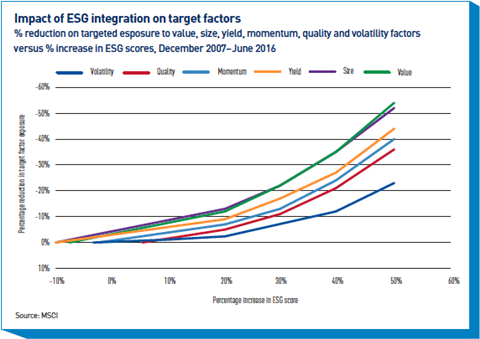 Minio-Paluello adds: "It's very difficult to say that an ESG bias adds value, but you can definitely see the risk mitigation component over the past two years. Moreover, when you look at what drives the underperformance of the first quintile, it is mainly the score on environmental and social behaviour of companies. The probability of controversies happening is also higher for companies in the bottom quintile."
Harin de Silva, president and portfolio manager at Analytic Investors, part of Wells Fargo Asset Management , says his research also points to a strong, statistically significant correlation between a company's ESG score and its volatility levels. "You don't necessarily get any extra return, but we noticed that companies with poor ESG scores generally carry a higher risk, even when you account for the risk model," he says.
An orthogonal factor
What of integrating ESG in multi-factor portfolios? The challenge is controlling for unwanted biases. Masja Zandbergen, head of ESG integration at Rotterdam-based Robeco , outlines the challenge: "Conventional ESG scoring methodologies do not fit into traditional factor models and typically result in size or regional biases. Large-cap companies tend to have better corporate sustainability processes and disclosures than smaller companies, and European companies tend to be more transparent. As a result, these companies tend to receive higher ESG scores. In addition, in contrast to mainstream factors such as value or momentum, traditional ESG scores are broad, often aggregating hundreds of individual indicators into a single score, diluting financially material information."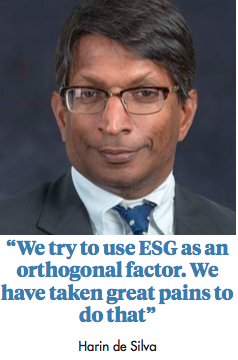 De Silva explains: "This is a significant problem. For example, if you want good scores in the environmental and social part of ESG, you end up having no tobacco companies or oil companies. In our process, we make the ESG scores independent of sectors and industries as well as the more common factors, like value, size and momentum. We try to use ESG as an orthogonal factor. We have taken great pains to do that."
Investors need to be clear about the factor exposure they want and, crucially, about their desired ESG approach. Simple, exclusionary ESG screening might not work in multi-factor portfolios, according to De Silva. "Investors must look at ESG in a much more holistic way," he adds.
Another example is the potential overlap between high ESG scores and the quality factor. But Minio-Paluello says LOIM's research has not found any significant link between the two. "ESG scores add a different set of information about stocks, compared with the quality factor, meaning there is no overlap", she says.
Indeed, ESG and quality could go hand-in-hand, according to Michael Hunstad, director of quantitative research at Northern Trust Asset Management. He argues: "We feel ESG is most effective when combined with a complementary factor, such as quality, that has more definitive research supporting the case for long-term outperformance. We emphasise quality as an ideal pairing from both an empirical and a conceptual basis as each factor represents a distinct dimension of sustainability."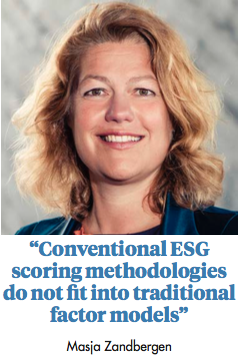 In any event, the evidence that applying an ESG overlay to a multi-factor portfolio does not dilute the power of factors is already there, according to Aniket Das, investment strategist for index and factor-based investing at LGIM. However, the way an investor defines its ESG strategy is crucial. Das says: "Our Future World fund, which underweights stocks with high carbon emissions and carbon reserves, and overweights those with green revenues, actually achieves a multi-factor exposure that is very similar with the initial index." Other combinations of ESG and factors might work differently.
A key element often missing from ESG multi-factor strategies is a consideration of how managers work on engagement with companies, according to Das. He explains: "It's crucial that the engagement work is integrated with your scoring approach. Investors might choose a scoring criteria that is not integrated with the way their fund managers engage with investee companies, while the fund manager is engaging with companies in a way that possibly goes in the opposite direction. The challenge is to have an integrated process from the ESG scoring through to engagement so there is no disconnect between these two elements."
How to combine ESG and traditional factors is an open question, and will remain so for the foreseeable future. But demand for integrated approaches is strong, and clarity about how the ESG and multi-factor strategies work together is bound to grow. Redington's Fell points out: "Maybe in the future, as regulation and consumer preferences continue to develop, and we get longer and more robust data sets about ESG, we might start to feel more confident about the statistical significance of the work that is being done."
AP2 implements its own factor exposure
Sweden's second national pension fund – also known as Andra AP-Fonden or simply AP2 – has invested following an approach partly based on equity factors for a number of years.
Back in 2016, its equity strategy already consisted of a mix of passive and smart beta investments. Looking at its Swedish and global equity portfolios, you could find a plethora of indices, from simple market-cap weighted ones to equal-weighted, GDP-weighted and even risk-weighted indices, as well value and minimum volatility portfolios. There was also an allocation to alternative risk premia. Like many of its peers in the Nordic region, AP2 also emphasised socially-responsible investment.
Last year, AP2 combined its smart beta and ESG capabilities by developing two proprietary equity indices, for developed markets and emerging markets respectively. Tomas Morsing, AP2's head of quantitative strategies, says: "We had several single factor indices that had been implemented for many years. We thought it was quite an ineffective and expensive way to do it, and that we could do it more effectively if we did it ourselves. At the same time, we were looking for a more pronounced exposure to ESG factors."
The organisation constructs its own ESG 'factor', which is done from a bottom-up perspective. "We pick up the social and governance factors individually, according to what is important for our organisation but also from a return-predictability perspective. Factors such as gender diversity, human rights management but also accounting activities are combined into a proprietary AP2 ESG factor, which includes hard environmental factors such as climate risk or water and waste management", says Morsing.
Companies are scored according to this proprietary factor, which is then combined with non-ESG risk premia factors like value or momentum. "We obtain scores that includes both elements, and feed the data into an optimiser to find the final benchmark weight", continues Morsing. The starting point is the MSCI World index and the organisation does not impose any tracking error limitations, but in the interest of obtaining an investable benchmark, liquidity parameters are included. The indices are rebalanced twice per year by MSCI, but AP2 does the bulk of the data management.
"In back testing, the new indices perform better both from an absolute return and risk-adjusted return perspective. They bring real benefit. This is compared with both the aggregated factor index and the market-cap weighted index", says Morsing.
The problems of overlaps between traditional factors and the ESG factor did not prove to be an insurmountable one. "We essentially got very good exposure towards the factors that we are interested in wanted, and negligible to factors we don't want, and especially no negative exposure to factors."
Claes Ekman, quantitative portfolio manager at AP2, says: "The biggest challenge was digging into the data. Because we have a bottom-up approach, and we're not interested about aggregated scores, we looked at data from several different providers. So there was a massive amount of data and we had to put a lot of time and resources into understanding it."
The team has further projects in the pipeline. It is investigating the possibility of implementing a similar approach to fixed income, which would consist of a corporate bond index. Morsing adds: "We're also interested in broadening the selection universe. We think we can find good ESG companies in the small cap sector."
The team has no doubt in the existence of an ESG factor. "But you have to remember we have constructed our own ESG factor. The data is a problem to an extent, but from 2008 you have fairly decent coverage of the universe," says Morsing.