---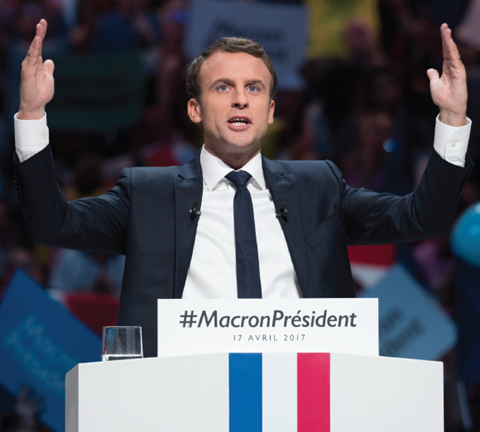 Loi PACTE proposal aims to simplify and unify employee supplementary savings regimes
Key points
• The Loi PACTE is intended to harmonise and unify existing pension savings schemes
• It will encourage appropriate strategies for savers with long-term investment horizons
• Pension pots will be easier to transfer to other schemes, helping job mobility
On 7 May 2017, Emmanuel Macron swept into the Elysée Palace on a wave of optimism, at the head of the centrist party he had founded 12 months before.
One of his election promises had been to reform France's mandatory pension system. At present, there are several private and public sector pension regimes (épargne retraite), differing in terms of retirement age and how benefits are determined.
A year later, Macron's popularity has crashed, and the outlook for the pension reforms was looking somewhat foggy. The centrepiece of the changes is the Loi PACTE – for Plan d'Action pour la Croissance et la Transformation des Entreprises (action plan for business growth and transformation) – which is also known as the Loi Maire, after finance minister Bruno Le Maire announced plans for the law last October.
The overall objectives of the proposed law are to help the growth of small and medium-sized enterprises (SMEs) and increase employees' involvement in their company's success by, for example, profit-sharing. But the law is also intended to introduce major pension reforms. France's supplementary schemes include the PERCO and PERE (collective workplace retirement saving plans), PERP (individual savings plans) and the Loi Madelin (contracts for the self-employed).
The intention is to unify, harmonise and simplify these schemes. Broad outlines for the Loi PACTE were published last December, and in January the government launched a three-week public consultation online, which attracted nearly 13,000 contributions. The law was due to be debated in Parliament this spring and to take effect before the summer recess.
However, a text was not published until the end of March, so whether the original timetable can still be achieved remains to be seen, especially since the contents did not exactly constitute specific provisions.
"If the PACTE Act is passed, the government would be empowered to make an order on retirement savings and the transposition of EU rules on defined benefit plans (Article 39) into French law within 12 months of enactment," says Christel Bonnet, principal at Mercer. "This implies that the draft text of the law contains only guidelines. We shall have to wait for the subsequent orders to definitely set out concrete measures."
The draft legisation contains four main objectives in terms of retirement saving. The first is to finance the French economy more efficiently by developing corporate equity financing, and offer higher returns to savers.
The draft points out that retirement savings are invested mainly in assets such as sovereign and corporate debt, which is not necessarily suitable for long-term investment, as it gives low yields that are easily eroded by inflation and management fees.
The draft law aims at extending the lifestyling management of funds, so that the portfolios of younger savers are invested in equities, gradually shifting into lower-risk assets such as bonds and money market funds as the saver approaches retirement. This strategy is already permitted for PERCO schemes, and would become the default across all schemes.
"The idea is to get savers to move from life insurance contracts, commonly used to save for retirement, to pension schemes," says Bonnet. "Life insurance contracts invest mainly in sovereign bonds, but pension schemes invest in the real economy, so will help provide capital for growing companies."
"Taking risk is not in the DNA of French savers," says Estelle Castres, head of key insurance clients group at Natixis Investment Managers. "Pension funds in the US have 50% of their investments in equities, but in France the percentage is very much lower. The law should help them match long-term liabilities with assets, which means investing more in equities, especially private equity and infrastructure."
The second aim of the legislation is to make retirement savings more attractive, particularly in the context of increased job mobility. Pension pots would be portable regardless of career path, by harmonising the terms of different products to make them transfer-neutral. For example, at present, a scheme member can only transfer savings within the same kind of plan. So when the member changes employers from A to B, she can transfer her savings from the PERE of employer A to the PERE of employer B. But she cannot switch savings from a PERE to a PERCO. Exit terms would also be relaxed.
Retirement savings vehicles in France
• PERCO: Company-sponsored collective DC pension plan. Pays out lump sum or annuities. Savings may be subject to lifestyle management by default.
• PERE: Company-sponsored collective DC pension plan. Pays out annuities only. Lifestyle management is possible but not by default.
• PERP: Individual retirement saving scheme.
• Madelin: Individual retirement saving scheme for the self-employed members of the workforce.
• Life assurance contracts: Operates like a savings account but with an incentive. When the person insured dies, the beneficiary receiving the proceeds pays inheritance tax only over €152,500. Savings are predominantly held in bonds.
Aligned payouts
At present, 88% of pension fund assets – held mainly in PERP and Madelin contracts – is paid out in annuities, while the rest – held in PERCO contracts – is paid out as a lump sum. The law would align exit terms across all regimes.
"Taking away all this complexity will improve competition in the provision of pension savings within France, and also harmonise schemes with schemes throughout Europe, making it easier for employees to transfer to other schemes if they work in other European countries," says Castres.
Bonnet says that one specific instance of alignment is the provision in the EU cross-border directive that pension rights should be vested each year: "This does not happen in France, but we want to be in alignment and the Loi PACTE would do this."
The third main proposal is for insurance companies to ringfence pension liabilities on their balance sheet. At present, pension liabilities managed by insurers – except for PERP schemes – are accounted for along with other contracts and risks. Ringfencing would protect the rights of pension savers in the event of default by the insurer, as well as ensuring that pension savers enjoyed an equitable distribution of value with other types of customer.
Finally, the law aims to increase competition between providers. The draft says: "The introduction of lifestyled funds should not lead to an increase in costs for future retirees."
"The idea is to get savers to move from life insurance contracts – commonly used to save for retirement – to pension schemes. Life insurance contracts invest mainly in sovereign bonds, but pension schemes invest in the real economy, so will help provide capital for growing companies"

Christel Bonnet
The enacted law will open up the supplementary retirement market to different financial providers. So asset managers will be allowed to offer products in addition to PERCO contracts while, conversely, insurers will be able to offer PERCO contracts. And savers will be able to choose their annuity provider on the open market, rather than stay with their pension savings manager.
While the law appears to have fairly general support, Castres considers it will be an uphill struggle to transform the market because of the relatively small amount currently in pension savings assets.
"Insurers run more than €1.7trn in assets because the French prefer to put their money into life assurance contracts, bank deposits and real estate," she says. "But there is only around €130bn in pensions savings."
And Castres also notes that a big unknown is the shape of the new framework relating to the governance of pension scheme contracts. "It still remains to be clarified whether France would keep its own system with employees' representatives – unions – or whether it will be more aligned with the Anglo-Saxon system, with a board of trustees," she says.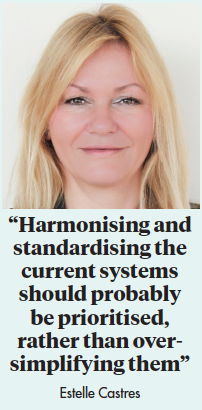 Furthermore, she warns against the risk of over-simplification. "The Eurocroissance life insurance contracts introduced under the Sapin II law, which are very balanced and guarantee capital, did not enjoy the success expected," she says. "In addition, the size of pension investments remains relatively small compared with overall savings in France. Harmonising and standardising the current systems should probably be prioritised, rather than over-simplifying them."
In spite of all this uncertainty, Castres expects the Loi PACTE to be brought in quickly. "It is very much needed by the French economy, and I expect it will become effective next year," Castres says.
Cross-border pensions
Meanwhile, there has been something of a radio silence on the creation of a new type of pension fund in France, the "fond de retraite professionalle supplémentaire" (FRPS).
This is intended to make the French retirement system 'portable' to the rest of Europe, encouraging the development of a common system that will allow easier migration across Europe.
The new entity will qualify as an institution for occupational retirement provision (IORP) under EU law, and will be subject to the revised IORP directive when this is transposed into French law.
"Taking away all this complexity will improve competition in the provision of pension savings within France"

Estelle Castres
Last July, rules were published setting out how the new entities were to be established and authorised, and how their governance, and financial and prudential management, should be organised.
Insurers will be able to move certain types of pension business off their balance sheets and out from under Solvency II regulation into the FRPS regime that better reflects the long-term nature of pension provision.
Solvency II capital requirements had been seen as penalising certain asset classes, such as equities, particularly since they require assets to be valued on a mark-to-market basis.
However, despite a lack of progress, French insurers are making plans to use the FRPS. "Some clients are discussing how to move to an FRPS – not just to avoid Solvency II but to operate within an investment regime more suitable for their long-term liabilities," says Castres. "They are looking to rapidly increase their equity bucket, and will also be able to put more risk and long-term assets on their balance sheet."
Hand in hand with this real economy financing, she says Natixis Investment Managers is also seeing more interest in sustainable investments, particularly infrastructure and renewable energy projects in France and Europe as a whole.
"Insurers are planning to switch to the FRPS, or have already applied to the supervisor (ACPR) to set one up, with a view to implementing it next year," she adds. "We expect it to be deployed as soon as possible."
Loi PACTE: Seeking workplace simplicity
1

Currently reading

Loi PACTE: Seeking workplace simplicity

2

3

4