Pension fund for Dutch metal and electronic engineering sector seeks impact; Divesting from tobacco, embracing responsible investing model
KEY POINTS
PME is the third major Dutch pension fund to link ESG to impact objectives.
Will divest tobacco and cut portfolio carbon emissions by 25%.
Also aims to invest 10% according to the UN Sustainable Development Goals.
PME, the €45bn pension fund for the Dutch metal and electronic engineering sectors, is to divest from tobacco, reduce carbon emissions by a quarter and invest 10% in impact investments. Its membership has been an important driver of these aspirations.
PME is the third Dutch pension fund to base its responsible investment policy on concrete goals, following ABP and PFZW.
"We have been involved in responsible investment for 10 years," says Eric Uijen, PME's executive chairman. "Last year, the board wanted to know whether we were doing enough as well as how our participants judged our policy. An online survey and meetings for both employees and pensioners made clear that our participants are very proud of their job and well aware that much has to be done for responsible investment. Sometimes, they are involved in providing solutions, as they manufacture parts of wind turbines. But other members are employed by companies with a reputation of being polluters."
One participant made a typical comment: "He said that pensions are about the future and next generations," says Karlijn van Lierop, head of responsible investment at PME's asset manager MN. "As a consequence, a pension fund must be involved in themes affecting our children and grandchildren."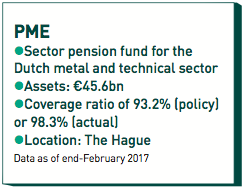 Uijen adds: "We want to follow up on this while keeping solid returns as a priority."
During meetings, members were able to discuss investment exclusion, climate change and impact investing. "It became clear that participants opposed investments in tobacco. As a consequence, we have excluded firms with a tobacco-related turnover of at least three-quarters since this year," says Uijen.
Along with PFZW, SPH (the €10bn pension fund for general practitioners) and SPMS, the similar-sized scheme for medical consultants, PME is the fourth
large pension fund to blacklist tobacco. Earlier this year, the Dutch Association of Investors in Sustainable Development urged funds to form a policy on tobacco investments.
PME's participants also embraced the 25% reduction target for carbon emissions relative to 2015, which should be achieved within five years. Similar goals have been set by ABP, PFZW and BpfBOUW, the €54bn pension fund for the building sector. Each has its own approach, with ABP and BpfBouw expecting to divest from 1,500 companies. PFZW wants to halve carbon emissions in its investment portfolio by withdrawing from over 200 mining, energy and steel companies.
"Last year, we started an extensive engagement process with the 10 highest emitting companies," says van Lierop. "They now have a two-year period to convince PME that they are and will remain attractive investments within an increasingly low carbon economy." Uijen and van Lierop decline to identify the companies.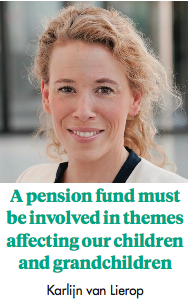 Van Lierop says: "We request energy firms to formulate a strategy based on the international carbon agreement made in Paris in 2015. This could mean that they significantly increase their investments in renewable energy, energy efficiency or other business models.
At the moment, only one firm has changed tack, while four others have not shown a sincere commitment to a CO2 reduction. The remaining five have yet to clarify their position. The transition to less carbon-intensive production processes must be inclusive, taking into account social aspects as well as hard data.
According to van Lierop, the philosophy is to remain in control for as long as possible: "This is only possible as a shareholder, and would not work if we divested our stakes," she says.
For its third goal, PME wants to allocate 10% of its assets to the 17 UN Sustainable Development Goals (SDGs). "We are still investigating how much we have already allocated to these," says Uijen. "Our best guess is approximately 3%."
In addition to investments that contribute to the UN's SDGs, PME is focusing on access to financial services, affordable housing, climate and waste processing. It has already made its first impact investment in a fund for renewable energy infrastructure, taking a €50m stake.
PME is also making impact investments in listed companies. Since 2015, it has constructed an equity portfolio comprising 30 high-ESG-scoring firms. and invested €671m. Uijen says: "We have positioned ourselves as committed investor by regularly discussing strategy with the individual companies. This is not the same as engagement, which focuses on things that need improving. Our intention is to remain invested in these firms for the long term."
PME declines to share the names of the companies, which include Dutch firms.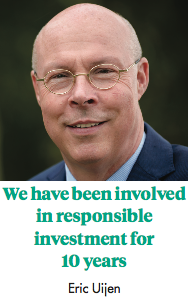 How the scheme is to invest 10% of its assets in SDGs is not entirely clear. "When developing our methodology, we initially focused on equity as most ESG information is available for this asset class," says van Lierop.
"However, we will also assess the opportunities in other asset classes, such as infrastructure and private equity. Green bonds are also an interesting development, as they offer the possibility to increase the sustainability of government loans holdings. Therefore, we have called on the Dutch cabinet to start issuing green bonds."
"We have noticed that affiliated companies also contribute to the energy transition," said Uijen. "As investing in the local economy as well as the metal industry is important to our rank and file, we have abandoned the exclusion of investments in our sector and have started investing again in these attractive companies."
"The need for affordable housing also plays a role. We invest in residential property with a monthly rent of between €700 and €1,000, with new property required to meet the highest energy efficiency rating. Existing housing will be renovated to the same standard," said Uijen.
PME's property holdings are to double to €2bn. "We have been underweight real estate and will catch up," Uijen concludes.