Concerns about the dangers of new technology suggest more regulation ahead
Key points
• Perceptions of the new technology have become markedly more negative in recent years
• The mood has shifted in both Europe and the US as well as across all parts of the political spectrum
• The EU's General Data Protection Regulation (GDPR) introduced this May is a prominent example of the move towards tighter regulation
• Some experts are confident that the sector, if not individual companies, will adapt to the tougher regulatory environment
It is easy to forget how far the pendulum has swung. Just a few short years ago it was common to hear technology firms described in almost ecstatic terms. They were virtually hailed as a liberatory force for humanity. Now they are widely viewed as responsible for a rash of plagues facing the world.
Anyone who thinks the shift is being exaggerated should consider the range of charges routinely levelled against technology firms in recent years. There is insufficient room to go into detail here but the list of things of which they have been accused is astounding. It includes undermining democracy, endangering privacy, fostering new forms of addiction, letting sexual harassment run riot, failing to tackle inequality, avoiding taxes and engaging in monopoly practices.
Children are a particular area of concern with accusations of fostering cyber-bullying, grooming and damaging the mental health of the young. David Siino, a fund manager at Epoch Investment Partners in New York, sees the discussion of the impact of social media on children in the US as part of the pushback against the new business models. "If you look at what is happening with Facebook in the US, public health experts and parents are saying: 'our children are hooked on their smartphone, there is some addictive nature to this, there is this greater social anxiety that comes with it, something's wrong here'."
The broader concerns about technology have reached the stage where Bank of America Merrill Lynch recently put out a circular giving its readers 10 reasons to reduce their holdings in US tech. Under what it called its 'Occupy Silicon Valley' theme, the investment bank argued: "the sector's growth, power and visibility make it extremely vulnerable to increased regulation & taxation, most especially if recession wrecks government finances." One reason it gave for the sector's vulnerability was that it is relatively lightly regulated compared with others (see figure).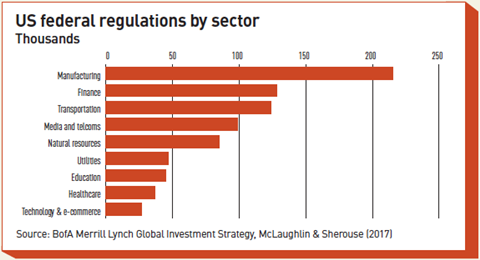 But worries over technology are not restricted to the US or to one part of the political spectrum. For example, President Trump has famously railed against 'fake news' but the European Union has also recently appointed a High Level Expert Group to advise on policy initiatives to counter such disinformation. In the US, the Federal Trade Commission is investigating Facebook's disclosure of the personal information of millions of its users without their consent. Meanwhile, Germany's Bundeskartellamt (Federal Cartel Office) has accused the social network of abusing its market position – a charge the social media company denies. The introduction of the EU's General Data Protection Regulation (GDPR) this month is also concerned with regulating information held on-line. Companies that breach the regulations could face fines of €20m or up to 4% of global annual turnover.
The contrast with the discussion a few years ago is stark. Back in 2008, a successful social media campaign was credited with the election of Barack Obama to office as America's first black president. Arianna Huffington, editor in chief of the Huffington Post, said: "Were it not for the internet, Barack Obama would not be president. Were it not for the internet, Barack Obama would not have been the nominee." The internet was lauded by many as helping to overturn more than two centuries of institutional discrimination against African-Americans.
Perhaps the peak hype about the new technology was seen in relation to the Arab Spring of 2011. Social media was then credited with facilitating a popular democratic revolution against the autocratic rulers by the citizens of several Arab countries. One prominent left-wing commentator from the UK described the protests in Egypt that year as: "a revolution planned on Facebook, organised on Twitter and broadcast to the world via YouTube".
Of course, the swing from a predominantly positive view of the technology to a more negative one is not absolute. There were concerns about the technology a decade ago and there is still some excitement about its potential today. Areas such as artificial intelligence, autonomous cars, blockchain and others are still viewed as offering the prospect of advance. Nevertheless, the shift in the balance of opinion in a relatively short time is remarkable.
Investors are unlikely to get embroiled in many of these debates – at least in their professional capacity – but it can clearly have an impact on their stockpicking and asset-allocation decisions. The backlash against Silicon Valley, what some have called the 'techlash', could clearly increase the risk of investing in technology stocks. Even if only certain companies suffer it could alter the balance within the sector.
Andrew Flynn, a fund manager at William Blair in Chicago, says: "It's a real and rising concern that we continue to track carefully." He goes on to argue it could have a material impact on technology stocks. "If we were to enter a situation where the regulatory backdrop became less favourable, that would very clearly impact," he says. "We would have to take a very hard look at it from an investment perspective."
Diane Bruno, a fund manager at Mandarine Gestion in Paris, says the EU's data protection legislation is having a significant effect on the companies in which she invests. "We have been talking a lot with all our companies about how they comply with GDPR," she says. She gives anonymising data as one example.
From the perspective of the large technology companies, the new legislation will also have an impact. Walter Price, the manager of the Allianz Technology Trust in San Francisco, says: "The new GDPR rule will certainly require Facebook and Google to ask for more explicit permission to use data from a user to target their advertising but I think most users will grant permission and find their products valuable." Although there will be higher costs and earnings estimates will be revised downwards this may already be reflected in falling prices.
However, Chris Graves, the executive director of GP Bullhound, a specialist technology investment firm based in London, is generally sanguine about the impact of the new regulatory climate facing technology firms. In his view, even GDPR could have beneficiaries. "Data players who are GDPR-compliant are suddenly finding they're getting a ton of in-bound calls from people who want to use their services."
The usefulness and ubiquity of new technology also means that it will not go away. Even if some companies suffer, others could benefit. Graves says that hypothetically, "if Facebook was holed below the waterline it wouldn't mean everyone would go back to sending each other emails and letters."
Whether they like it or not, it looks certain that technology firms will face a tougher regulatory climate. The days when they have a relatively free rein to do as they please – at least compared with other types of companies – are over.
Tech Opportunities: Opinion divided on European tech
1

2

Currently reading

Backlash: The turn against technology

3

4

5