Asset managers must cater to the trend to deeper ESG investing to remain competitive
Key points

ESG investing in Europe has developed over more than three decades
There are four broad categories of ESG investment – exclusion, integration, stewardship and impact
Integration is the most widespread approach today in terms of asset under management
Asset managers need to take a stance on ESG to remain competitive
In the European institutional market, ESG and impact investing are becoming mainstream, driven by a combination of factors of unprecedented scale.
So far, the uneven 'topography' of sustainable investing, lack of a widely accepted set of practices and the absence of a uniform standard of measurement have made it hard to see a clear picture.
Our latest pan-European research sheds light on this fundamental trend for third-party asset managers, providing an analysis of the outsourcing opportunity by market, client and product segment.
Opportunities for asset managers are many, provided they are able to meet asset owners' rising level of expectations and align with key success factors in this fast-growing market.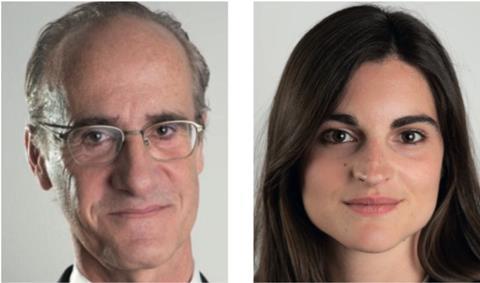 Investment practices
ESG investing has been a long time coming, from value-driven asset owners applying ethical considerations to their portfolios more than 30 years ago. It now benefits from a combination of powerful drivers that go beyond these initial considerations including:
• risk management, through an increased focus on the materiality of ESG criteria;
• marketing and reputation owing to increased transparency requirements, stakeholder and regulatory scrutiny;
• regulations, which have recently kicked in at country level, and are also expected at European level (EU taxonomy, climate benchmarks, disclosure requirements);
• new and attractive investment opportunities arising from impact-driven considerations.
All these factors are leading to a wide range of investment practices. These can be divided into four categories:
• exclusions, which relate to product-based policies or conduct-based screening and which go beyond de minimis regulatory imperatives (that is, the exclusion of controversial weapons);
• integration, which covers all methodologies which systematically take ESG factors into consideration in investment decisions (for example, ratings and ESG scores, best-in-class, controversies monitoring);
• stewardship, in the form of voting policies, engagement with issuers and/or supporting coalitions of investors;
• impact investing, which encapsulates sustainable thematic investments as well as dedicated impact funds or products (for example, energy transition infrastructure and services, green bonds, thematic equity investments).
" Being merely able to adapt to client expectations – for example, the application of exclusions – is no longer differentiating in a market where the level of competitiveness is rising fast"
In addition, we also monitor so-called climate strategies as a specific segment of the ESG investment landscape. Indeed, this particular objective has become vital in asset owners' responsible investment policies today. In themselves, climate strategies do not constitute a different category. Investors use the generic ESG methodology toolbox described above towards the particular aim of limiting CO2 emissions or defining a 2°C trajectory.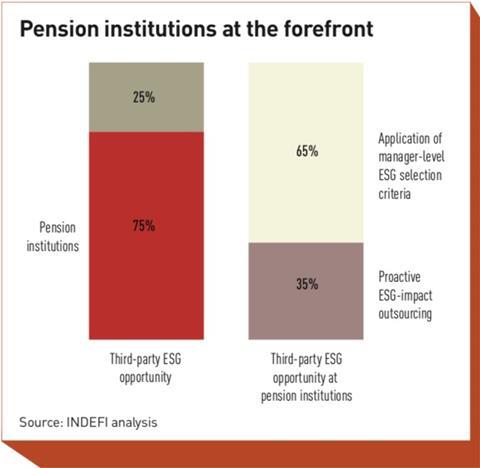 Unabated pace
Our latest pan-European research analyses ESG investment policies and practices at over 200 of Europe's largest asset owners across 13 countries (including the UK). These institutions include insurance companies investing for their own account, pension institutions and other longer-term investors (non-profit, endowment, public sector institutions). As of the end of 2018, they managed nearly €10trn out of the €15trn in assets under the control of European asset owners.
When looking at these €15trn in assets, more than half of them are today managed under 'ESG considerations'. This means that the asset owner or their manager consciously applies one or more of the ESG toolbox methodologies to the assets that they manage.
Integration is the most widespread approach today in terms of assets under management. This is partly owing to the fact that more than half of these ESG assets are managed by institution-affiliated asset managers. It is followed by exclusions and stewardship.
Finally, impact or sustainable investing, albeit marginal, is rising fast. Impact investment opportunities have recently taken centre stage, underpinned by the growing use of the UN Sustainable Development Goals (SDGs), fast becoming a universal impact assessment framework.
This trend is also supported by the European taxonomy which is expected to help asset owners and managers standardise their approach to climate change and foster investments in green and sustainable products.
Private assets
Widely used in the current low-yield environment, private assets will largely benefit from this growing opportunity as they offer the ideal field of experimentation for asset owners' ESG objectives and are naturally aligned with impact-driven strategies (natural capital, renewable energies, impact incentive mechanisms).
Pension institutions are at the core of the opportunity for third-party asset managers in Europe. Institutional third-party outsourcing is steadily increasing, a reflection of diminishing capital returns and the need for asset owners to diversify allocations. While outsourcing has moved up from 21% to 27% of total assets in the past four years, third-party ESG outsourcing has grown at more than five times that rate. It now represents 40% of the total pool of third-party outsourced assets – that is, €1.6trn entrusted with third-party asset managers, against 20% in 2015.
This opportunity is mainly dominated by manager-level selection through which institutions integrate ESG criteria in the selection process of their third-party asset managers. Only a smaller, yet growing, share of third-party assets proactively integrate ESG selection factors at product level. This market segment is today dominated in assets under management terms by tailored mandates both in active and passive management.
Not only is ESG-driven institutional outsourcing a big and growing market, it also contributes to preserving margins for asset managers:
• for ESG passive mandates, which may have peaked, ESG-impact investing is one way for asset managers to reaffirm the value-add of active management;
• most ESG strategies offer a price premium compared with the vanilla (non-ESG) kind;
• a significant and growing fraction of ESG outsourcing is happening in the private asset market, where fees are higher and more resilient.
Opportunities for asset managers
The nature of the institutional outsourcing game is changing in Europe. It has become critical for asset managers to adapt their model in order to maintain their competitiveness (and avoid a risk of eviction) towards asset owners.
Key success factors include:
• the ability to clearly define client archetypes and align the business development strategy;
• a capacity to invest resources in order to generate a steady flow of methodological and product innovations to capture the growing ESG impact-driven opportunity, including private asset investment strategies;
• the deployment of an enhanced service model to support competitiveness.
Finally, in terms of ESG investing, asset managers need to take a stance to remain competitive. Being merely able to adapt to client expectations – for example, the application of exclusions – is no longer differentiating in a market where the level of competitiveness is rising fast.
For asset managers, it is about defining an overarching position from board level downwards, articulating it in investment processes and product development, and aligning the firm's organisation and culture accordingly.
Ric Van Weelden is senior partner and Clémence Droin a senior project manager at INDEF