The ETF industry continues to prosper on almost every metric. Yet it does face both headwinds and tailwinds. Now a mature industry, it celebrates the 26th anniversary of the listing of the first ETF in March in Canada, the US celebrates the 23rd anniversary in January and Europe celebrates the 16th anniversary in April. Over the past year we have seen growth in most metrics that people use to measure the impact and success of ETFs – the volume of net new assets gathered, the number of new products, new cross listings, new providers, new exchanges, and the number and type of new investors using ETFs.
The global ETF and ETP industry had 6,200 ETFs/ETPs, with 11,963 listings, assets of $2.85trn (€2.5trn), from 279 providers listed on 64 exchanges in 51 countries at the end of February 2016.1 Europe, which accounts for 17% of assets, had 2,199 ETFs/ETPs, with 6,846 listings, assets of $485bn, from 52 providers listed on 25 exchanges in 21 countries.
ETFs are a uniquely 'democratic' financial product because the same toolbox of products at the same annual cost (29 basis points is the asset weighted annual cost) and with the same minimum investment size (typically less than $100) are offered to and used by institutional investors, financial advisers and retail end-investors.
In depth: usage of ETFs/ETPs
From 2007–14 there was a 49% increase in the number of institutions reporting using one or more ETF or ETP, rising from 2,642 institutions globally in 2007 to 3,934 in 2014.2 Institutional investors around the world using ETFs and ETPs grew at a compound annualised growth rate of 5.0% over five years to 2014. Regulatory filings and mutual fund holdings, which are filed anywhere from a quarter to a year in arrears, are the only public source of share ownership data as ETFs and ETPs are not held in bearer name.
Some 3,934 institutional investors in 53 countries reported using at least one ETF or ETP in 2014. The top five countries in 2014 with the largest number of institutional users of ETFs and ETPs were the US, the UK, Germany, Switzerland and Canada, representing 80.7% of total global users. In 2014, the leading firms reporting holding ETFs and ETPs included investment advisors, hedge funds and banks and trusts. Figures 1 and 2 show the leading institutions and advisers/hedge funds.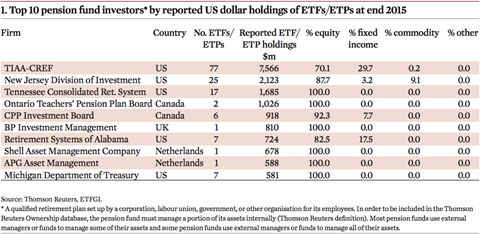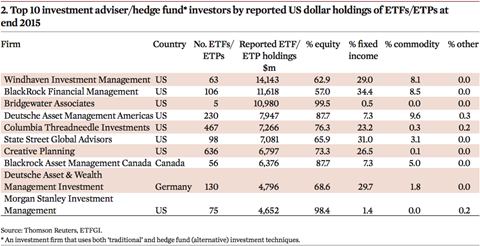 When institutions start to use ETFs we see that they tend to use more products and increase the amount of money invested in ETFs over time.
Mutual funds around the world using ETFs and ETPs have been growing, with some 7,619 mutual funds in 51 countries reported owning at least one ETF or ETP in 2014. The top five countries in 2014 with the largest number of mutual funds using ETF and ETP were the US, Spain, Germany, the UK and Switzerland, together representing 67% of total mutual fund investors.
Trend towards index strategies benefits ETFs
The trend for many investors towards allocating assets to index investing is one of the drivers helping to grow the use of ETFs. Studies show it is hard for active managers to consistently deliver alpha in most equity markets around the world. Figure 3 shows the results of the SPIVA studies on the percentage of active mutual funds that are outperformed by benchmarks in 10 countries around the world on a one, three and five-year basis.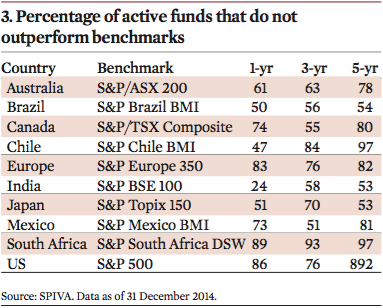 Assets invested in the global ETF/ETP industry surpassed the assets invested in the hedge fund industry at the end of Q2 2015, as we had predicted. According to our analysis $2.97trn was invested in the 5,823 ETFs/ETPs listed globally at the end of Q2 2015 (assets were down slightly from their record high of $3trn at the end of May 2015). According to Hedge Fund Research, assets in the global hedge fund industry reached a new record high of $2.97trn, invested in 8,497 hedge funds, $2bn lower than assets in the global ETF/ETP industry.
This was a significant achievement for the global ETF/ETP industry, which had just celebrated its 25th anniversary, compared with 66 years of existence for the hedge fund industry. Many investors have been disappointed with the performance of hedge funds over the past few years and the HFRI Fund Weighted Composite index has delivered returns significantly below the returns of the S&P 500 Index, according to S&P Dow Jones.
An increasing number of investors have been happy with index returns and fees. This situation has benefited ETFs/ETPs, which offer an enormous toolbox of index exposures to various markets and asset classes, including hedge fund indices and some active and smart beta exposures.
The ETF structure offers intraday liquidity, transparency and small minimum investment sizes at costs that are lower than many other investment products, including futures in many cases. According to our research, the asset-weighted average annual cost for ETFs/ETPs is 31bps, while fees charged by the majority of hedge funds are 2% of assets and 20% of profits.
Accordingly, net inflows into ETFs/ETPs have been significantly higher than net inflows into hedge funds over the past few years.
The cost of using ETFs has declined as many issuers have created 'core' series, which they have positioned as offering low-cost access to many popular indices. As an example, the annual cost on the iShares FTSE 100 ETF is 7bps and Source offers S&P 500 and Euro Stoxx 50 ETFs at just 5bps. And although there are trading costs that should also be considered when using ETFs, over the past year many institutional investors have found that ETFs can be more cost efficient to use than futures for a fully funded investor not looking to create leveraged exposure.
Smart beta strategies and beyond
ETF funds tracking smart beta equity indices are the fastest-growing category of equity ETFs. They enjoyed a five-year compounded annual growth rate of 31%, while ETFs tracking market-cap equity indices have a five-year CAGR of 14.7%. At the end of January 2016, there were 747 smart beta equity ETFs/ETPs, with 1,332 listings and assets of $369bn, from 104 providers on 32 exchanges in 27 countries.
While smart beta ETFs have enjoyed phenomenal growth in the past year, investors need to be aware that factor-based investing does not contain a magic formula that will always conjure up better returns than their market capitalisation-based counterparts.
I do not like the term 'smart beta' because it is typically defined by what it is not – indices not weighted by market cap – and implies, incorrectly, that market-cap indices and the fund managers that track them are managing 'dumb beta' portfolios.
Smart beta generally applies to equity investing only and is often referred to as advanced, strategic or alternative beta, but lacks a standard definition. ETFGI surveyed index providers at the end of last year in an attempt to bring clarity to this ambiguous term and map the smart beta ETF landscape. We asked them to classify the equity indices they have licensed to ETF providers into three categories: smart beta, market cap and other types of indices.
One of the main findings was that index providers do not classify all non-market-cap indices as smart beta. Examples of non-market-cap indices that are not regarded as smart beta include price-weighted, blue-chip and some thematic indices.
Not only are investors increasingly disappointed with the performance and costs of active management, they are also concerned about large-cap concentrations in market-cap indices and increasingly want to reduce their overall portfolio risk and achieve superior risk-adjusted returns. They are advised by consultants to embrace smart beta indices, which allow allocations to risk factors or return drivers such as value, momentum, quality, volatility, size, dividends and fundamental factors.
ETFs tracking smart beta indices have existed for over 14 years but they have become very popular recently. It is important to emphasise that there is no magic formula that will always deliver better-than-market-cap returns. Investors need to be aware of the biases inherent to smart indices: for example, equal-weight indices have a small-cap bias, while fundamental indices have a value bias. These biases are the reasons that the indices perform differently to market cap.
We have seen new providers enter the ETF industry offering smart beta ETFs: Goldman Sachs Asset Management, John Hancock, Legg Mason and Lombard Odier Investment Managers working with ETF Securities are some examples of recent new entrants.
Many ETF providers are optimistic on the future of robo-advice as a new and important distribution channel. ETFs work well in robos as the algorithms they use can model the performance characteristics of the indices that ETFs are designed to track – the small minimum size to invest, low annual costs, and the array of indices covered.
US and European regulatory initiatives
Regulatory initiatives are set to affect the evolution of ETF product development, market structure and distribution globally in 2016. The Securities and Exchange Commission remains one of the most influential regulators of ETFs, with US-listed ETFs accounting for 71% of the nearly $3trn invested in ETFs listed globally.
We are waiting to see what specific actions the SEC will take based on the feedback to its wide-reaching ETF consultation ending in August 2015 and based on the equity market volatility on 24 August 2015. We are likely to see a move to harmonise ETF trading on US exchanges.
Meanwhile, some European market structure improvements due to be implemented under MiFID II, such as the requirement to report trades in ETFs and have a consolidated tape in the region, are likely to be delayed until 2018. ETF distribution and growth will also benefit from changes across the region to improve transparency of, and in some cases ban, payments to financial advisers.
European regulators are now turning their attention to robo-advisers, which predominantly offer ETFs. The joint committee of the three European supervisory authorities is assessing whether action is required to harness the potential benefits of automation in financial advice or mitigate any risks.
The US too is looking at advice. A Department of Labor review could have a significant effect on US retirement schemes, requiring fees to be kept low and to protect savings from excessive risk – another opportunity for ETF providers.
However, regulatory attention on ETF product structure is less welcome. Proposals by the SEC in December 2015 to reduce leverage risks associated with derivatives in ETFs and mutual funds could force issuers of leveraged and inverse ETFs to close funds.
There is also uncertainty over SEC plans to standardise liquidity risk management by mutual funds and ETFs, and the still keenly-awaited SEC review of non-transparent active ETFs, ongoing since 2007.
Regulators may not always move quickly but the next 12 months are shaping up to be a period of significant change for the ETF industry.
Deborah Fuhr, Managing Partner and Co-founder, ETFGI
1 ETFGI Global ETF and ETP Industry Insights report, February 2016
2 ETFGI Institutional Users of ETFs/ETPs 2014 report sourcing Thomson Reuters Ownership data feed, which provides a comprehensive collection of global institutional holdings data from more than 70 countries covering 13F institutions, mutual, pension and insurance funds, declarable stakeholders and UK share registers.