UK MPs have written to Dixons Carphone requesting clarity over the funding of its pension scheme in the wake of a profit warning last week that sent the telecoms and electronics retailer's share price into a tailspin.
The Work and Pensions Select Committee, a cross-party group of MPs from the UK's lower house of parliament, has sent a letter to Dixons Carphone following news that its 2018 profits could be as much as 21% lower than the previous year.
In a letter addressed to Geoffrey Budd, chairman of DSG Pension Trustees, Frank Field, the committee's chair, wrote: "The new group chief executive remarked in the latest update that 'there's plenty to fix' in the company and that 'nobody is happy with our performance today'. As the company pursues its plans to address these issues, to what extent is it keeping the pension scheme trustees informed and engaged?"
Field further touched upon prospective plans to reduce the scheme's deficit.
"Do you remain confident that the current recovery plan will be sufficient to clear the deficit?" the MP asked.
The pension deficit for the company's defined benefit scheme fell from £646m (€739m) in October 2016 to £492m the same time last year thanks in part, Dixons Carphone said at the time, to a £46m contribution and "changes in discount and inflation rate assumptions".
Mothercare schemes set to exit PPF assessment as restructuring plan agreed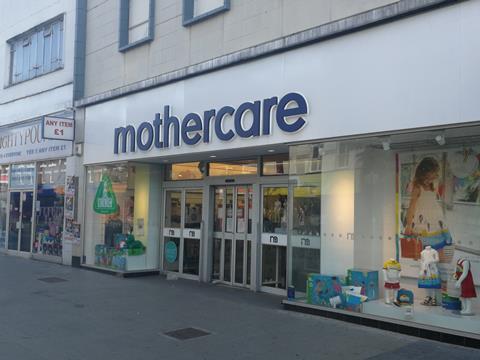 Two defined benefit (DB) pension funds sponsored by another struggling high street retailer, Mothercare, are set to exit the Pension Protection Fund (PPF) following creditor approval for a restructuring plan.
The company, which retails to parents of babies and young children, moved to refinance its business in May by proposing to enter into company voluntary arrangements (CVAs) for three of its subsidiaries, Mothercare UK, Early Learning Centre (ELC) and Children's World.
The DB schemes for Mothercare and ELC were placed into the PPF's assessment period.
Creditors this week approved plans for Mothercare and ELC, which could now trigger the return of the company's two DB plans – the Executive and Staff schemes – to the trustees' control from the auspices of the PPF.
Creditors rejected the CVA for Children's World, which does not operate a DB scheme.
FTSE 350 schemes near full funding
The aggregate shortfall of defined benefit schemes for the UK's 350 largest listed companies fell by nearly a third during May, according to Mercer.
FTSE 350 pension schemes' total deficit was £34bn at the end of the month, compared to £50bn at the end of April. Total assets rose to £791bn while liabilities were £825bn, giving an aggregate funding ratio of 96%.
It continues a trend of improving funding across listed company schemes over the past two years. Mercer's estimate showed a £156bn funding gap in September 2016, which shrank to £72bn at the start of this year.
Alan Baker, chair of Mercer's DB policy group, warned schemes not to be complacent: "Market swings could dramatically reverse these improvements and have done so in the past. Therefore, it's important that trustees and sponsors understand the risks they're exposed to and have the right strategies in place to lock in these gains."
A similar estimate from JLT Employee Benefits put the FTSE 350 DB scheme shortfall at just £9bn at the end of May, inferring an aggregate funding position of 99%.
Note: This article has been updated to confirm that Mothercare's DB schemes have not yet left the PPF's assessment process.