With environmental risks taking a more central role in investment strategies, regulators have also been looking at what actions they can take.
In the UK, the Department for Work and Pensions (DWP) brought in rules for trustees in October requiring them to agree a formal approach to responsible investment and include it within 'Statement of Investment Principles' documents.
The Financial Conduct Authority (FCA) has been monitoring this area for some time, and in October published a final statement – FS19/6 – detailing potential new rules for companies relating to environmental, social and governance (ESG) issues.
The regulator set out long-term plans to ensure issuers provide "reliable and consistent" information regarding their exposure to climate-related risks and opportunities.
A consultation paper slated for early 2020 will propose new disclosure rules for companies aligned with recommendations from the Taskforce for Climate-related Financial Disclosures (TCFD). The rules will be on a comply-or-explain basis, according to the FCA. The UK watchdog also plans to clarify its existing climate risk disclosure requirements.
The FCA will extend the rulebook for independent governance committees (IGCs) – the oversight bodies for occupational pension schemes – to require disclosure of ESG risks affecting the schemes and how the IGCs respond to them. These will come into force in the fourth quarter of 2019, according to an FCA timetable.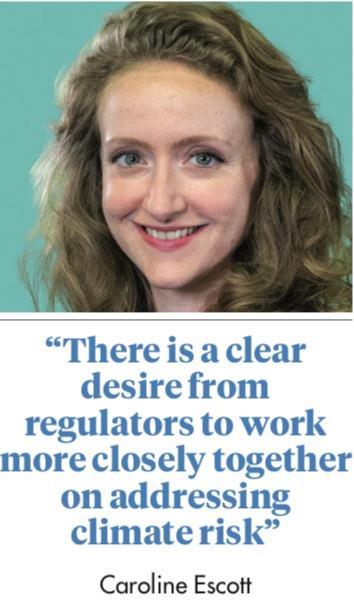 Caroline Escott, policy lead for investment and stewardship at the Pensions and Lifetime Savings Association (PLSA), says the trade body supports equivalence in the treatment of contract-based and trust-based schemes on ESG issues.
In addition, the FCA wants regulated financial services firms to "integrate consideration of material climate change risks and opportunities into their business, risk and investment decisions". However, it does not plan to bring in firm rules yet, despite arguments that disclosures are not always consistent.
"We acknowledge the strong support for introducing disclosure requirements for regulated firms, aligned with or based on the TCFD's recommendations," the FCA stated. "We agree that there is a case to consider developing rules in this area, taking account of the different impacts from climate-related issues that different firms face."
Fergus Moffatt, head of UK policy at campaign group ShareAction, argues that it is essential for the FCA to look closely at financial services firms' reporting and disclosures. He points to the DWP's push for pension schemes to report in line with TCFD recommendations and called for the UK regulator to "consider how it expects fund managers to do the same post haste".
The FCA and its sister regulator, the Prudential Regulation Authority, have set up the Climate Finance Risk Forum with industry representatives – including large banks, insurers and asset managers – to share best practice thinking on climate risk management and mitigation.
Galina Dimitrova, director of investment and capital markets at the Investment Association, the UK's asset management trade body, supports the FCA's approach and its willingness to have "an open dialogue" on climate issues. The association will continue to collaborate with regulators "to enhance both climate financial risk management, and disclosure, to the benefit of our clients", she says.
Issuer disclosures
The FCA said in its October statement that the rules for issuers would provide a "foundation for potential further measures" for regulated financial services companies, by ensuring providers had adequate information to construct their own reports.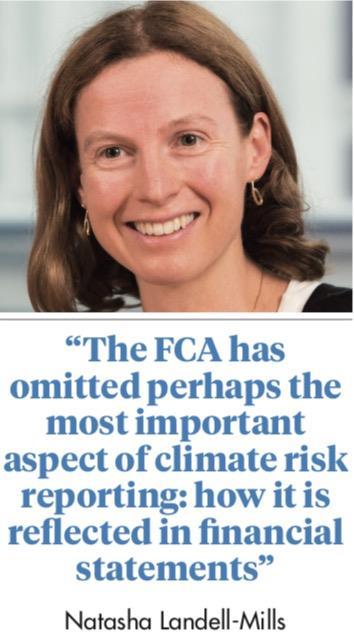 However, Natasha Landell-Mills, head of stewardship at Sarasin & Partners and a vocal proponent of reforms to financial disclosure rules, says the FCA has omitted "perhaps the most important aspect of climate risk reporting: how it is reflected in financial statements".
"The market focus on narrative reporting and TCFD recommendations is not a bad thing, unless it is at the expense of ensuring the numbers are reliably reflecting material climate risks," she says. "In the end, it is the numbers that determine what capital issuers have to deploy and measure performance which underpins bonuses and dividends.
"If the numbers are overstating performance by missing out climate risks, then you will have excessive bonuses and excessive capital deployment into climate-harmful activities. You may also find the companies inadvertently pay illegal dividends from capital they do not have."
Landell-Mills calls for the regulator to "extend its gaze" to include quantitative aspects of reporting. "Given the urgency of the issues, this shouldn't have to wait for the next consultation," she says.
ShareAction's Moffat questions the FCA's planned 'comply or explain' approach to the new rules. He says: "TCFD [recommendations are] intended to boost transparency around climate risk, and this will only happen with mandatory reporting. Without such information, investors may be unable to properly price assets, potentially leading to inefficient capital allocation and investment decisions."
Joined-up thinking
The FCA plans to engage with EU work on ESG matters – regardless of Brexit – including the Sustainable Finance Action Plan and the development of a sustainable finance taxonomy, as these are expected to "underpin" approaches across the UK finance sector.
The PLSA's Escott says it is "more important than ever" that national and supranational regulators have a joined-up approach to climate change risk "given its cross-cutting and systemic nature".
"There is a clear desire from regulators to work more closely together on addressing climate risk, for instance through the Climate Financial Risk Forum or on other groups such as the TCFD cross-industry working group or the Green Finance Strategy," she says.
The UK is set for a general election on 12 December. Brexit is top of the agenda in most discussions but with an electorate growing tired of political intransigence – and with environmental campaigns by groups such as Extinction Rebellion grabbing headlines – climate change has also become an important part of the campaign .
"The climate emergency means action needs to be taken swiftly, and across the board," says Moffat. "The next government should take a lead and introduce legislation to ensure all actors across the investment chain are taking proper account of climate change. Government and regulators should be seeking to move to legal frameworks which require financial services firms to align their strategies with the Paris Agreement."
The FCA's climate change plans
According to FS19/6, the FCA will over the next few months:
● Consult on rules to improve climate-related disclosures by "certain issuers", and clarify existing obligations.
● Update rules for independent governance committees to report on ESG and stewardship policies, as well as support investment in patient capital.
● Publish feedback statement on joint work with the Financial Reporting Council (FRC) on stewardship.
● Challenge firms over greenwashing by "clarifying our expectations and taking appropriate action to prevent consumers being misled".
● Continue work on collaborations with national and international climate change groups on disclosure frameworks.