Asset management is attracting growing attention from new competition as well as regulators and politicians, finds Brendan Maton
At a glance
• Asset managers cream off a large chunk of pensions savings as profit.
• Regulators are paying closer attention to this phenomenon.
• Not enough active managers deliver on their promises.
• After decades of light-touch regulation the authorities are cracking down on poor-value asset management.
Pension scheme members, insurance policyholders and private investors might be perplexed if they knew how much it cost to save for retirement. As savings flow from pension schemes into the global economy via the stock markets, a huge dollop gets channelled to the money managers every year for their own benefit. In 2014, the net revenue from asset management globally was $213bn (€201bn), according to Morgan Stanley. Of that sum, $83bn was creamed off as profit.
At this level, a profit ratio of 37%, private equity houses and specialist purchasers such as AMG, Dyal and Northill Capital have moved into the sector, looking to take stakes in the best active managers.
Greater outside interest in the $74trn universe of long-term assets is coming not only from prospective competitors and suitors. Regulators and politicians are paying more attention to the value for money clients get from those who serve them. The UK's Financial Conduct Authority (FCA) is in the midst of an investigation that already claims active managers could do better. And investors themselves, both retail and institutional, are demanding higher returns, lower fees or buying cheaper, more automated options. So all is not rosy for every player in the asset management sector.
Front and centre in these more hostile conditions are the mainstream, 'index +1%' equity managers. "We see traditional, long-only relative-value models under pressure – facing increasing risk of commoditisation and lower fee margins. Alongside extra regulatory focus, the outlook for traditional managers is chilly," say Haley Tam and colleagues in the Citi equity research team.
At Goldman Sachs, Chris Turner and his equity research team emphasise the damage lower yields are causing to the sector: fewer opportunities for asset inflation thanks to subdued savings in Europe and the relative expensiveness of assets; persistently lower returns on fixed income; and, consequently, accelerating pricing pressure. "We expect the overall growth rate of the asset management industry to be roughly 40% per annum lower (6% versus 9.9% a year between 2009 and 2014) on average over the next few years as a result," says Turner.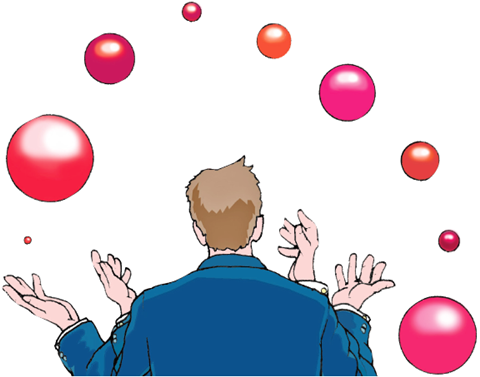 It could be argued that all these woes of traditional active managers begin on their own production line; not enough of them deliver on their promise. Goldman Sachs finds only 36% of equity funds sold to European investors outperformed their benchmark over the past five years. Morgan Stanley goes back further, to the start of 2003. It finds that for US large-cap mutual funds (aimed at a US audience), only 32% of funds have outperformed the S&P500 consistently on a rolling three-year basis to the start of 2016.
Morningstar's active/passive barometer suggests asset-weighted 10-year trailing returns for passive funds to the end of 2015 were 7.2% versus 5.9% for active funds. Citi's Tam notes that returns for the lowest-fee-quartile composite of active funds were 6.6% – in other words, costs matter, regardless of underlying portfolio performance, which provides a counterpoint to the FCA's view that "there is no clear relationship between price and performance".
This situation is not new, however. Investors seem to have serial relationships with active managers, which break down because of disappointing performance, then repair themselves once active managers can demonstrate a few years' outperformance, then break down again after the next bear market. Active performance has struggled in the past two years especially, but why might this be anything other than part of the usual cycle? Ten years ago, the traditional industry looked set to be supplanted by hedge funds but, instead, some hedge funds were absorbed into the mainstream while others disappeared as overpromisers or downright frauds.
"Alongside extra regulatory focus, the outlook for traditional managers is chilly"
Haley Tam
In support of the analysts, there is proof that Europe's pension funds are going for alternatives, both in terms of assets and strategies. A glance at the pension fund asset allocation of the continent's quoted companies demonstrates holdings in long-only equities and bonds have been declining since 2010-11. MSCI Europe constituents' reported allocation to other assets and strategies – that is, not long-only equities and bonds – has rocketed from 15% to almost 40% over the same period.
More proof can be taken from activity by investment consultants. Over the past three years, the major consultants between them have conducted over 200 searches into multi-asset credit strategies (MACS) alone. MACS can include some niche and Byzantine types of credit. This is where the pressure of demand from pension funds for higher, diversified returns meets the need of asset managers to increase their revenue.
Some houses, however, are already in the right spot. Looking at the margins of Oaktree, a debt specialist, or Apollo, in private equity, these houses have no baggage as relative-value managers but possess lots of the expertise in alternatives and real assets that pension funds crave.
The question for mainstream managers in 2017 is therefore similar to the one they faced a decade ago: do they acquire alternative managers to boost business in a 'lower for longer' world or try to grow expertise organically? As with hedge funds in the mid-2000s, the problem is that the premier tier Oaktree and Apollo do not need outside help. They are alternative but well-capitalised, while smaller houses might be biddable for the wrong reasons.
A look at publicly-disclosed M&A in recent years shows mainstream European houses have refrained from buying into alternatives (the busiest buyers have been MAN and AMG). So perhaps the investment bank analysts want to see more deals to help out their colleagues in corporate advisory. The two motives need not be in conflict. Michael Cyprys and colleagues at Morgan Stanley, for example, point out that growth is the leading factor in explaining asset management stock returns, with more potency than valuation and profitability put together (see figure). Unbundling growth into separate factors, it is organic growth that is most telling.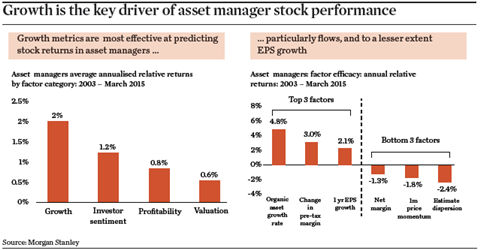 Here is the nub, according to Turner at Goldman Sachs, the growth in assets under management from 2009 onwards came from asset inflation rather than new business. That is an inferior kind of organic growth.
So the CEOs and shareholders of asset managers can thank central bankers for boosting their portfolios. But to keep the business going forward in harsher times ahead, Turner generally advocates spending the spare cash that quantitative easing indirectly brought.
He gives Schroders as a good example, where current surplus exceeds €1.2bn and in the present environment earns the company little. Turner calculates that Schroders's return on equity (ROE) is 17% but not including surplus capital is 29%.
Schroders, for its part, has identified private assets and alternatives together as one of its six target areas. But the company is healthy and the new CEO, Peter Harrison, might want to tolerate that drag from surplus and wait for targets to weaken before spending. After all, the biggest recent deal – Amundi's purchase of Pioneer – occurred because Pioneer's parent, Unicredit, needed the €3.55bn to shore up its core tier-one ratio. There are plenty of other European banks, starting with Deutsche at the top, that are still suffering from the aftershocks of the global financial crisis and might have to part with decent asset management subsidiaries to raise cash.
Acquisitions are not essential for those with enough time. Europe's traditional managers have got better at organically creating alternatives. They are under way with MACS, while diversified growth funds are mature examples of how relative-value managers have gradually absorbed the techniques vaunted by hedge funds into their own culture. The same may eventually be true of private equity and infrastructure.
There are cautionary tales. Standard Life Investments ' GARS could be considered Europe's most successful alternative fund. But the irony of this strategy is that the fortunes of the company are highly correlated to its success. In 2015, 92% of net new sales came from GARS.
A similar concentration risk has occurred at Barings (dynamic asset allocation) and Aberdeen (emerging markets) and might occur at Nordea. Although its Stable Return fund has now been gated, the problems will arise should performance suffer. Too many active managers – across the spectrum and including alternatives – are too reliant on one or a couple of strategies. It is no wonder BlackRock, in contrast, with its spread of strategies including passive, is so popular with analysts. Diversification works.
The ramifications of a single strategy's underperformance brings us back to the cycle of trust and mistrust between pension funds and active managers. The cycle follows bull and bear markets. But personal savers' habits are even more fickle and random, and their actions will count for more as the onus for adequate retirement provision falls to individuals.
The reason why regulators might adopt a tougher attitude to active management in years to come is that the masters of regulators, politicians, do not want a campaign of disgruntled personal pension savers destabilising their regime. State benefit systems are already creaking under an ageing population – they do not need extra claims.
And so, after decades of light-touch regulation, financial authorities are finally becoming perplexed with poor-value active management. Individuals cannot be left alone to make long-term choices and there are not enough alternatives and absolute-return strategies to save the day for everyone. The big question is where those profits from relative-value managers go if the industry is shrunk.
The challenge: implement the impossible
Tomas Franzén has recently retired as chief investment strategist at Sweden's SKR230bn (€23bn) second national buffer fund, AP2. In an exit interview with IPE, he gave some thoughts on the future of active asset management
"The thing is, it is impossible to implement." This was the verdict of one asset manager salesman on the luminous examination of Norway's Global Government Pension Fund in 2009 by professors Ang, Goetzmann and Schaffer. The professors suggested that factors such as value and momentum explained most of the returns of the fund, Europe's largest. This meant, in turn, that the legion of renowned active managers employed by the fund in aggregate had added precious little of their own magic, 'alpha' besides.
Tomas Franzén, who recently stepped down as chief investment strategist at AP2 in neighbouring Sweden, took a more hopeful view of the report than the salesman. Eight years later his fund has organised most of its risk capital by factors. AP2 is not alone. In fact, it is hard to think of any recent IPE Gold Award-winning pension fund that has not adopted some form of factor investing.
So where does this leave the salesman? Well, more and more commercial houses seem to be finding ways to 'implement the impossible', although this is much easier for quant houses, especially the big index trackers, to do. Franzén says the new approach asks questions of the others. "We are absolutely laying down a challenge to the asset management industry. We aren't denying the existence of pure alpha; we are just saying getting exposure is tricky."
At AP2, there seems little way back for the old-fashioned 'index +1% annualised over three years' mandates, which Franzén describes as "dogmatic". But there is much room for the right kind of commercial partners, such as AQR, a firm the Swedish fund works with on some arbitrage strategies. "One of the reasons we work with them is because they are clear they are not just charging for alpha," says Franzén.
So active management has a future. Just do not pretend it is idiosyncratic alpha that only one unique and precious team can cook up. Acknowledge the systematic risk premia and their courses through time.
Obviously, some managers will still profit without 'walking the walk' like AQR, but instead relying on dazzling marketing. Given the importance of the professors' report in exposing the overpromise of traditional active managers, however, that approach will not work with the best asset owners such as AP2. They have already implemented the impossible.
They have also had their dalliance with hedge funds in the 2000s and are now much wiser to the hype of all kinds of managers, not just traditional "index+1%" types.
"Shorting volatility is a perfect example where you shouldn't pay two-and-20 just because you are taking tail risk," says Franzén. Tail risk manifests itself in nasty events and for "insuring" others against those events, the pension fund should be getting the reward, not the agent.
However, for a related strategy – catastrophe bonds – Franzén is sure that the likes of AP2 could never build up the competence to analyse this market competently. So the savvy asset owner has to evaluate not merely the risk premia of any strategy but also its cost of access. The conversation is turning from active asset management to in-house active management – a debate as lively in Sweden as elsewhere. Simplistically, in-house pension fund management has been seen by politicians and lay folk as one means of curbing greed in the financial sector – on a par with the Tobin tax. Franzén, together with AP2's current management, are far more aware of which strategies it is cost-effective to build up in terms of internal teams of traders and financial engineers.
They are doing so in a pragmatic, gradual way. And so, across Europe, in-house active management is enjoying a resurgence (it was commonplace 30 years ago). But Franzén has no qualms that genuine commercial partners necessary for all other services and strategies should be justly rewarded. "There has always been too much emphasis on gross costs and not enough on net returns," he says.
Special Report Active Management: The active game
1

Currently reading

Special Report Active Management: The active game

2

3

4

5

6

7