In this third article on a new survey, Pascal Blanqué and Amin Rajan show that as old methods of investing have lost relevance in a landscape distorted by quantitative easing, a search for new ways has intensified
The 2008 crisis was a watershed. It ushered in the worst investment environment since the Great Depression of 1929-32. As if that was not enough, central banks' ultra-loose monetary policies since then severely distorted asset prices. The old ways of investing were no longer working. No wonder innovation gained momentum.
Pension investors became receptive to 30 innovations that had emerged gradually in the previous decade. Their adoption gained fresh traction after the 2008 crisis. They fell into four categories: asset classes, product themes, asset allocation tools and asset vehicles.
This article presents pension investors' assessment, first in summary form and then in more detail for each category separately.
Summary of outcomes
For each category, our survey obtained European pension plans' assessment of three aspects of the innovations they had implemented: their adoption rate; their impact so far; and their future adoption. The results for the top three innovations in each category are given in the figure. Fuller details are given in our survey report*. Two salient points are worthy of note.
First, there are standouts across the patch. Private debt is the most obvious one. US-style credit markets are now emerging in Europe. Other standouts include risk-factor investing, absolute-return investing, multi-asset class funds and ETFs. In each case, early adopters report net positive outcomes. Their future growth prospects remain favourable too.
Second, four innovations are expected to be game changers, outlasting the crisis that promoted their rapid rise in the first place:
• low-carbon strategies and environmental, social and governance (ESG), because markets will increasingly be pricing in the effects of climate change initiatives after the COP21 Paris Conference in 2015 and HFC (hydroflurocarbons) Kigale Conference in 2016
• risk-factor investing, because it is proving more robust than asset class-based diversification in delivering alpha at beta risks and near-beta charges
• multi-asset-class funds, because their fees are based on net performance across all chosen asset classes, unlike single product mandates
• ETFs, because they allow investors to slice and dice the universe in pursuit of emerging opportunities.
Further details are given separately below.
New asset classes
Out of nine asset classes, private debt, has had the highest adoption rate – as reported by 52% of the respondents. Some 61% of these adopters also report a positive impact.
Two other asset classes have also notched up respectable impact scores so far – low-carbon strategies (35%) and wind farms (32%). In each case, special factors have been at work.
To start with, conventional green energy indices have not delivered high returns as they have not as yet factored in the risk associated with the timing of the initiatives aimed at mitigating the effects of climate change. In contrast, the new indices of low-carbon strategies do just that. Interest in wind farms has accelerated for similar reasons.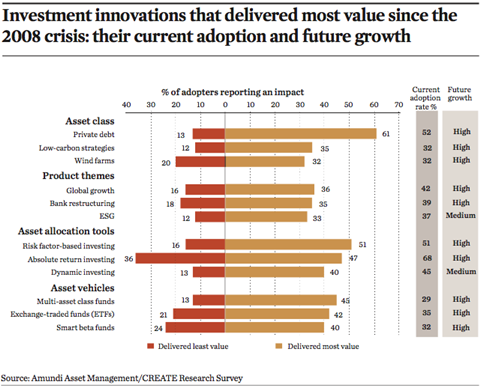 New product themes
So powerful and pervasive is the impact of central bank monetary action that the intrinsic merits of various product themes cannot override them. The resulting distortions are hitting the good, the bad and the ugly indiscriminately.
Out of seven newcomers, three have had a moderate adoption rate, thus far, that is also likely to grow over the rest of this decade. They are global growth, bank restructuring and ESG.
Taking them in turn, emerging markets are likely to experience better growth dynamics than developed markets.
Moving on to bank restructuring, the opportunity is attributed to the emergence of bond markets in Europe, which will reduce the role of banks in corporate lending under Basel III.
Finally, ESG will have strong tailwinds, as governments seek to meet their contractual obligations after the Paris conference. The asset industry, too, is upping its own game.
New asset allocation tools
After the 2008-09 market crash, seven asset allocation tools gained traction. Old-timers like risk-factor-based investing, absolute return investing and dynamic investing gained renewed momentum. Together, they have changed the face of asset allocation.
Three have had a relatively high adoption rate: factor-based investing (51%); absolute return investing (68%)l and dynamic investing (45%). The first of these was a direct response to the failure of the old-style asset class-based diversification that failed miserably in the 2008 crisis.
Absolute-return investing and dynamic investing, on the other hand, gained added popularity as pension plans sought positive returns in an environment of random risk-on/risk-off cycles – a major feature of the investment scene after the crisis.
New asset vehicles
Of the eight asset vehicles now in use, three have had a notable adoption rate: ETFs (35%), smart beta funds (32%) and multi-asset funds (29%). By providing low-cost options, each is viewed as a game changer.
Taking them in turn, ETFs are viewed as a vehicle for pursuing specific themes experiencing strong momentum at different market phases. Smart beta funds are seen as offering alpha returns, via specific factor exposures, at beta risk and beta fees. Multi-asset funds are seen as a cost-effective device to achieve broad diversification and periodic rebalancing with a single manager, thus doing away with the costly process of manager selection.
Overall, therefore, the innovation scorecard appears good. However, success will be best judged not by the inflows while most asset valuations are inflated by central bank action, but by the resilience of new approaches when the inevitable market correction comes.
Pascal Blanque is CIO of Amundi Asset Management and Amin Rajan is CEO of CREATE-Research
*Expecting the unexpected: how pension plans are adapting to a post-Brexit world. Available at: www.create-research.co.uk