It could have been done differently, but, nonetheless, a clear path is emerging as to how EU sustainable finance regulations will become more of a coherent whole. The problem that has been perceived and outlined time and time again by investor groups is that disclosures are being asked of their constituencies – asset managers, pension funds – for which the data is not really available, or only at a significant cost. Tough, some may say, get on with it.
But it makes perfect sense to point out that if investors are to be obliged to report some at times specific information related to their investments in particular in companies, those companies should also be obliged to report that information –greenhouse gas emissions, or diversity data, for example.
And there is not really much of an argument about this requirement. The European Commission has heard the calls and knows that investors want a revised Non-Financial Reporting Directive (NFRD) that gets companies to deliver the information they need for the Sustainable Finance Disclosures Regulation (SFDR). This April it is supposed to reveal its proposal for that revision of the NFRD.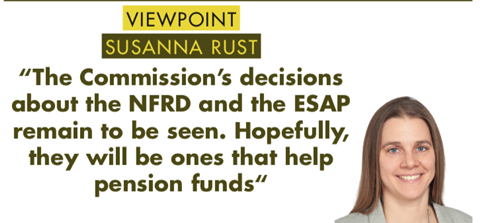 The messaging around the European Single Access Point (ESAP), on which a consultation closed last month, will also not be a surprise to the Commission. It ran a shortened consultation period because of the number of previously held public consultations in which the topic of centralised access to company data had been discussed, and because of the "political imperative to deliver the legislative proposal under a very tight timeline".
The Commission knows that investors, at least according to their lobby groups, are strongly in favour of a portal bringing together in one place high-quality financial and non-financial information disclosed by companies. The investor bodies have emphasised there should be an "ESG-first" approach, not least because of the SFDR already being in force.
Non-governmental organisations and consumer groups, meanwhile, want the ESAP to also include information from product-related disclosures relevant for retail investors who, alongside academia and civil society, should be seen as users of the ESAP on an equal footing with institutional investors.
At the European Sustainable Investment Forum (Eurosif) there is a desire to see the Commission pursue a clear and targeted objective with a well-defined user group in mind, namely investors. It says it does not believe it would be wise to combine the objective of access to financial and non-financial information from companies with that of creating a portal or comparison tool for financial products for retail consumers.
"While there may be merit in this, such a tool is a very different tool than the one we foresee," executive director Victor van Hoon told me. "And in general, EU plans/projects pursuing too many different goals tend to end up not delivering the high promises people put into it."
The Commission's decisions about the NFRD and the ESAP remain to be seen. Hopefully, they will be ones that help pension funds and others meet their new regulatory disclosure obligations.
It would also be welcome if the decisions revealed a recognition that an enabling approach can be taken to extracting a greater sustainability contribution from pension funds. Access to robust, comparable and reliable ESG data would constitute a key part of this approach.
Susanna Rust, deputy editor, online
susanna.rust@ipe.com