Pension funds diversify their investments more widely than the average German institutional investor and have restructured their portfolios significantly in recent years, writes Markus Neubauer
At a glance
• German pension funds have shifted their portfolio allocations to equities more heavily than other investor groups.
• Low interest rates have made government bonds less attractive.
• Pension funds remain well diversified despite these shifts.
• Performance is generally strong.
The German investment association (BVI) estimated the total volume of German pension fund assets to be about €262bn at the end of June 2015. The results of this analysis of investment strategies are based on a fairly representative sample of almost 30% of these assets. The study covers the period from January 2012 to the present day.
Over the period of analysis, German pension funds shifted their portfolios from fixed income to equity as a result of low interest rates. This is in tune with the general market trend. A look at other investor groups, however, shows the shift within pension funds has been more pronounced. At the end of July 2015, pension funds' indirect investments in equity had reached nearly 35% – or almost 4 percentage points above the average (figure 1). The level represents a sharp increase on a year ago when the rate was just short of 30%. In January 2012 it was only 21%.
For most investor groups the higher proportion of equities in their current portfolios can be explained by the rise in asset prices. On the one hand, this may mean that investors have chosen not to rebalance assets and have therefore taken a conscious investment decision in favour of equities. On the other hand, it may mean that they have also avoided ploughing into equities. Pension funds have been more active than the average institutional investor in this restructuring process, pumping additional money into the asset class to reach the current high levels.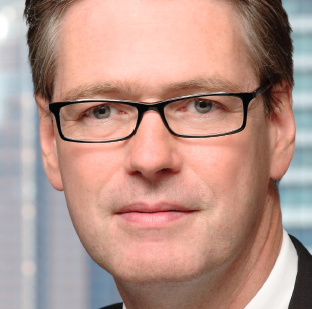 This also means they have started the long-anticipated 'great rotation', that is, the shift from fixed-income investments to equities. In contrast, other institutional investors have been reluctant to take this step. This reflects a stronger risk appetite both with respect to the past and to other investor groups. This strategy change is apparent in other areas as well, for example in the demand for overlay management, which has increased steadily, especially in 2015. This is because increased exposure to the more volatile equity markets calls for more hedging against adverse market conditions.
The largest single segment in pension funds' indirect equity investments is financials at just over 18%. However, this portion is mostly index-driven. Runners-up are consumer discretionary and industrials (both over 9%), as well as healthcare and information technology (both over 8%).
Bonds lose in significance
The rise in equities is offset by a falling allocation to fixed income investments. The share in German pension funds' portfolios sunk to 36% at the end of July from 42% a year ago. At the start of the analysis in January 2012, the share of fixed income was still at 48%.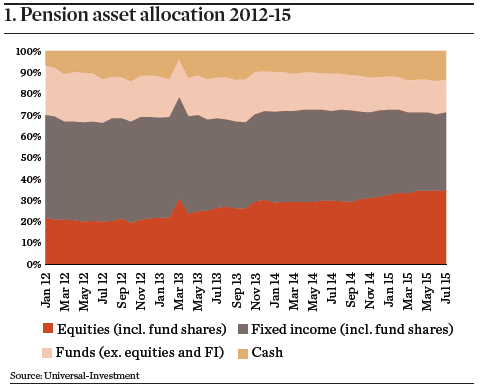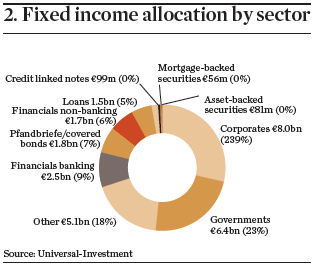 A closer look reveals that traditional investment patterns in the bond sector are being changing and the government bond segment has suffered a large part of the outflow (figure 2). This accounted for just 23% of fixed income investments as of July 2015, compared with 26% a year ago. Historically, this is not the lowest rate, which was reached at the end of December 2012 at 17%. The level peaked at the end of February 2014 at 30%.
This difference, of close to 13 percentage points, suggests that pension funds and their asset managers are making tactical use of government bonds. They are ready to change their allocation at short notice when conditions change. Zero or negative interest rates are clearly unacceptable; accordingly, fewer US and euro-zone government bonds are being purchased – a development confirmed by Bund auctions this year in which not all issuance was sold.
The share of covered bonds has likewise dropped from about 12% to 6%. This is partly the result of a shortage caused by a drop in the issuance of these bonds. However, it also reflects an active investment decision based on the current low rates of interest.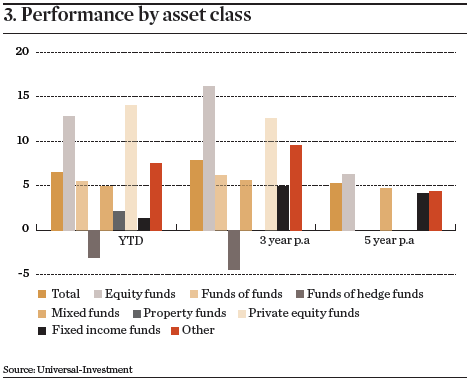 Corporate bonds paint a different picture. While the share of government bonds has dropped, corporates rose from 21% in January 2012 to 28% in July 2014, reaching 32% in July 2015. However, spreads have reached levels that suggest this development will come to a halt or even reverse sooner rather than later.
Diversification
Despite the high weightings of financials in equity portfolios, pension funds' investments are well-diversified as one figure illustrates: 'other' – that is smaller – segments account for the largest percentage by far, namely 24% in equity portfolios, and about a fifth over the combined equity and fixed income portfolios.
These include, for example, private equity holdings, which underlines the strong demand for real asset investments such as infrastructure or renewables. A further growth segment is real estate, which was not included in this study. There is insufficient data to serve as a reliable basis for analysis, although real estate will be included in future analyses.
Performance – reaping the benefits
The analysis shows that, over the past 10 years, the average return for pension funds, at 5.52%, was above the 'magical' 4% threshold (figure 3).
Drivers of this were investments in equities, as we have already seen, and also private equity where pension funds are more heavily invested than the average institutional investor.
Accordingly, performance is also higher than the 4.66% average established in our analysis as of July 2015. In addition, the performance for the year-to-date, at the time of writing, is 6.46% for pension funds, compared with 5.40% on average.
Markus Neubauer is managing director at Universal-Investment
German Asset Management: In search of opportunities
1

2

3

4

Currently reading

Pension Assets: Measuring the pension world

5