European pension providers have begun reporting full-year returns for 2016, with several having fared better with their investments than the year before.
In the Netherlands, Vervoer, the €23bn Dutch scheme for private road transport employees, was leading the way with a preliminary return figure of 12.7% for 2016. This is up from 1.5% for 2015.
Some other Dutch schemes came close to matching Vervoer's performance. The €185bn healthcare scheme PFZW posted a 12% return and BpfBOUW, the €53.6bn scheme for the building sector, said it returned 12.1%.
In 2015, PFZW made a loss of 0.1% and BpfBOUW recorded a return of 1%.
PME, PMT, Philips, and KLM's cabin staff scheme all reported gains last year of between 10% and 11% for 2016, having had returns in the -0.1% to 2.3% range.
The €382bn civil service scheme ABP reported a return of 9.5%, up from 2.7% in 2015.
Both ABP and PFZW – the two largest Dutch pension schemes in terms of assets under management – noted that emerging market debt, private equity, and commodities were the strongest drivers of returns in 2016.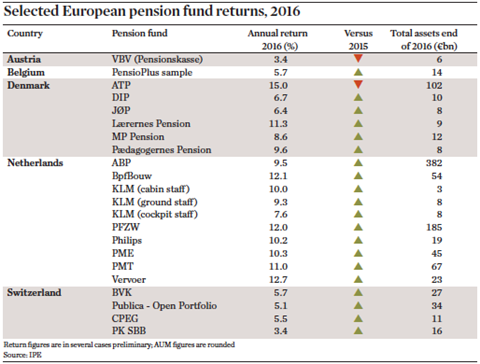 ABP also noted strong returns from its equity portfolio, with emerging markets assets contributing 15.1%.
For PFZW, structured credits, including risk-sharing on loan transactions, were its best-performing investments last year, with an annual return of 21.7%.
In Denmark, the labour market supplementary pension fund ATP posted a 15% return on its investment portfolio, although this was an underperformance compared with the 2015 return of 17.2%.
The fund singled out private equity and corporate bonds as making particularly positive contributions, producing profits of DKK6.6bn (€700m) and DKK3.8bn, respectively, towards the overall DKK15.3bn portfolio gain.
ATP's long-term hedging strategy against inflation had been the largest detractor from returns, suffering a DKK1.2bn loss, it said.
ATP divides its assets – which amounted to DKK759bn as at the end of 2016 – into a large hedging portfolio, which backs the pension guarantees it gives, and a smaller investment portfolio, which stood at DKK100.5bn at year end. Returns achieved on ATP's investment portfolio are not directly comparable with most pension funds because of the leveraging effect from the hedging portfolio's assets.
Elsewhere in Denmark, pension funds for various professions posted returns that were higher than in 2015.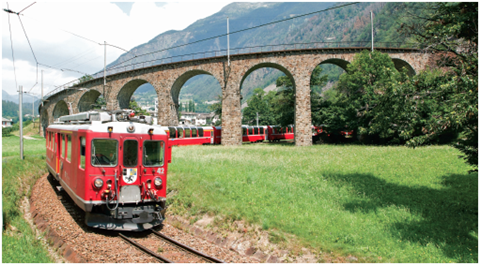 Pædagogernes Pension, the DKK61.4bn pension fund for education practitioners, reported a 9.6% return for 2016, which it claimed was the best pensions return among all schemes where returns were based directly on underlying investment performance. In 2015, the pension fund made a 3.7% return before tax.
The country's largest commercial pension provider, PFA Pension, meanwhile, reported returns between 6.5% and 8.2% on its market-rate products. In 2015, comparable returns ranged from 5.3% to 12.3%, depending on customer age and product profile.
PFA's with-profits, or average-rate pension product, returned 6.7% in 2016, according to early financial figures.
In Switzerland, schemes' investments fared better in 2016 than the year previous.
Publica, the CHF37bn (€34bn) pension fund for federal employees, achieved an estimated net return of 5.06% in 2016. It would have been 5.88% without currency hedging, the scheme said.
The return from its open portfolio was 5.1%, compared with a loss of 2.5% in 2015. In its retiree portfolio, Publica recorded a 2016 gain of 4.3% versus a 2.1% return the previous year.
BVK, the CHF29bn pension fund for employees of the canton of Zurich, posted a loss of 0.7% for 2015 but in 2016 made a return of 5.7%.
It said this was a "good performance" and that it was largely down to gains in US equity markets, its overseas equity and emerging market debt portfolios, and commodities.
Pensionskasse SBB, the CHF17.1bn pension fund for the Swiss federal railways, achieved a return of 3.4% for 2016, up from 1.5% a year before.
Caisse de prévoyance de l'Etat de Genève (CPEG), the CHF11.8bn pension fund for employees of the canton of Geneva, posted 5.5% for 2016, after reporting a loss of 0.4% in 2015.
Several European pension funds, including Sweden's buffer funds, had not reported annual returns at the time of writing.