Governance produces better outcomes, not metrics.
Discussions to standardise investment performance reporting date back as far as 1987, leading to what became Global Investment Performance Standards in 1999.
More recently, several European countries, including the Netherlands and Switzerland, have moved to standardise investment fee and cost reporting for pension funds and make this more transparent. Now the UK is moving ahead with an ambitious transparency agenda, while Dutch pension funds will have to disclose greater detail on costs from this reporting year.
Greater transparency has often involved concerns about market dislocations, the power of asset managers and a perceived lack of market influence by pension funds. Sometimes the motives for greater transparency are unclear. Do regulators and lawmakers think asset managers are ripping pension funds off? Or are they trying to make pension funds into better informed consumers?
GIPS in their time were simultaneously seen as controversial and as a breakthrough in transparency. Now they seem like a mere way marker in a long journey to standardise performance, fee and cost reporting for investors. Today, the focus is on disaggregating costs, including such hard-to-measure costs as impact of trade.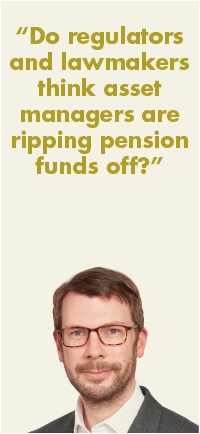 Advances in astronomy in the last few hundred years have afforded us a much clearer view of the universe, but with each advance we become aware of how much more there is that we did not previously know about. Cost reporting, as it advances, seems similar. Pension funds will doubtless report their costs to a much greater degree of accuracy of decimal places in future. But to what end?
It is notable that this focus on transparency comes at time when more long-term investment capital is chasing yield in illiquid strategies, such as credit or private equity. These are often both the most expensive strategies and the hardest to measure in terms of net performance. In many cases more accurate reporting of pension fund costs leads to higher reported costs. This in turn can lead to scrutiny of investment strategies and sometimes simplistic conclusions about the added value of active or illiquid strategies.
GIPS did not revolutionise pension funds in the 2000s and neither will enhanced performance today. A cohort of well-run pension funds is key to achieving good outcomes for all in the long term. This entails high levels of trustee knowledge and experience, and robust governance structures.
The Dutch pension sector has experienced a wave of consolidation in recent years; efforts to accelerate this process in the UK are not guaranteed to to improve member outcomes, but they are likely to make a measurable contribution towards making the occupational pension system more robust.
Liam Kennedy, Editor
liam.kennedy@ipe.com