This is a multi-record-breaking year in the UK for buy-in, buyout and longevity swaps. Over £27bn (€34bn) of longevity risk has been hedged including the two largest ever longevity swaps and the two largest ever buy-ins in the UK. Further transactions remain in process and 2014 is set to break £10bn in bulk annuity business for the first time – two-thirds of this has already been completed.
Pension plans of all sizes are embracing de-risking – but how should they go about assessing the options and is it right for everyone?
Full buyouts, whereby each individual scheme member is issued a policy so that their pension is provided directly by an insurance company, remain popular. They provide companies with an exit from their obligations. It is the deficits in plans that has prevented this route being more popular with schemes closed to future benefit accrual.
Buy-ins have been common since 2007. They provide an asset that fully transfers interest rate, inflation and longevity risk for the selected liabilities – typically pensions in payment. As such, a buy-in has advantages over buyouts, including no immediate requirement to pay off the buyout deficit, avoiding disruption to members and more favourable accounting treatment.
Pensioner buy-in pricing is similar to a valuation based on holding to meet liabilities, so there is little impact on the funding position where a pensioner buy-in is replacing existing government bond holdings. The graph shows how pricing has developed over time compared with holding government bonds.
The simplicity and ease of a buy-in makes it an ideal way of hedging liabilities, with the added certainty of being able to move to a future buy-out. Recent buy-ins by the ICI Pension Fund and Total show this has become an option even for the largest pension plans.
An alternative to a buy-in for hedging longevity risk is a longevity swap, under which the pension plan pays a known set of payments to an insurer or bank and in return receives payments back equal to the actual pension payments. With four longevity swaps a year completed since 2009 they remain specialised but do allow longevity to be hedged. New innovations in 2014 have allowed the pension plans of Aviva and BT to complete record-breaking longevity swaps. In both cases the scale has been achieved by bypassing intermediaries and accessing reinsurers directly.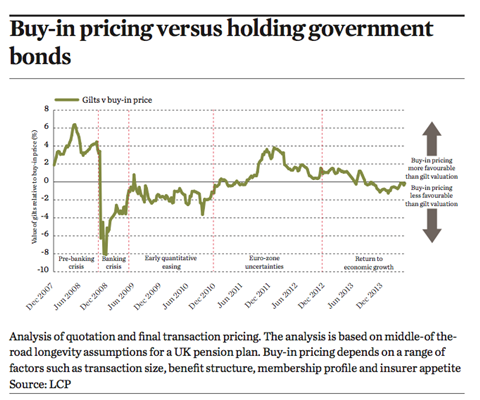 In our experience, a longevity swap will be cost effective compared with a buy-in when the pension plan's underlying investment strategy is expected to deliver returns above risk-free rates. For plans invested in government bonds, a buy-in will look more cost effective.
For smaller pension plans, the complexity can be daunting. To help address this, in 2012 LCP launched a streamlined process for buy-ins that was expanded in 2013 to include buyouts. This provides access to a fixed-fee process including the necessary advice and pre-negotiated contracts with a panel of insurers who quote at the smaller end of the market. For smaller pension plans, this provides access to better terms and pricing than typically available.
In our view, the most important aspect to achieving a successful transaction is a strong project management and decision-making framework. This helps to ensure the objectives of the different stakeholders are achieved. A joint working party between the trustees and company sponsor is typically a key element. A specialist de-risking adviser can provide guidance on the preparatory steps that provide real value and use relationships with insurers to help access the best terms.
Six months ago, our main concern was on the supply-side. A tipping point was being reached with pension fund demand set to exceed supply from insurers. We were concerned that this would result in insurers being selective and the risk that smaller plans would be crowded out of the market.
The UK Budget in March 2014 changed this by removing the requirement to purchase an annuity at retirement for DC pension plans from 2015. There has been a 30-50% fall in individual annuity volume. Insurers have confirmed their capacity and appetite for buy-ins and buyouts as a result. In addition, insurers in the individual annuity market are developing buy-in and buyout propositions.
When combined with the deep pool of reinsurance capacity that exists – particularly from large US re-insurers – there is the potential for the market to increase scale without affecting pricing. Overall, it paints a picture of a healthy market with a high level of competition and innovation.
On the demand-side, longevity risk has been transferred by pension plans whether large or small. So while it may not be for every pension plan, there are few who can say it is not something they should be considering. Indeed, some schemes are transacting for the second or third time as part of a long-term de-risking plan.
De-risking is not something to rush into. It is key to follow the market and its dynamics. But, with careful timing, there are attractive opportunities in the UK to provide cost-effective and long-term security for pension plan members.
Charlie Finch is a partner at LCP
Liberalising ambitions
1

2

Currently reading

A buoyant de-risking market

3

4

5

6

7

8

9