Attractive pricing drove UK pension scheme demand for bulk annuities in 2016; Reinsurers' appetite for longevity risk transfer remains high
The arrival of the EU's Solvency II directive at the start of the year led to a quiet first quarter of 2016, as insurers and pension schemes got comfortable with the new regulatory environment and pricing models. However, levels of activity increased steadily over the 12 months, and the total amount of business transacted by the year's end reached £22bn (€26bn) across both bulk annuity and longevity swap contracts.
Most of this volume was in the annuity market with two key drivers:
● Substantial transfers between insurers of annuity back-book business, most notably Rothesay Life and Legal & General taking on a total of £9bn of liabilities from Aegon. This had an adverse impact on certain insurers' capacity and appetite for new pension deals.
● By contrast, some insurers had a large appetite for new business and worked hard at sourcing a range of assets to enable them to offer attractive bulk annuity pricing, including for deferred liabilities, for which pricing had been predicted to be badly impacted by Solvency II reserving requirements.
Market volatility also led to pricing opportunities. For example, the Brexit vote saw a sharp reduction in Gilt yields and widening of credit spreads; several well-prepared schemes quickly took advantage of such opportunities. Many of these were schemes that had previous settlement experience – repeat buyers represented at least 70% of new business volumes during 2016.
The picture was more mixed for the pension scheme longevity swap market, with various challenges:
● Data continued to show a higher number of deaths in the England and Wales population than anticipated. This raised questions about longevity reinsurance pricing and pension schemes' assessment of good value for money.
● Low Gilt yields impacted the reinsurers' cost of capital, leading to upward pricing pressure.
● Insurers' increased appetite for longevity reinsurance to support bulk annuity deals has kept reinsurers' limited pricing resource busy, making it difficult to get maximum engagement in pricing processes for new longevity swap deals.
● Changes to the options available to schemes for an 'intermediary' insurer through which the ultimate reinsurer risk-takers can be accessed.
The good news was the growth in the market for £50-750m deals – with further transactions demonstrating that longevity hedging opportunities are not just available to the largest schemes – plus the continuing appetite of reinsurers for taking on longevity risk.
In the bulk annuity business, 2016 saw some insurer consolidation with the merger of Just Retirement and Partnership, plus the withdrawal of Prudential. Despite this, there are currently seven active insurers with a range of target markets in terms of liability profile and deal size.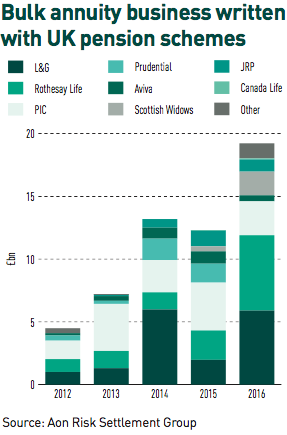 What about pricing?
Bulk annuity pricing has remained attractive in 2017 and is probably the most competitive we have seen in a number of years without medical underwriting. We expect that this will continue into 2018 with buoyant transaction volumes as a result.
A notable development this year is increasingly attractive pricing for deferred liabilities. This remains more expensive in headline terms than pricing for current pensions in payment, but the gap is much smaller than it has been for some years. As a result, many schemes are closer to full buyout funding than they may realise. Insurers' increased appetite for deferred liabilities, which is driving improved pricing, reflects increased comfort with Solvency II requirements, greater availability of longevity reinsurance for deferreds, and insurers seeing the longer liability duration as an opportunity to invest in a wider range of illiquid assets to support new business.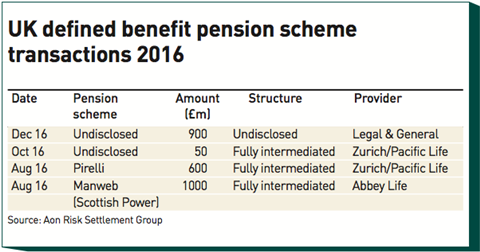 Longevity appetite
The appetite of global reinsurers for UK pension scheme longevity risk remains high – there are more than 10 active reinsurers in the market, each with substantial capacity per deal. However, demand for longevity reinsurance from bulk annuity insurers is also high – both to support new bulk annuity deals, and to hedge risks associated with existing business. Schemes therefore continue to compete with insurers for reinsurers' attention and pricing resource.
Despite this, opportunities do exist for schemes as:
● Reinsurers' pricing is starting to fall, reflecting the recent mortality trends mentioned earlier; and
● Scheme trustees and sponsors becoming more comfortable with the revised range of options available to access this reinsurance capacity.
There are also an increasing number of reinsurers who will offer pricing based solely on socio-economic factors such as postcode and pension size (as a proxy for wealth, lifestyle and health), which is positive for competition and pricing in the mid-market where schemes have less of their own credible mortality experience data to use in pricing.
While there are plenty of opportunities for schemes to de-risk through the use of insurance in some form, demand for these remains high, and therefore it will be the better prepared schemes on which the insurers focus their attention, capacity and best pricing.
There are several strands to getting settlement ready including:
● Data cleanse and collection work, and also preparing a suitably detailed and accurate benefit specification.
● Identifying the assets that will be used to support a transaction, and potentially adjusting these in readiness for the transfer to the insurer.
● Ensuring all stakeholders are up to speed and on board. This may involve training for both trustee and sponsor representatives, and agreeing the collective governance structures and processes so that at the relevant time the various decisions can be made effectively.
Some schemes are taking preparation a step further, using liability management techniques to remove, reduce or re-shape their liabilities with the aim of:
● Improving insurance pricing, for example, by using a pension increase exchange exercise to reduce the amount of 'expensive' pension increases they need to insure; and
● Closing the funding gap to full buy-out by settling some liabilities through alternative options such as transfers out, or trivial commutations.
Tom Scott and Tiziana Perrella are principal consultants in Aon's risk settlement group