The US president has followed through on many, although far from all, of his policy pledges
Key points
• The US president's record on following through on his pledges is mixed
• Little change has so far materialised in relation to healthcare
• Tax reform, in contrast, has seen a rapid victory
• The Trump administration has rolled back financial regulation but infrastructure is proving a huge challenge
President Trump's style of communication defines his political persona. The tweets and the extravagant declarations earn him ridicule, yet they also paved his way to the presidency. Although his 18 months in office is less than half way through his term, it is instructive to consider how far the rhetoric matches up to the implementation.
Often Donald Trump tends to initiate his position from an extreme stance before backing away from it. That manoeuvre may arouse relief, as he modifies his tone. However, if his initial position is challenged he may feel obliged to pursue it. "If people push him he may have to follow through," says Jack McIntyre, portfolio manager at Brandywine Global. As this autumn's mid-term elections approach, he may overreach even more, to attract flamboyant headlines.
How far has style aligned with substance? A scorecard divides the agenda into successes, failures and uncompleted goals: successes (tax and regulatory reform); flops (healthcare and immigration); too soon to tell (trade and infrastructure).
The Republican administration kicked off with healthcare, pledging to repeal controversial 'Obamacare' legislation. Despite some popular elements of that law, the present structure of the system is unsustainable and insurers are abandoning the market. A Republican repeal-and-replace bill was scrapped in March 2017. "They should have tackled healthcare last," says Philip Orlando, chief equity market strategist at Federated Investors. "The administration, which had hoped fixing healthcare would be quick and easy, became mired for months."
Tax reform, by contrast, proved a rapid victory. The core issue was the disparity between the US, with a 35% corporate tax rate versus an average 24% among OECD nations. American companies have been shipping factories and jobs offshore to become more competitive, creating an inversion problem. Trump, who reduced the rate to 21% and simplified the code, "flipped the equation and re-established the US as a domicile magnet to attract foreign firms," says Orlando.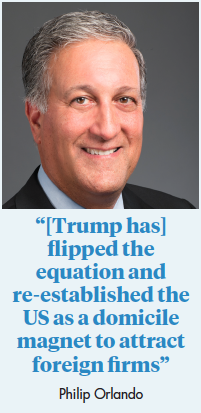 Much lower corporate tax rates help explain the increase in consensus growth forecasts, which have risen from 2.1% when Trump took office, to 2.8% for the end of 2018. "The US has unlocked overseas capital that had been stashed for years," says Francis Rybinski, chief macro strategist at Aegon Asset Management. Meanwhile, lowering the interest deductibility for corporations creates a safer capital structure, so firms are no longer piling up debt. These changes, albeit late in the business cycle, sow the seeds for the next cycle. On the individual side, personal tax cuts encourage the marginal propensity to consume. The corporate side, however, is more comprehensive.
"It requires board-level discussions, budgeting and so on, and takes longer with less immediate impact," he says.
Immigration is another tricky topic and, to date, the president has not delivered on his rhetoric. In the low-skilled sector, it is estimated that out of 11m illegal immigrants, some 8m are employed. To let those who contribute to the economy in and screen out the unproductive ones, Trump needs effective border security. In his campaign and after, he has constantly promised to build a wall between the US and Mexico to curtail illegal border crossings. So far, he has only offered photo ops of himself posed next to wall mock-ups.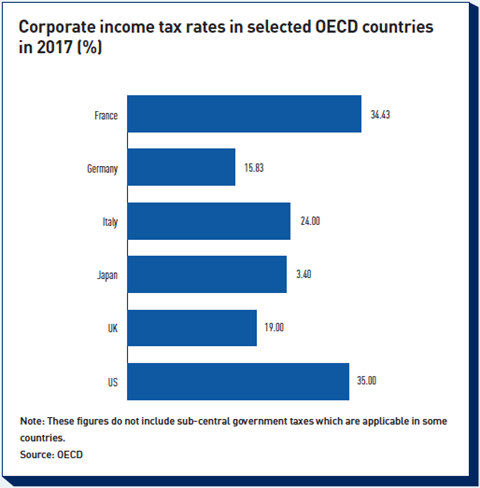 The country needs to generate growth by boosting productivity and ensuring a sufficient supply of workers. Organically, the population is growing at only 1%. Solutions are required for both high-end and low-skilled immigration. At the highly educated level, the deficit in the US has led to 500,000 open jobs in the technology industry. In the universities, three-quarters of STEM (science, technology, engineering and mathematics) candidates are foreign, with 46% from China and India. "Trump needs to do a better job of retaining intellectual capital. He should staple a green card visa to each diploma," Orlando suggests.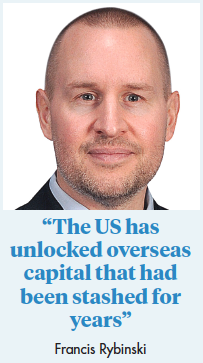 Next in the tally of the president's stated agenda, building infrastructure may appear less controversial. Yet it poses a huge challenge for funding various transportation, broadband, water, waste and power projects. In February, Trump laid out a plan to employ tax funds and private investment, leveraging $200bn (€161bn) into $1.5trn. A model of public/private partnerships might work, but over the past 30 years few of those partnerships have been successful in the US. "They have little appeal for private investors," says Dec Mullarkey, managing director at Sun Life Investment Management, which manages approximately $31bn in pension assets. He adds: "We really need a plan for repairing existing infrastructure."
Another key plank has been Trump's promise to roll back regulation, necessarily a piecemeal process. The administration has focused on financial deregulation and dismantling perceived onerous burdens created by Dodd Frank regulatory responses to the 2008 credit crisis. Other initiatives include telecommunications, less stringent carbon emission rules, opening up offshore drilling and hydraulic fracturing, narrower interpretations for toxic substances, fuel economy standards and reinterpretation of housing diversity, to cut costs for cities.
The National Federation of Independent Business (NFIB) has ranked burdensome regulation as the main impediment for its members for many years. "Small business owners are drowning in regulations imposed by every level of government," said NFIB President and CEO Juanita Duggan in February 2017. That year 25% of small employers labelled them a "very serious problem". That number has fallen to single digits, "with a huge shift in perception that regulations are no longer a headwind", says Rybinski.
The final key item on Trump's presidential 'to do' list is his stated determination to level the global playing field in terms of tariffs. Data from the World Trade Organization (WTO) support his case: the WTO reports that the average tariff applied by the US across all goods and to all countries is 3.5%, versus China's average of 9.9%. The primary focus with China regards intellectual property. Mullarkey predicts that the Chinese will negotiate – 225m jobs in that country depend on manufacturing and with so much at stake, China wants minimal distraction for its 'Made in China 2025' industrial initiative.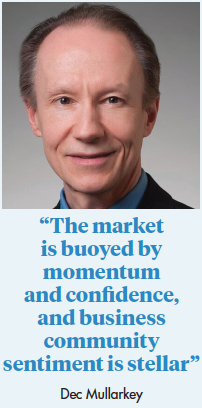 Trump has been talking about tariff inequality since the 1980s, when he aimed at the Japanese. He looks at trade more as a businessman than do other government leaders. "If he builds a skyscraper, he expects to pay less, not more for concrete, glass and wiring, getting economies of scale and better prices based on the size of the project. And the US is the largest customer in the world," says Sean O'Hara, president of Pacer ETFs Distributors.
Rhetoric on Chinese trade illustrates Trump's unpredictable style. After tough campaign talk, last year he celebrated a new spirit of cooperation during mutual visits with Chinese leader Xi Jinping. He then reversed tack in 2018, announcing steel and aluminium tariffs, which he is now dialling back again. According to Mullarkey, "these announcements were not well thought out. They seemed like a reflex, with little impact on China, which has been cutting its steel overcapacity for the past couple of years."
All the rhetoric may not pan out, but the stock market has soared since Trump's election, with a positive knock-on effect on underfunded US pension plans, which carry a whopping 48% of their assets in equities. Early last year, the Milliman Actuarial index, tracking the 100 largest pension plans, reported only 83.7% of pensions' assets could cover liabilities, versus 87.7% today. According to Mullarkey: "The market is buoyed by momentum and confidence, and business community sentiment is stellar."
US Equities: A time to focus on value
1

2

Currently reading

A scorecard on Trump's rhetoric

3

4