The annual pensions accounting survey from KPMG is revealing on assumptions around asset ceiling guidance, discount rates and life expectancy
The latest KPMG Pensions Accounting Survey 2017 has turned out to be as revealing as ever about the past year's developments around the main pensions-accounting assumptions relied on by 247 of the adviser's clients with UK defined benefit (DB) schemes under International Financial Reporting Standards (IFRS) in the UK or US Generally Accepted Accounting Principles (GAAP) as at the 2016 year-end.
But more than the slowdown in life-expectancy improvements, or net negative discount rates, it is perhaps the uncertainty over the long-running bid by the International Financial Reporting Standards Interpretation Committee's to amend its asset-ceiling guidance, IFRIC 14, that is perhaps the standout finding from the latest KPMG round-up.
The IFRS Interpretations Committee embarked on the effort to update its IFRIC 14 asset-ceiling guidance in 2014. IFRIC 14 essentially tells DB plan sponsors how much of a DB surplus is available to them to book as an asset on their balance sheet. The interpretation lets them do this if it is available to them either as a refund of contributions or as reduction in future contributions. Then, in late 2015, the UK Financial Reporting Council (FRC) announced that it would expect scheme sponsors in the UK to apply the requirements of the 2014 exposure draft ahead of the IFRS IC finalising the project.
Narayan Peralta, the report's author, says: "There is a risk that the revised IFRIC 14 is even less clear than the 2008 original. "It is an updated interpretation and although it should add clarity, it might not. In my view, the original exposure draft was fairly clear.
However, the discussions in the last quarter of 2016 have added considerable uncertainty on the question of how the final version will affect clients. Potentially, IFRIC 14 could treat a power to insure individual benefits in the same way as a power to wind up a scheme, which in a UK context are very different."
Simon Robinson, a consultant actuary at Aon Hewitt, adds: "They [companies reporting pension liabilities] are sticking with the extant version of the interpretation. I'm pretty confident that is what you will see. I'm not sure companies could adopt a different version at the moment. IFRIC 14 has been out since 2008 and everybody has pretty much got the measure of it.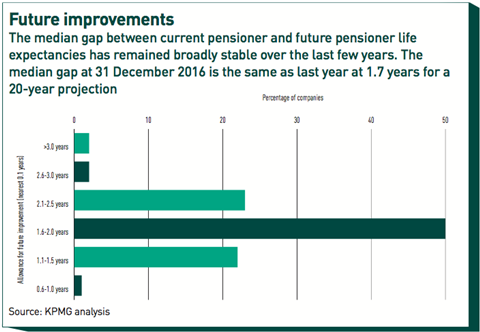 "As a whole, I think the vast majority of UK companies had been confident that it was not really an issue because they could rely on the scenario where the employer could recognise a balance-sheet asset. They could claim that they would receive a refund of any remaining plan assets once the last scheme member had drawn their pension and died."
Of the FRC's intervention, Simon Robinson adds: "The FRC has been challenging companies on what is included in their report and accounts around surplus recognition. They also want companies to say what the impact of the changes would be.
"Moreover, they have been challenging companies based on year-ends going back over the past 18 months. I find that rather odd, because they are asking about the impact of changes that haven't even been agreed yet."
The KPMG report also reveals that median net discount rates – the difference between the discount rate and assumption about inflation as measured by the Retail Prices Index (RPI) – are negative for the first time since 2004. Among the companies featured in the survey, the median discount rate came in at 2.7% – a fall of 1.1%. At the same time, however, median RPI inflation hit 3.3% at the end of December.
Robinson says: "It is an odd situation where, in real terms at least, you are discounting at a negative rate. Next year's benefit payments are normally worth less than this year's because of discounting. At the moment, however, that no longer holds true. What is particularly interesting is that it makes life expectancy more important.
"We in the UK tend to be ahead of the US in terms of our treatment of life expectancy. In the US, they don't have guaranteed increases. That one extra year of life expectancy can have quite an impact where you are discounting at what are, in effect, negative rates.
"Normally, that extra year, say 30 years out, would have an insignificant impact on the overall liability. However, in the current environment, the only thing that stops it increasing in value into infinity is the fact that people don't live forever."
As for discounting, the KPMG study also reported that the range of assumptions used by companies has narrowed. Overall, the market is more tightly packed around the median than it was a year ago. And although the median discount rate fell from 3.8% last year to 2.7% at 31 December 2016, about 85% of sponsors used a discount rate within 0.1% of the median – as against 75% of sponsors last year.
Political reality has also intervened, with the Bank of England's decision in August 2016 to cut interest rates to 0.25% from 0.5% – not to mention its decision to embark on a £10bn (€11bn) corporate-bond buying spree – weighing heavily on discount rates.
Also down are life expectancy assumptions for current and future pensions. Over the past year, they have dropped by 0.1 years from 22.3 and 24.1 years respectively.
Moreover, companies are now making growing use of scheme-specific mortality studies, which means that they can quantify longevity risk more accurately. Noteworthy, however, is the fact that these current assumptions compare with 18.4 and 19.4 years back in 2004. Peralta says: "Where yields are negative, the average term or duration of a liability is longer than it would be in a higher-yield environment. This makes the longevity assumption more crucial because a higher value is being placed on payments further out."
He also points to the emerging trends from the industry Continuous Mortality Investigation (CMI) models, which are typically used for IAS 19 purposes, has also served to flatter results. These findings are certainly borne out by other sources. First, figures released in May by consultancy firm Mercer point to a slowdown in life expectancy that has lopped £2.5bn off FTSE 350 pension scheme liabilities. In fact, Mercer's numbers show that employers typically assume a 65-year-old woman will live to 89.5 years and a 65-year-old man to 87.5.
But, warns Robinson, the effect of this slowdown in longevity improvement will only show in the accounting where sponsors allow for it. "Obviously, if you still assume people are going to live for as long as you thought they would, it makes no difference to what you disclose.
"At Aon, we were the only ones at the 2016 year-end who said: 'Hold on, you really do need to be allowing for this latest data because it shows a greater slowdown than we thought'." The latest CMI tables suggest Robinson has a point.